Anna Crilly and Katy Wix are better known to TV viewers for their various separate projects, but after a successful pilot in 2011 they're about to launch their own sketch show as a comedy duo.
Crilly was ace as dour Eastern European cleaner Magda in Jack Dee's Lead Balloon, and popped up as scary German prisoner transfer Gertie in Dead Boss not too long ago. Her native accent is actually from these shores though, and she's a familiar face to CBBC viewers thanks to shows like Sorry, I've Got No Head and Pixelface.
Meanwhile, Katy Wix has a host of sitcom credits to her name - the most high profile of which is as ditsy but loveable Daisy in Not Going Out, Lee Mack's hit prime-time BBC One comedy series.
However, as a double-act, Crilly and Wix have been around for a number of years, as regular audiences at the Edinburgh Festival Fringe and on the live comedy circuit. In fact, as Katy says "It's coming up 10 years, we should probably make a cake or something."
Anna explained to us how they met: "We were both doing sort of stand-up type stuff. We've both got an odd sense of humour I guess and we thought each other were hilarious. I think we both sort of felt like the way forward was character-y/sketch-y stuff in Edinburgh the following year. So we joined up and did that."
Those who have been paying attention to their TV and radio work may have noticed the duo's names appearing on various shows together already. For example they were both in the 2011 Channel 4 pilot Coma Girl, and both play students in Radio 4's critically acclaimed Party. However, it was a sketch show pilot broadcast late in 2011 on E4 as part of the Comedy Lab strand that introduced the double-act to a wider audience.
Such time has passed since then that Wix and Crilly themselves doubted their chances of being commissioned for a full series, but the resultant six-episodes are packed with some great comedy moments. The duo were understandably pleased to get the green light: "It's been the dream since probably we were kids, but certainly since we started writing together and so we've really put our heart and soul into it and we really hope people like what we've achieved. We're pretty proud of it. We've worked out little socks off on it."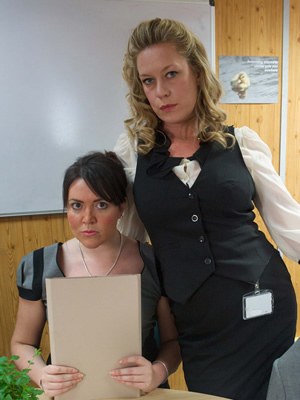 Most of the sketches in Anna & Katy are daft but lovingly created pastiches of existing TV formats. Look out for a soap opera that is heavily sponsored by a firm of opticians; a business show (pictured) that seems to have a lot in common with The Apprentice, particularly the way the contestants speak; a spot-on slam of those terrible The World's Worst... countdown shows with z-list celebrities sharing their inconsistent opinions; and Congratulation, a daytime show that praises its viewers for completing the most minor of tasks.
We suspected picking the TV spoof format was a useful excuse for the creators to watch a lot of television and call it 'research', but they say they didn't actually watch too many shows, as the formats they've picked are "kind of in everyone's consciousness". They elaborate: "We didn't want to do any literal copies, more an interpretation. So, no, we just kind of had a feel for it. We sort of came up with the characters first and then fitted them in a bit."
Rice Britannia, a TV cooking show set in a tent with a female double-act acting as hosts, is perhaps one of the sketches that could most easily be mapped to an existing format. British Comedy Guide wondered whether The Great British Bake Off hosts Mel Giedroyc and Sue Perkins were aware of the show and how they might respond to the gentle ribbing?
Anna said: "I know Mel really well, she's a good mate of mine, so she knows. She was going to be in that particular sketch, but she's not now, she's in a different episode - but they're total heroes of ours." In fact, Anna & Katy say Mel & Sue "might be the nicest people in showbiz", and Katy adds: "I watched them when I was at university, when they did Light Lunch, and I thought they were the most incredible comedy duo I'd ever seen, so it's an homage."
British Comedy Guide's favourite sketch from Episode 1 is Kuntworts, a show that appears to be a German version of Countdown. It's a fantastic new take on the long-running quiz format, performed in cod-German. Will it be appearing again later in the series? "No, no, we've just done one episode," the girls say, "because what we didn't want to do was repeat stuff.
"With a lot of sketch shows you could be watching Episode 3 and think you're watching any other episode, as it's the same character doing the same thing week in week out. So for the German stuff we did a different German show with cod-German every week. So later on there's Germany's Jeremy Kyle, a German Antiques Roadshow, and German Friends... We tried to keep the show fresh and use a bit of imagination to have little surprises and twists each week."
With the hint of Germany tickling our funny bone, we asked what had particularly amused the duo themselves. "Mmm... so many memories. I did enjoy the German," is Katy's response. "For me it was the girls that explain stuff - that was great fun - mucking about like the old days."
Anna concurs, adding: "The stuff where it's just the two of us together is so easy now. I know what she's about to do next and we can breeze through them so quickly because we're so in tune with each other."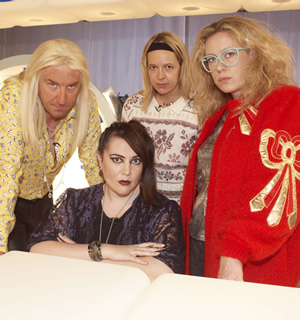 Anna & Katy features a number of guest stars popping up in sketches. Brian Dowling, Martin Kemp and Eamonn Holmes are amongst the stars coming up, whilst Lee Mack reprises his sexy, long-haired blond look from the pilot to also star in Kuntworts in this series (pictured).
The supporting actors make for an equally impressive list to contemporary comedy fans, including William Andrews, Sophie Black, Tom Bell, Fergus Craig, Alex Lowe, Laurence Rickard, Jonny Sweet and Joe Wilkinson.
Such an ensemble cannot have happened by accident? "Did we have a say in it? Oh, yeah, totally. We had the people we respect in the comedy world. We're all mates - Will, Fergus, Sophie and Joe - we all go way back now, so we didn't so much cast it, as ask friends if they would come and do it!
"We know each other so well, we know for example who would best fit each character. Yeah, they're all mates but people who we trusted to turn up and be brilliant. And it was so lovely on set - it was the best days."
Readers casting their minds back over the last couple of years are likely to struggle to name as many as half a dozen recent sketch shows, certainly not 5 or 6 really good ones. We asked Anna & Katy if they had any thoughts on what happened to the format.
"I think," Anna begins to muse, "what started to happen was executives at TV companies started putting together sketch shows and auditioning people to be in them, and I think that perhaps didn't work quite as well.
"You can't just pick two people off the street and put them on stage together, you have to have chemistry, and an understanding and a shared sense of humour and a love for what you're doing and I think maybe the resurgence is because TV is returning to looking for acts from the established sketch circuit. For example, Cardinal Burns have been together for years and they have that chemistry and that's probably what has been lacking in the last few years."
Katy adds: "Yeah, I agree, you sort of work towards having an identity and you can't just get that like you can with a boyband. It doesn't work the same way."
Perhaps the genre is about to see a small resurgence then? "It comes in trends and, yeah, it feels like there's a bit of a wave again."
So with uncommissioned potential for a second series, what have Crilly and Wix got lined up over the next few months? Katy says she's enjoying "a bit of time off, and it's bloody lovely" after having finishing filming eight new episodes of Not Going Out on top of Anna & Katy. "I'm also writing a late night comedy drama for Radio 4, I don't know when that will be out - but a way away, but that's been quite fun - but - yeah - a bit of a breather."
Anna, meanwhile, is recording a new series of Detective Sergeant Nick Mohammed. She's also directing a show at the moment called My Son's Not Rainman: "It's a stand-up show that a guy called John Williams is doing so we're just rehearsing that and it's going to Edinburgh and various places throughout the year, so I'm enjoying the directing stuff."
Well, that's the end of our interview, so we're off to the 'Congratulation!' Facebook page to get some much deserved praise for conducting it so well!
'Anna & Katy' is on Channel 4 on Wednesdays at 10:35pm.