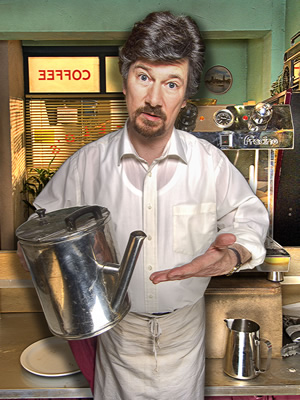 Angelo's is a sitcom created for Five and Paramount Comedy by Bwark Productions. It follows the ups and downs of everyday life in a central London greasy spoon café.
A six-part 30 minute series, Angelo's was written by Sharon Horgan, whose previous credits include BBC Three's BAFTA nominated series Pulling.
The sitcom's main characters are the café owner Angelo, played by Steve Brody, his 19 year-old daughter Maria, an aspiring X Factor contestant, played by Shelley Longworth and her best friend Alicia, played by Perrier Award winning Alice Lowe.
Horgan herself plays Karen, a WPC who is desperate for a baby, so desperate that if her PC husband Dave, played by Paul Garner, isn't up to the task she'll happily use the offer of help from Dave's sleazy brother Kevin, played by Paul Kaye.
Other characters who pop into the café include: hapless mime artist Kris who is covered head-to-toe in gold, played by Simon Farnaby and minicab driver Shelley, played by Miranda Hart; a nymphomaniac 'randy virgin', she makes her male passengers listen to love songs as she explains to them she's still waiting for the right man to come along.
Angelo's has been in development far longer than most sitcoms. Sharon Horgan first had the idea for the series in 2003, but factors including pregnancy, other projects, the closure of Ealing Studios, two pilots, and a change of style (from spoof docusoap to sitcom) held up development.
She explains more: "I first developed the idea about four years ago. It's had a few different incarnations along the way, but mostly the characters have stayed the same. The actual scripts that ended up as Angelo's took about a year to write altogether. Luckily I had an amazing group of actors who work-shopped their characters from the very beginning and stuck with the project despite how long it took to eventually get made."
"I chose almost all the cast, together with producer Damon Beesley, four years ago. Most of them were doing comedy at Ealing Live and we were drawn to them for various reasons, but mainly because they are character actor/writer/performers and we knew that not only would they give great performances but they'd also help to develop the characters and come up with lots of funny stuff. Kim Wall, who plays Russell is new to the cast. I'd worked with him on Pulling and he was very funny. Javone Prince who played Mickey is another new boy - we cast for him and got lucky. He's brilliant. Most of the other guest roles in Angelo's I wrote specifically for people who I'd admired from afar."
Steve Brody, who plays cafe owner Angelo, says: "When I first read the scripts I laughed out loud, I thought they were magnificent. I was aware of Sharon's great work on The Friday Night Project and Pulling. The majority of us have been working on this project for quite a while so we all knew each other and got on well and those that came in slotted in right away."
Simon Farnaby, who plays the gold busker has a good story to tell about the filming: "There were some funny moments during filming in Trafalgar Square, my favourite was when I earned about £6 from members of the public who thought my character was real... now that is acting!"