Albert's Memorial begins as Harry and Frank prepare to visit Albert at his hospital bedside amid IV drips, fruit and 'Get Well Soon' cards. He maybe dying, but Albert is still smiling and happy to see his old comrades whose life-long friendship was forged in the heat of battle. Albert reflects on his life as he comes to terms with the fact he hasn't long to live.
Albert's dying wish is to be buried on the little hill outside Hindenburg in Germany where he watched the Russians take position in the closing stages of the Battle for Berlin. Amid the noise, confusion and chaos this is the last time Albert felt truly alive. He and the other British Troops were at the heart of history and it left an indelible impression on all their lives. The notion of Harry and Frank taking his body after his death is a crazy one, but life is short, friendships are precious and after all the trio have known each other for more than half a century.
The plot unfolds as Harry and Frank eventually kidnap Albert's body from the hospital mortuary and begin a journey that will change their lives forever, as they explore dark events, hardly mentioned since 1945. With Albert's coffin tied to the roof rack of Harry's black cab, they set off on their adventure to honour their friend's last wish and create Albert's memorial.
The journey will see Frank and Harry coming to terms with the trauma and emotion of what happened all those years ago, when as soldiers fighting for their survival, they joined forces with the Russians to encircle Berlin. Throughout their voyage of adventure, each skates on dangerously thin emotional ice, as the events of 1945 continue to haunt them.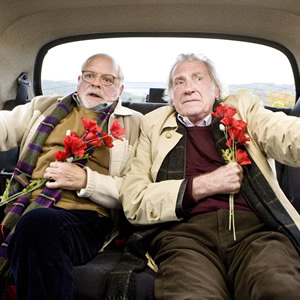 As little goes according to plan and hopelessly lost in Calais, they pick up a German hitchhiker, Vicki (Judith Hoersch), who intuitively learns of the dark secret which has driven a wedge through the heart of their friendship.
During the bickering and reminiscing as they make their way through France and Belgium before eventually reaching Germany, Harry and Frank are unappreciative of the influence and significance of Vicki until it's too late. On reaching their destination, they assume she has disappeared and abandoned them, but it soon dawns on Frank that she has intervened significantly in their lives.
Albert's Memorial reunites Sir David Jason with A Touch of Frost producer David Reynolds, who is co-Executive Producer on this film.
"Albert's Memorial is a story of everlasting friendship, which is threatened by familiar human frailties as Harry and Frank are forced to re-live the events of 1945," comments David Reynolds. "Albert's dying wish is the catalyst which tests the survival of their friendship, as the conflict which has blighted and traumatised their friendship for more than half a century re-surfaces. And as with most traumatic events in life, there's humour as Harry and Frank haplessly make their way across Europe. Both Sir David and I are delighted ITV have commissioned this script."