Win 'Mid Morning Matters With Alan Partridge' on DVD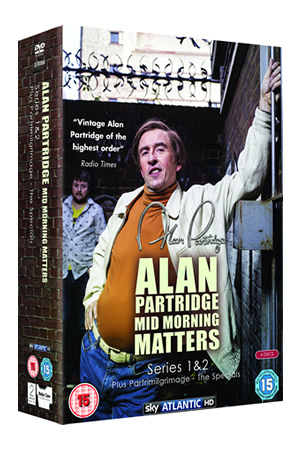 Both series of Mid Morning Matters With Alan Partridge is now out on DVD. If you missed the show on Sky Atlantic, or want to re-live the brilliant episodes, you need to get this boxset.
Once the king of TV talk shows, Alan now hosts a weekday local radio show at North Norfolk Digital which is beamed via studio webcam to a (potential) audience of billions. In this critically acclaimed series, Alan (Steve Coogan) and his sidekick Simon (Tim Key) courageously tackle the burning issues of the day; childhood obesity, popular TV prostitutes and how often you should wash your towels – and prove beyond doubt that mid-mornings matter.
Alan never fails to push the boundaries of broadcasting and, more often than not, good taste.
The new DVD boxset contains all the episodes from the two series, plus - as a bonus - the specials Alan Partridge: Welcome To The Places Of My Life and Alan Partridge On Open Books With Martin Bryce.
Mid Morning Matters Series 1&2 Boxset is out now. Order from Amazon Alternatively, Series 2 is available as an individual DVD. Amazon