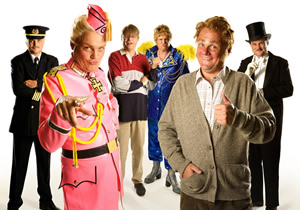 Al Murray's Multiple Personality Disorder is a comedy sketch show written by and starring the multi-award winning creator of The Pub Landlord. The seven-part peak-time ITV1 series introduced Al as a whole host of new comic characters (for the very first time since he created The Pub Landlord in 1994), while some very well-known TV faces dropped in for the odd sketch.
Larger than life characters included: Prurient Dad Peter Taylor, an embarrassing West Country father, who "luuuuuuurrrves seeeeex!" and doesn't mind who knows it; Barrington Blowtorch, the silver-tongued Victorian gentleman-thief who can always talk his way out of a sticky situation; Horst Schwull, Hitler's most trusted aide, who is, just a little, on the 'kamp' side; and Gary Parsley, an outrageous, over-demanding, piano-playing 70's rock star who has let fame go right to his head and is absolutely no way a thinly-veiled portrayal of Elton John.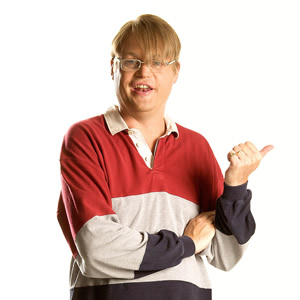 Countless other characters popped up along the way like: Simon, the Intolerant Vicar, who likes to keep everything traditional - well, apart from his temper; Gaz, the less than typical Gay Best Friend, who enjoys beer, heavy metal, and er, women; and Kev and Jaz, the mobile phone shop employees who are shining examples of the best customer service the UK has to offer.
The supporting cast featured established star Jenny Eclair with some of comedy's hottest new talents: Simon Brodkin (Funny Cuts), Laura Solon (Harry and Paul) and Katy Wix (Not Going Out). Characters they play include: Jason Bent, the Premiership footballer who's always ready with some deeply profound post-match chat; Lee Nelson, a misguided cheeky chav from Bermondsey, who provides unique philosophy for the modern age; whilst in Duncan's Den, desperate divorcee Carole Price returns to pitch yet another one of her million-pound new-business ideas to entrepreneur Duncan Bannatyne.
In the last couple of years The Guv has recorded three series of the British Comedy Award-winning Al Murray's Happy Hour; headlined Live at the Apollo; hosted a second Audience With for ITV1; brought his unique Common-Sense-Reasoning to the literary world with the Richard and Judy Book Club-winning and The Sunday Times bestseller, The Pub Landlord's Book of British Common Sense; and recorded his British Comedy Award nominated live show ...And Another Thing at the London Palladium.