As A League Of Their Own returns for a sixteenth series, Romesh Ranganathan talks about becoming the show's new official host.
You hosted some of the last series, and now you're doing the whole of this. What's it been like stepping up from panellist to host? Do the others have more or less respect for you being in charge?
I have loved being a panellist on League and so to step up to host is a proper honour. The main thing I am delighted about is that, in stepping up to host, I will not have to humiliate myself at all of the games.
I would however say that I did have a go at one of them and humiliated myself more than I ever have before. I would love to say Freddie and Jamie have more respect for me, but if anything they have more of a go at me for getting above my station.
What are you hoping to bring to the role and how will you make it your own?
The ideal host of a TV show is like the host of a dinner party - make it easy for people to chat. James was great at that, and I hope to do the same. Above and beyond that, I will just be myself. Which is either great or terrible news for people.
How do you feel now that you won't have to be taking part in the games/stunts?
I am so shit at all of the games and challenges that I would almost have taken the hosting job just for the fact I don't have to do them. However, the producers pointed out that one of their favourite things about me on the show is that I am shit at everything and so they have found ways to keep showcasing that.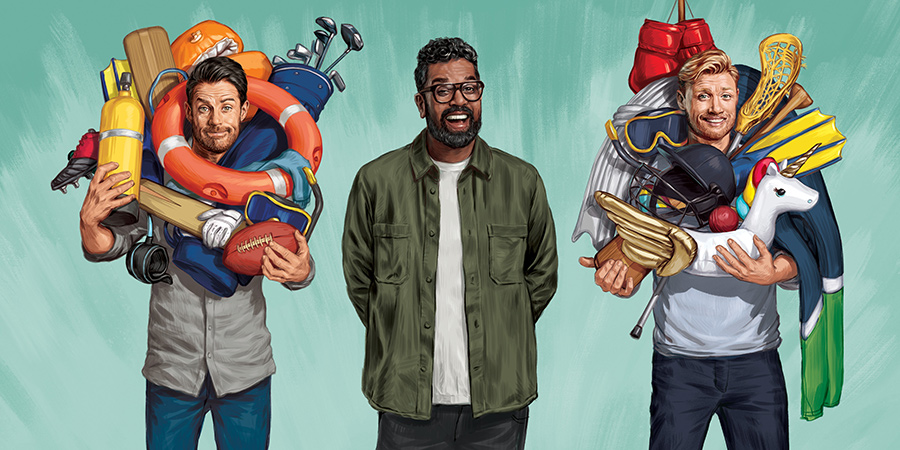 Are there any special guests this series you can tell us about?
We have had an amazing line up this year - I was particularly excited to have Josh Taylor on as he is a properly brilliant boxer - the real deal. You never know if sports stars are going to be able to take a joke, but he was completely unoffendable. It was also great to have Troy Deeney on who properly gives as good as he gets.
Could you all pick a favourite celebrity guest you've had on this season?
Alan Carr is always brilliant when he comes on, but him attempting the final challenge might be the funniest thing I have ever seen on the show - it was incredible.
Who are your dream guests - is there anyone you'd like to keep having back on?
I think Micah Richards is always brilliant to have on. He always steps up to the challenges and gets properly stuck in. I personally would really love to have Thierry Henry on just because I want to become best friends with him.
Can you pick a 'funniest' moment' of the season so far?
Well, Alan Carr doing the final challenge is up there, but there is a rugby inspired pie throwing competition (it's as sophisticated and nuanced as it sounds) that Freddie shows himself to be exceptional at. It turns out he's great at pie catching too.
---
A League Of Their Own is on Sky on Thursdays at 9pm.