Series 7, Episode 5
Broadcast details
Date

Friday 20th September 2013

Time

9pm

Channel

Sky 1

Length

60 minutes
Full synopsis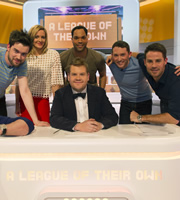 Do not get on the wrong side of Freddie Flintoff - that is the lesson learned in a particularly raucous episode featuring Manchester City and England defender Joleon Lescott and comic Jon Richardson, the latest additions to the Red Team, and TV presenter and ALOTO regular Gabby Logan, who plays for the Blue.
The pressure is on when Corden, Whitehall and Richardson make their way to Twickenham Stadium on a Six Nations match day to see who can score the most conversion kicks in front of an 82,000-capacity crowd. Top tips from legendary ruggers Steven Jones and Thomas Castaignède come in handy, though, for two of them at least.
A drift karting race is followed by a Right Guard Challenge that sends our players scurrying up a cross between a rock-climbing wall and a treadmill. Plus, in amidst all the action, Flintoff sheds light on his prank-playing days and, most memorably, Corden shares a revealing snap of former football star Paul Scholes that, be warned, you won't be able to un-see.
Repeats
Saturday 21st September 2013 at 20.00
Monday 23rd September 2013 at 20.00
Wednesday 25th September 2013 at 21.00
Friday 27th December 2013 at 24.00
Wednesday 6th August 2014 at 22.00
Friday 8th August 2014 at 22.00
Friday 4th December 2015 at 21.00
Friday 8th July 2016 at 21.00
Monday 11th July 2016 at 23.00
Cast & crew
Videos
Four team members try to avoid the plunge while climbing moving walls in this challenge.