"A Bit Of Fry And Laurie" was a sketch series written by and starring Stephen Fry and Hugh Laurie. The show cemented the two as a double act and increased their popularity, helping to build them into the much-loved stars they are today.
The show began because something else did not. In 1983 Fry and Laurie wrote a mockumentary pilot called The Crystal Cube, however the project was hated by the BBC and the two did not get a chance to do another project for the BBC for several years. Fry and Laurie did how make some contributions to other existing shows, most notably appearing in The Young Ones and Blackadder.
In 1987, the BBC allowed Fry and Laurie to make another pilot. This became "A Bit Of Fry And Laurie", it was broadcast as a Boxing Day special. The series followed in 1989.
Over the course of the four series of the show, sketches that featured wordplay and mocked the upper classes featured heavily. Many of their sketches consisted of short vox-pops, which featured as quick character sketches.
While most sketches were stand alone, there were some recurring characters. Most famous of these were Peter and John, two hard-drinking, power-driven business men who tried to put their health club in Uttoxeter on the map whilst fighting against the domination of John's ex-wife Marjorie (Damn it!). The sketch was a parody of several television series at the time such as Howard's Way.
The other notable series of sketches were Tony Murchison and Control, two incredibly nice but somewhat naïve spies, who talk about espionage in a very childlike manner, while drinking coffee.
Other recurring characters include spy Alan; Gelliant Gutfright, host of horror programme The Seventh Dimension; The Bishop and The Warlord - the world's first light metal band; Stephen Fry's bizarre shopkeeper character and his seemingly imaginary character Mr. Dalliard; and Tony Inchpractice, host of several talk shows such as Photocopying My Genitals With... and Flying A Light Aeroplane Without Having Any Formal Instruction With.... By the third series, each episode ended with Stephen giving out a cocktail recipe while Hugh played in the background, giving raise to the catchphrases Soupy twist and Please Mr. Music, will you play?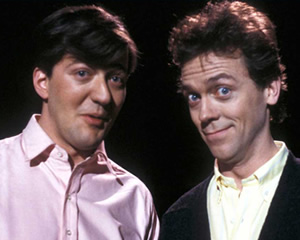 The series also tackled several issues of the day. In one sketch, when asked if they had an idea of who would be a better replacement for Margaret Thatcher, they suggested a wire coat hanger. Another, a parody of It's A Wonderful Life, showed what the world would have been like if media mogul Rupert Murdoch had never been born. The Broadcasting Act of 1990, which lead the way for multi-channel television, was another topical subject attacked. A sketch involved Fry as a waiter who was horrified to see a government minister eating with a silver knife and fork, and changing them for a huge pile of plastic coffee stirrers saying, Well at least you have the choice now. I mean, they may be utter crap but at least you've got the choice!
Episodes would always feature a musical number from Laurie, which would sometimes feature Fry as well. The first song, Mystery, was a love song which became more ridiculous as it went on. Other songs included the polite rap ("Good-ass motherliker"); a protest song that fails to give any solutions to any problems; a disturbing ode to tennis player Steffi Graf; a rendition of Hey Jude in very high and low voices; and Love Me Tender being sung affectionately to Nicholas Parsons.
The show lasted four series, finishing in 1995. The last series was considered not to be their best, having moved from BBC Two to BBC One, featuring guest stars in all but one of the episodes, and having being filmed not long after Fry suffered his very public nervous breakdown.
A Bit Of Fry And Laurie gave the pair a huge board to spring from. Around the time the series was broadcast, they also performed in ITV's adaptations of P. J. Wodehouse's Jeeves And Wooster novels and starred in several other film and TV projects. From here they moved onto seperate projects and, each in their own right, joined the top rank of TV stars. Fry is currently perhaps best known for hosting BBC panel game QI, and Laurie for his works in the USA, including the title role in House.