Andrew Marshall's sitcom 2point4 Children was first transmitted on BBC One thirty years ago tonight (3rd September) and introduced the British public to the supposedly average Porter family. Despite a near decade long success with viewing figures peaking at 14 million, since its abrupt ending in 2000 it has only been sporadically repeated on Gold and has never fully been released on DVD; contributing to it being regularly misremembered and lampooned as "just another" domestic, family-based comedy. But that is far from the truth. For too long 2point4 Children has limboed under the radar and now, as we celebrate the 30th anniversary, it's time for Andrew Marshall's brilliant series to gain some long overdue respect and praise.
At the beginning of the 1990s, the comedy writing duo of Andrew Marshall and David Renwick disbanded after two decades of cult comedy success on radio (The Burkiss Way), television (Whoops Apocalypse and Hot Metal) and even film (Whoops Apocalypse and Wilt). While their brand of comedy was a unique combination of the anarchic, the satirical and the surreal, both turned to suburbia and more outwardly conventional ideas for their solo projects. Renwick was to become best known as the scribe behind One Foot In The Grave and, after his first solo outing with Sob Sisters for ITV, Marshall developed 2point4 Children.
Yes, the title and premise are seemingly unremarkable; the Porters seem your typical family setup of two parents (Bill and Ben), raising their growing offspring and epically failing to retain domestic peace - even the title references the then-average household size, of two point four adults. So why is it so good? Because it broke the rules, subverted its domestic setting with at times unnervingly dark storylines, and was quietly ground-breaking throughout.
Firstly, the Porters resonated with TV audiences in a much more naturalistic way than many predecessors, thanks to Marshall developing a detailed, well-rounded approach to the family's dynamics. Replacing predictable generation gap conflicts and bickerings over silly misunderstandings (as was the norm in many other family sitcoms) with more identifiable issues such as financial concerns, fractured family relations and similar relatable hardships, 2point4 Children quickly stood out amongst the rest. The primary set, for instance, looks like a real, lived-in house, complete with magazines, toys and videos scattered across the living room; unlike the pristine, magazine show homes of many other productions.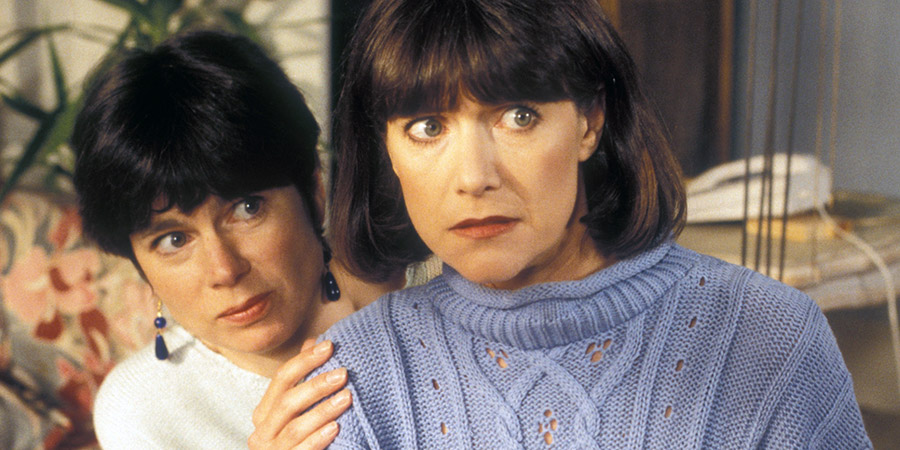 Perhaps most notably, the series was built around the mother rather than father of the family. Bill Porter was a working mum who, with neighbour and best friend Rona, developed her own catering business - a story arc that runs through all eight series and is portrayed with the believable high and lows of starting up and running a small company.
Played to perfection by Belinda Lang, Bill Porter is an underrated pioneer in the Britcom canon. While often viewed as nothing more than a downtrodden sitcom mother, she is in fact a level headed, sharp witted and very dependable figure. But don't be mistaken as she is also fun, often misses the mark and is very political; a regular occurrence are her rants about the way society, politics and morals are going down the pan - blaming "bloody Thatcher" for everything from hospitals and buses, to British Telecom and even trick-or-treating.
While Rona is initially the archetypal promiscuous neighbour and family friend, her diverse story arcs range from jilting her fiancé (for the second time), to having difficulties conceiving when choosing to have a baby on her own, and a very complicated family history. Her offbeat personality is central to some of the show's leftfield humour, such as her desire to have a baby that has Rob Lowe's nose, Tom Cruise's chin and Mickey Rourke's eyes.
Bill and Rona's friendship is also one of Britcom's most underrated and deserves to sit alongside celebrated female duos such as Absolutely Fabulous's Edina and Patsy, and Beryl and Sandra of The Liver Birds. As friends and colleagues they look out for each other, particularly when they are subjected to sexual harassment by a manager at work; a storyline that sadly remains socially relevant. The friendship is far from doom and gloom as they often find themselves chatting about frivolous subjects (usually with a brew) like classic TV shows, teenage crushes and their opposing lives.
Described by Marshall as the 'point 4', Ben Porter displays very juvenile behaviour; indeed, he often reflects very similar childlike traits to his son David. He's a hard-working plumber, tired but always devoted to Bill (even if he rarely shows it). The late and much-missed Gary Olsen infectiously captures not only Ben's childlike personality but also his vulnerability, particularly when it comes to how he raises his own children, stemming from his own difficult upbringing. There are a handful of funny and heartfelt conversations between him and each of his children, like giving David 'the sex talk'.
The Porter children are a perhaps surprisingly stereotypically moody teenage girl and playful boy, but one of the many joys of the series' long run is to watch Jenny and David grow up. Jenny, first played by Clare Woodgate and then Clare Buckfield, begins as a monstrous adolescent but eventually grows into a mature(ish) young woman. David, played by John Pickard, is a particularly wonderful child character; his morbid obsession with the macabre is infectious and displayed through his questionable activities including 'playing accidents' and wanting to watch the ambulances arrive at the hospital. While he remains youthful, by 2point4 Children's finale, David displays remarkable maturity towards Declan, a young boy the Porter family adopt after experiencing a very challenging upbringing.
The first two series are primarily centred around Bill's story arc as she questions her life choices, which is fuelled by the regular appearance of a mysterious biker character who represents her soul searching. When that storyline concluded, the third series refocused towards the family as a whole and, for many viewers, this is when the comedy really hit its stride.
As with Renwick in One Foot In The Grave, Marshall employed a range of darker, more surreal, subversive and irreverent elements in 2point4 Children, similar to the style seen in their comedies as a partnership. Perhaps more sanitised in their solo work than in their collaborative output, these no less helped both sitcoms bring a breath of fresh air to the mainstream sitcom space.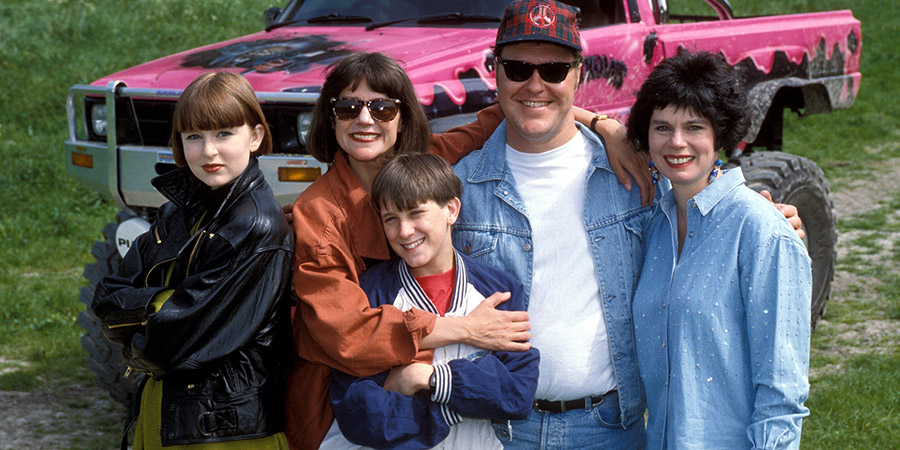 Many storylines have a tragic quality, mixing deep pathos that arrests laughter in favour of the dramatic and poignant. How many primetime family sitcoms would inflict the youngest child with a life threatening illness? Well, 2point4 Children did just that when David nearly died of tetanus at the end of Series 2. The family also endured the gruelling realities of a house fire, whilst the eccentric Aunt Tina - who in the hands of a lesser writer may have remained a one-dimensional, tactless one-joke guest character - is almost tangibly heartbroken to discover her husband is having an affair. These moments of pathos are played very seriously and Marshall's writing exquisitely undercuts the tragedy with humour.
Episodes often begin with the most relatable of everyday tasks, shifting to more surreal occurrences such as the Porters finding themselves stuck in a (literal) minefield; receiving cursed chains letters; becoming trapped by cobras; hacking into Bill Clinton's email; performing a séance or becoming convinced that Dracula has moved in next door. How many families would prove their commitment to owning a dog by tending to an imaginary one with 100% sincerity?
While the series got more bonkers as it progressed, the tightly plotted scripts and moments of realism ensured that it never strayed towards incomprehension.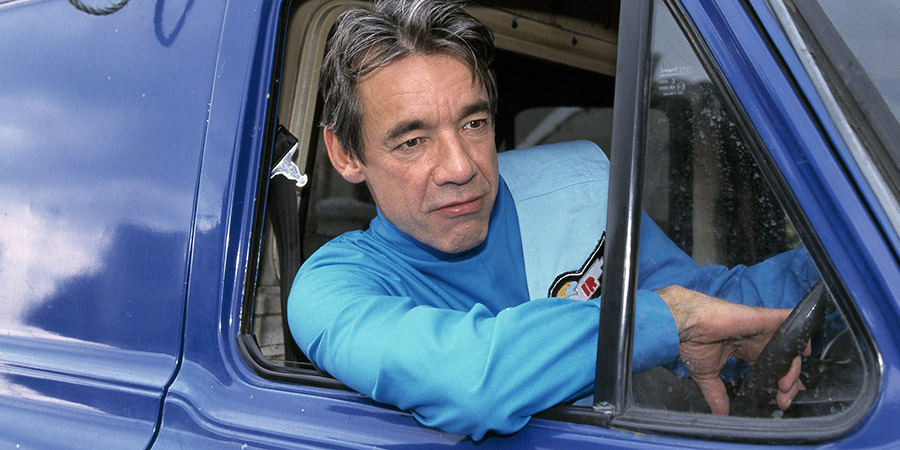 A fan favourite episode is Seven Dials in Series 5, which sees Bill and Ben promise David that nothing will stop them making his drama performance. Well, Ben's latest prank at the expense of arch nemesis and rival plumber Jake Klinger (Roger Lloyd Pack), results in him being knocked out and taken to Portmeirion where Klinger chases him with a giant white balloon as part of an elaborate parody of cult 60s sci-fi drama The Prisoner. Meanwhile, as Bill and Rona search for a property to expand their catering business into, they stumble across and become locked inside the warehouse where Shirley Bassey stores her career's collection of lavish dresses. This episode perfectly encapsulates the show's range of styles and varied storytelling elements, incorporating both parody and a musical number.
Occasionally the programme would break the fourth wall. Series 3 episode Badger's Bend ends with Ben accidentally killing a pet goldfish. Over the credits, Gary Olsen breaks out of character to directly address the audience and explain how the joke was achieved, but in doing so ends up accidentally killing the 'real' fish as life and art clash. It's the kind of meta blooper that Mrs. Brown's Boys overdoes, but it was a rare treat in 2point4 Children and thus the audience never knew quite what would happen from one episode to the next. The denseness of the plots and production values makes the series one of those that require multiple viewings in order to truly appreciate all the ingredients.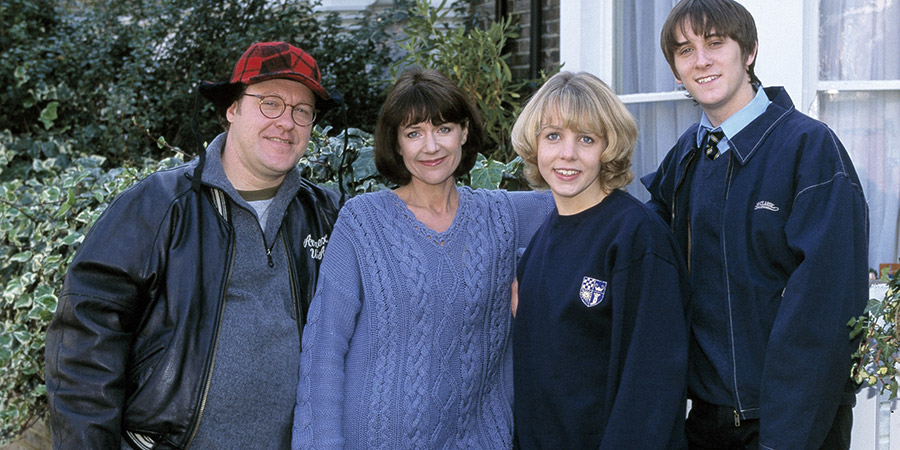 Along with the sharp writing, a key element was that the series was perfectly cast. Belinda Lang (Dear John...., Second Thoughts) and Gary Olsen (Prospects) shared wonderful chemistry as Bill and Ben. Julia Hills (Who Dares Wins..., Dad) showcased her impeccable comic acting and timing when portraying Rona with all her complexities. The series also boasts an impressive recurring cast of comic talents: Liz Smith (The Vicar Of Dibley, The Royle Family) was a treat when appearing as Bill's mother Bette (or sometimes her twin sister Belle); Sandra Dickinson captured the humour and sadness of Aunt Tina; and Kim Benson's appearances as Ben's sharp-tongued plumbing assistant Christine, made the character a regularly hysterical fan favourite.
Its ending enforced with the early death of Gary Olsen in 2000, 2point4 Children has not achieved the 21st Century appraisal it truly deserves; this is frustrating as watching it in 2021, while inevitably a product of the 90s, it is immediate to see the humour, themes and performances have barely aged. And while it is not an easy sitcom to obtain (so far only the 1993 Christmas special has appeared on BritBox), occasional repeats on Gold have ensured the series remains popular with a cult fanbase.
Since 2009, a Facebook fan page has been dedicated to ensuring the series' full DVD release, and earlier this year I launched Don't Slam Your Podcast! A 2point4 Children Podcast. Hosted by myself and 2point4 fans, we review each episode in detail. We are also lucky to have the involvement of Andrew Marshall, who has kindly provided fascinating memories for each episode. Feedback to date has been overwhelmingly positive, and proves that audiences really do get the programme's unique intricacies.
So no, 2point4 Children is nothing like the bland comedy that critics would have you believe. In fact, it comprises everything missing from modern sitcoms: depth, believability, creativity and most importantly... comedy. Let's ensure that the 2020s treat this classic series better.
---
Listen to Don't Slam Your Podcast! A 2point4 Children Podcast
Published: Friday 3rd September 2021