Thunderer
By: Bryn Mills
Sitcom Mission 2010 finalist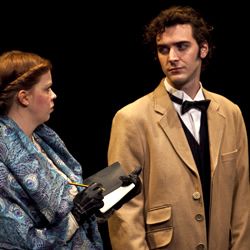 Winner of The Sitcom Mission 2010
London, 1885. The British Empire is at its height and Samuel Mason, editorial assistant at the mighty Daily Thunderer, intends to keep it that way.
Changes are afoot, though, not least in the shape of Fleet Street's very first intrepid lady reporter, Miss Amy Peasegoode.
Credits
| Cast | | Character |
| --- | --- | --- |
| Cian Barry | ... | Samuel Mason |
| Emily Houghton | ... | Amy Peasegoode |
| Al Constantine | ... | Inspector Grunswick |
| David Fynn | ... | Ephraim Hardwicke |
Bryn Mills
Bryn Mills won his infant school's 'Humorous Nativity Play' competition at the age of 6 and never looked forwards. Some three decades later, he realised that this was the wrong direction not to be looking in and picked up his pen again. Thunderer is his first effort, so be kind.
David Fynn (Director)
David is somewhat new to the world of directing. Last year he directed two short films and this year he directed The Strange Case of Locura Hall at the Union Chapel. Credits as an actor include The Inbetweeners, Doctor Who, Leap Year, Spooks and Showreel. He hopes you enjoy his sideburns.
Note
Thunderer was the winner of The Sitcom Mission 2010. It went on to have a sell-out run in Edinburgh and writer Bryn Mills entered talks with Hat Trick about further development. The script for this sitcom has been published online. Read Script