The Regulators
A situation comedy performed as part of Sitcom Mission 2011
Written by Falko Rademacher.
Directed by: The Cast.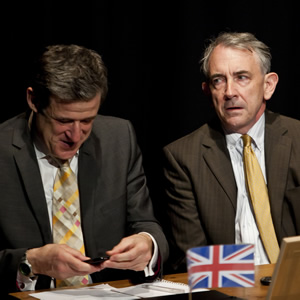 Sitcom Mission 2011 finalist
A German and an Englishman together in an office in Brussels. It's clear what you must think: Comedy Gold!
Set somewhere in the dens of the European Commission, a team of multinational officers tries to keep the Union together.
They have to deal with lobbyists, politicians, journalists and their own demons, but particularly with their desire to punch their colleagues in the face.
| Cast | | Character |
| --- | --- | --- |
| Daniel Dresner | ... | Martin Spoons |
| Rebecca Steele | ... | Jacqueline de la Roche |
| Simon Wright | ... | Hans Becker |
Falko Rademacher
Alright, let's try together: Rrah-duh-mah-hgrer.
The 'hgr' is a guttural sound that you make when you clear your throat or die a mysterious death in a Dan Brown thriller: Hhhgggrrrr...
You know what? Call me Perkins.
Born 1974 as Falko Hermaphrodite Perkins in Bochum Fulham (Germany), I realized quite early that I was not suitable for any kind of real work. But I didn't hate people enough to become a teacher or contract killer, so I tried writing comedy, which seemed to flourish in the Germany of the Nineties. I know. I should have known better.
Since then I have been trying my fortune as a semi-professional comedy writer, which is a bit of a tautology because there is of course no such thing as a 'professional German comedy writer'. I published some books, though, which I am proud of because everyone hated them. Germany doesn't allow comedy about underage necrophiliacs in the Vatican Palace, can you believe that? So now I am on my way on a banana boat to the shores of Britain where people have no sense of decency whatsoever. The same seems to be the case with their sense of taste or clothes, but never mind.
'The Regulators' Notes
2011 Finalist.