Keep Off The Grass
A situation comedy performed as part of The Sitcom Mission 2012
Written by Sarah Christou.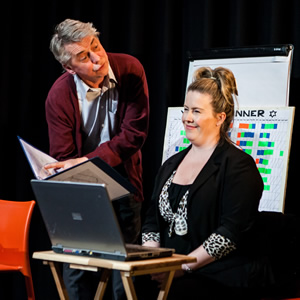 Jeremy Watlington is Head of Alumni Relations. He believes, by rights, he belongs in gentlemen's clubs with the likes of Stephen Fry, and is slightly frustrated to be in such close proximity to academic greatness and yet still not quite a part of it.
Emily Street is the Alumni Relations Officer. This job is her chance to be a part of something prestigious, and she's not going to let the fact that her only qualification is a GCSE in Manicure Technology hold her back.
Mrs Fothergill is the College Rector. She is perfectly pleasant, but emotionally detached from everything.
Each episode sees the Alumni Relations team strive to do their job whilst dealing with demanding alumni, pompous Fellows, and smelly students, in an environment that is not all together cut off from reality, but does put too much emphasis on the acquisition of good quality port in their general outlook on life.
| Cast | | Character |
| --- | --- | --- |
| Tom Knight | ... | Jeremy Watlington |
| Natasha Byrne | ... | Emily Street |
| Carole Street | ... | Ms Fothergill |
| Paul Norton | ... | Dr Brehme |
Sarah Christou
Since graduating from a degree in Film, Media and Culture in 1997 Sarah continued creative writing in her spare time whilst doing marketing in her day job. Her true love is situation comedy and in the last two years she has focussed her efforts on this.
Sarah has worked continuously to improve her ability to write engaging, funny and believable characters and narrative. She seeks out feedback from anywhere she can get it, as she believes she will only get better if she takes on board the criticism and keeps on ploughing forward.
This year Sarah turned 40, she realised her looks were fading and that she should get on with achieving her ambition before the grey hairs start appearing on places other than her head, so she signed up to an MA in Screenwriting and poured all the effort she could muster in to her submission for The Sitcom Mission 2012.
Sarah got the idea for Keep Off The Grass after a brief stint working in an Oxford college alumni office - she lasted three months in the job, it was a painful and awkward experience but she can laugh about it now - and hopefully so can you.
'Keep Off The Grass' Notes
Performed in Heat 1, Semi Final 1, Grand Final