Tim Key Music Album Review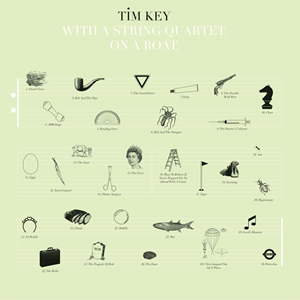 While at the moment it is Harry Hill's somewhat troubled musical compilation which is getting the most media attention, another less mainstream comic is also releasing his own album.
The comedic poet and 2009 Edinburgh Comedy Award winner Tim Key has released some of his comic poems, with musical compliment from a string quartet (three women, one man), all recorded from a studio based on a boat. Hence the title. One of the less mainstream things about this release is the formats that it has been made available in: there are no CD versions, it is only available as a download or on vinyl.
At first it appears that this album is just a collection of poems set to music, but there is more to it than that. It is mainly Key "arguing" with his fellow guest contributor and Cowards co-star Tom Basden, who is referred to mostly by his nickname "Lord".
Each track consists of one poem (except one, Lord's Moment, which consists of a song by Basden), most of which are rather short. In fact, some of the tracks are less than a quarter of a minute long, but the poems are funny no matter what the length.
There's one called The Fiver, which is about a man who finds a five pound note and is so desperate to find out who it belongs to that he holds up a branch of HMV at gunpoint in order to find the rightful owner. There is also a rather useful poem, entitled: How to Behave If You're Trapped on an Island with a Giant (but the Giant is ill).
Even individual lines stand out, such as: "Foghorn ordered more papadums, in brackets perhaps 20 more. 20 more papadums." (Dead Claire); "The doctor literally had a cabinet for everything. Even for his jonnies. Even for his jonnies there was a cabinet." (The Doctor's Cabinets); and "A bomb had banged near him and three chunks had hit him. The worst one was about as big as a hubcap, if the car was as big as a Labrador. Quite a small lump." (The Trouble with War).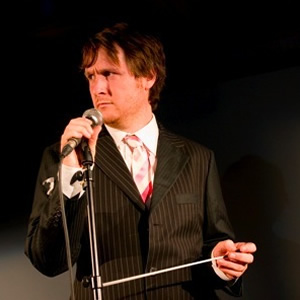 However, most of the humour, and indeed the album's content, comes from the arguments between Key and Basden. At the beginning it is indicated that Basden is supposedly late for the recording and is unaware that a string quartet has been invited to play, hence the guitar he has brought along is somewhat redundant.
The album continues with the two arguing, such as Key pointing out that Basden cannot have a coke while he is playing the harmonica, and later Key puts a chunky violin case between Basden and quartet for fear that Basden is getting too close to the three women.
Some other reviews of the album have made comparisons with more famous comedy albums, such as Peter Cook and Dudley Moore's Derek and Clive recordings. I think that is taking it a bit too far. For starters it is not nearly as rude (although 'Chess' does feature the c-word) and Key's album is not as laugh-out-loud funny as the genius of Pete and Dud.
Having said this, it is worth saying that this album is better than most of the stuff that gets released this time of year. There are many moments of mirth and it is a worthwhile listen. Tim Key fans will certainly love it.
'Tim Key. With a String Quartet. On a Boat.' is released by Angular Recording Co. with The Invisible Dot. Available as a vinyl record and as a digital download (Amazon download price: £7.99 - Buy)