@TechnicallyRon interview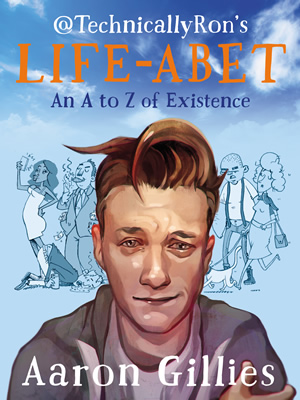 Comedy writer Aaron Gillies is probably better known as @TechnicallyRon. Every day he releases humourous messages and pictures via his popular Twitter account. He's now got a book too - Lifeabet: An A-Z of Modern Existence. We find out more here...
So this all started with your Twitter account. What made you start on Twitter in the first place?
Boredom more than anything if I'm honest! I was never an actively social person and Twitter created a rather fantastic way of speaking to people without having to show anyone my face, which really worked for me!
What were you doing as your job at this point?
I was working as a sound operator for a theatre at the time. Which gave me time between cues to piss about on Twitter (probably shouldn't admit that).
What kind of comedy did you watch growing up?
My father raised me to love the classics. Monty Python, Bottom, The Young Ones, Blackadder, Red Dwarf, Cheers, Police Squad, The Naked Gun - anything completely stupid and ridiculous which made for good escapism was instantly a favourite.
Have you ever had any kind of writing training or are you a self-taught man?
Unfortunately not. I failed A Level English quite spectuculararly. Thankfully there are hundreds upon thousands of Twitter pedants out there to help you correct your English for free, it's such a welcome and brilliant service.
You've done freelance writing before. How does this usually come about?
Usually I will throw something out of my mind into Twitter that people find funny. Usually a photoshop image. And occasionally someone will approach me and say "Hey that wasn't the shittest thing I have ever seen, would you like to not be shit for us for a bit?". That or begging. Begging usually works.
How much do you write each day?
I work as a full time comedy writer at the moment, so usually 8-10 hours a day. However in all honesty about 2 hours of this material is decent enough to be seen by human eyes, the rest needs to be burned in an industrial forge.
Would you ever give stand-up a go?
My god no. I am one of the most socially awkward people you could meet. My stand-up would be me stood on the stage, seeing everyone looking at me, weeping and then possibly being carried off stage as I vomit everywhere.
How did the book come about?
The team at Blink Publishing approached me about the book last October. They thought I would be a good fit for some of the new publications they were putting into the world. I am still not convinced that this isn't all just an elaborate prank.
How did you decide what to write about?
Most of the things I tweet about are fairly pessimistic observations about modern day life. Well, some say pessimistic, I would say realist. However Blink thought this would be an excellent path to explore. We tried to settle on a subject, and then thought, fuck it, let's do ALL THE SUBJECTS.
And 104 subjects later, we'd accidentally made a book.
What was it like to write a book?
It's like writing a tweet but takes a year, 6 mental breakdowns and enough coffee to kill a normal human being.
You've spoken quite openly about mental health issues, was this difficult to do initially?
Very. I spent a long time denying that there was anything wrong with me. The hardest part was going to the Doctor and admitting that I thought I was broken. It can be difficult to articulate your feelings when it comes to MH issues, especially when you don't know what's happening within your own head, but speaking out about it can help. I made the decision to start talking about it, and it's really helped.
What are your top Twitter tips?
I suppose just don't be a dick. Yeah you have the right to say whatever you want on the internet, but that doesn't mean you have to. There's enough bollocks in this world as there is, you look at Twitter for information, debate and conversation, don't just use it as a way of trying to make yourself feel bigger, because it doesn't work.
Oh and don't steal other people's jokes or images. It's just lazy.
Do particular times/days work better for tweets than others?
I have been sat in meetings where people talk social media strategy, and dissect the week to blocks of heavy twitter traffic and I honestly felt like my brain was falling apart like a rotten ham. Weekday mornings are usually the best time to tweet, as everyone is at work and bored and want to piss about on the internet, but apart from that, if you feel like you've got something to say, say it.
What's next?
God knows. A nap? A blood transfusion? I would love to write another book, I would love to do a lot of things, I think it all just relies on if anyone actually wants me to do them! At the moment I still can't believe any of this is happening, so I will just take each day as it goes.
That's it!
Marvellous! Pub?
@TechnicallyRon's Lifeabet: An A-Z of Modern Existence is out now, RRP £10.99 (Blink Publishing). Order from Amazon. Also follow @TechnicallyRon and find out more about Aaron's work via technicallyron.com