Strawberry Media: A decade of DVDs
A ship's captain is promoted by his company to their flagship passenger liner. Although he is a thoroughly competent sailor ready to take charge of such a ship, he is less prepared for the social duties the new position involves, not least the way he becomes the target for all the unattached women on board.
This synopsis of the film The Captain's Table (1959), sums up my feelings on launching Strawberry Media in January 2011, with the obvious exception of the attention from unattached women!
The Captain's Table is in many ways a typical release for Strawberry. A hit in the cinemas in 1950s Britain and starring one of the then-screen idols, John Gregson, it had not seen the light of day for over half a century since its original theatrical release in 1959. An ensemble cast of renowned British comedy actors included Donald Sinden, Richard Wattis, John Le Mesurier, Joan Sims and Maurice Denham. The film was based on a novel by Richard Gordon, famous for the Doctor series of books. The joy of bringing this hidden gem of a film back to the public domain is what led me to launch Strawberry Media back in early 2010. And it was to be the first of many such releases.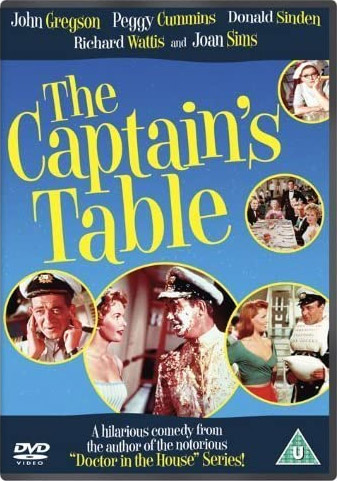 It was also to be the first of several comedy releases starring John Gregson, including Miracle In Soho, True As A Turtle and Value For Money.
My first encounter with the home entertainment industry however had come many years earlier. It was in 1989 that I joined Video Collection International: it was an exciting time for the fledging home entertainment industry and VCI was an aggressive acquirer of UK programme rights, most notably from Rank films and the independent TV franchises such as Granada and Thames TV. Indeed, our most popular titles were the Carry On, Doctor and Norman Wisdom series of films.
After 13 years at VCI I moved to ITV in 2002 and found a company not only focused on new and popular TV programming but also rich in classic TV and films. It was also at about this time that DVDs were beginning to replace VHS tapes as the preferred format for home entertainment sales. I joined a team whose role was to maximise the value of the back catalogue, which, following the acquisition of the Rank and ITC catalogues during the previous decade, included all three aforementioned families of films! By 2010, and after 8 years at ITV I took my leave and decided to set up my own business, Strawberry Media. ITV were very supportive and saw the merit of one of their former employees being entrusted with a valuable chunk of their extensive back catalogue.
Ten years on and with a catalogue of around 200 films and TV series, Strawberry Media has grown steadily. We have not focused on a single genre, although comedy is clearly my favourite, and we are lucky to be so rich in content. The catalogue includes a diverse blend of British-made films and TV programmes, most of which were produced between the 1940s and the late 1960s. Our catalogue is broad, from British noir through to Second World War movies, with many films addressing social issues facing post-War Britain such as poverty, crime and racism.
But back to those comedies. I am lucky that we have had the opportunity to bring to market so many great titles. One of the first was Lost For Words (1999), released in 2011 and starring Pete Postlethwaite and Dame Thora Hird. The film deals with the subject of caring for an elderly relative with health issues but does so in a sensitive and amusing way. It has proved enduringly popular every year since release and is Strawberry's best-selling title to date.
Lost For Words was a popular feature-length TV special and it was not a surprise that it transferred so well to the home entertainment market. Other films in the catalogue were however going to be more challenging. Many were buried deep in the Rank film archive and had not seen the light of day since their original theatrical release, which in many cases was a timespan in excess of 60 years.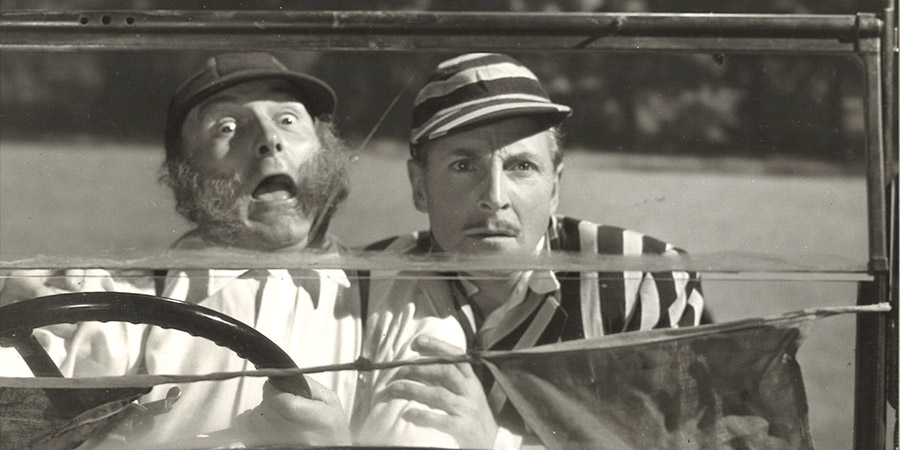 One of the earliest films we released proved to be very popular: It's Not Cricket, made in 1949. It stars wartime comedy duo Basil Radford and Naunton Wayne as Major Bright and Captain Early, two hapless intelligence officers in post war Germany, features an early cameo performance by a young actress called Diana Dors, and was produced by soon-to-be-married theatrical couple Betty Box and Peter Rogers. Indeed, the film was only Peter's second film as an associate producer but he would go on to make many more: whilst Betty made that hit Doctor series, he produced the Carry On films.
Many of our films from the late 1940s and 1950s reflect the struggle of ordinary working class people in the post-war years. The cinema was one of very few outlets people had to escape their everyday life, and films regularly sought to portray ordinary folk in extraordinary situations, often with a touch of humour. One such film which is a favourite of mine is A Day To Remember (1953), and was one of Strawberry's early releases. It tells the story of a London pub darts team who go on a day trip to Boulogne. Led by Stanley Holloway and with the support of Donald Sinden and James Hayter amongst others, and it is both humorous and poignant. We forget today that in the 1950s most people had only travelled abroad, if they had at all, to fight in a war!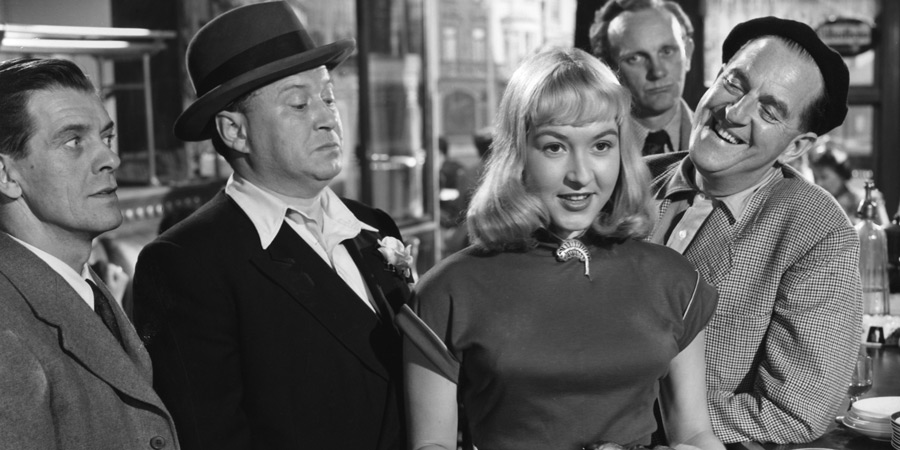 Another release, The Happy Family (1952) reflected the frustration that many people had with government and politicians in the post-war years. The Second World War had been over for the best part of a decade, but austerity was very much on the menu and food rationing did not finally end until 1954. Starring Stanley Holloway and a young George Cole - and with echoes of Passport To Pimlico - the film tells the story of a family unwilling to bend to the authorities who want to buy their house in order to demolish it as part of the Festival of Britain celebrations.
We have also released a number of film box sets featuring either specific genres or actors. One such title is the Leslie Phillips Comedy Box Set, featuring three of his finest films: In The Doghouse, The Man Who Liked Funerals, and Don't Just Lie There, Say Something!. These films demonstrate the brilliance of Leslie Phillips's comedy timing and it has proved to be our most popular box set.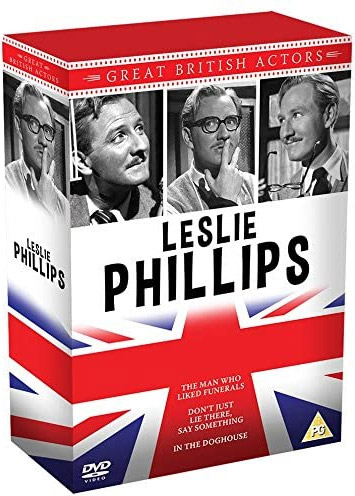 The 1950s and 60s saw the heyday of British cinema, but the economic decline of the UK in the 70s was reflected in the film industry. Consequently, to minimise production costs and build on their TV success many situation comedies tried to replicate their small screen success on the big screen, with mixed results.
Amongst the successes were On The Buses and Porridge but another, That's Your Funeral (1972), also proved popular with cinema-goers and has many laugh out loud moments. It also holds the accolade of being the shortest-lived TV sitcom to receive a feature film adaptation, having run for just a single series on BBC 1.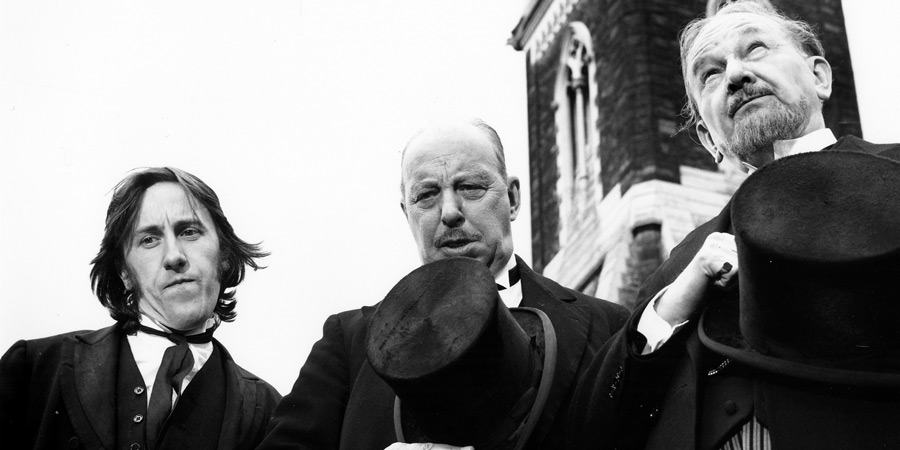 Other TV titles that we have brought back to life include Fortysomething (2003), starring Hugh Laurie and Benedict Cumberbatch, which sees a happily married man struggle with the onset of middle age. I'm also proud to have brought Distant Shores (2005) starring Peter Davison, and Grafters (1998), starring Robson Green and Stephen Tompkinson, to DVD.
January 2021 marks the 10th anniversary of the launch of Strawberry and it has been quite a journey with many highs and even more laughs. Indeed, two of our most recent releases are comedy gems: Don't Ever Leave Me (1949) starring Jimmy Hanley and Petula Clark, and the inimitable Frankie Howerd in Jumping For Joy (1956). And we hope that you enjoy them both!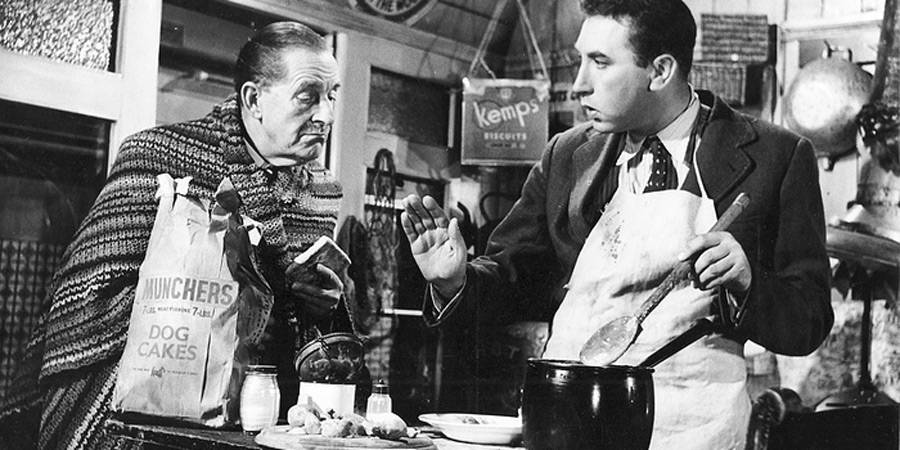 I hope this article has stimulated interest in the love of classic television and cinema that Strawberry Media is about. If you would like to keep up with our latest releases and back catalogue on social media then please follow us on Facebook or find our blog-based website.