Rik Mayall launches new audio comedy series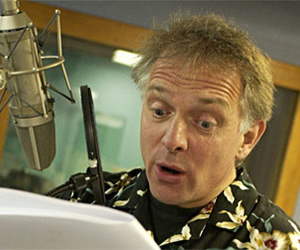 Rik Mayall (pictured) - star of shows including The Young Ones, Bottom and Blackadder - has unveiled his latest character creation: a sherry-guzzling, prawn-eating, misanthropic, immortal, bastardly snowman called Elton.
He stars in The Last Hurrah, a new audio comedy which is sidestepping radio and traditional shops and launching straight as an online download and independent label CD purchase.
Featuring a full cast, the six part series takes place within the mysterious confines of The Last Hurrah, the last true gentleman's club, hidden for centuries beneath an ordinary London side street. Throughout history, Mayall's character Elton has observed the best and worst of humanity from over his pint of sherry. Currently, he makes do with the dubious company of Mr Bonjour Hellfire, a luckless, disgraced ventriloquist from the Blackpool Old School.
The Last Hurrah was co-written by Mayall, Dominic Vince and Craig Green, with Mayall playing a variety of roles, including an unnervingly sleazy narrator and Randy Hardy, 'a magnificently psychotic blot on the entertainment landscape'.
News of the release comes as Rik Mayall looks for new projects following the announcement that the new Bottom spin-off Hooligan's Island will not be going ahead.
Mayall describes writing the character of Elton as a joy. He adds: "He is such an unspeakable cu...character. Yet for all his terrible behaviour, and despite his knack for doing well out of wars and human catastrophes, Elton has a very British charm and elegance, he's just gorgeous. The Last Hurrah, to me, speaks so much about the feeling of a lost Britishness; a crumbling Empire, gloriously carrying on regardless in its secret self-contained world. I adore the fact that as a club member, Elton has knocked back drinks with Picasso, Beethoven, Wilde, Ivan the Terrible, Vlad the Impaler, Hitler - all the greats."
Below is the first episode:
The six-part series is available to buy now on triple CD for £12, or as an internet download for £10, from www.thelasthurrah.co.uk
Here's a guide to the six episodes: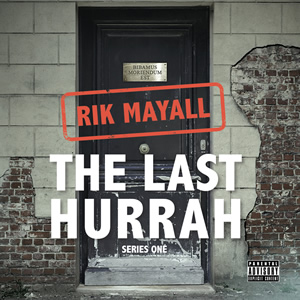 1. Old Snow Never Melts (38 minutes): Elton, the last remaining Snowman on our poor hapless planet Earth, settles down to write his disgusting biography.
2. Stash in the Attic (33 minutes): Elton amuses himself by mercilessly ridiculing Bonjour Hellfire about the disgracefully foul demise of this once popular ventriloquist's career.
3. Lemon Turbo (40 minutes): Elton fearlessly and shamelessly reveals his shocking escape from East Germany in 1946. And what is Bonjour doing with a greyhound?
4. Animal Fucker (38 minutes): When Bonjour Hellfire's outrageously immoral mishap with a laptop whacks him straight slap bang onto the headlines, Elton is only too happy to help the sickening perv.
5. The Enormous Midget (32 minutes): Elton begins his diabolical new plan for a nob-graft.
6. Corky's Revenge (33 minutes): Elton is in trouble. Big trouble. And the Club is not happy.