Russell Brand's Revelation
Russell Brand to release audiobook about "the sacred in everyday life"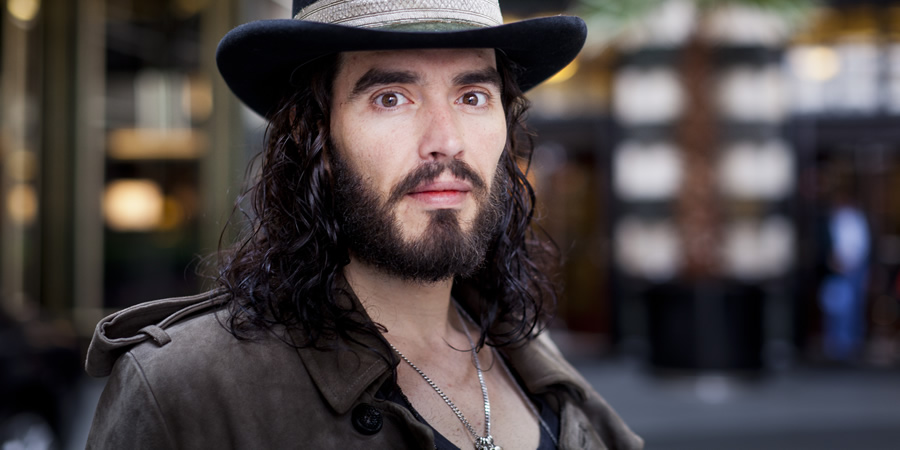 Russell Brand is to release a new audiobook in which he talks about "the meaning of life, death, and the sacred space in between".
Revelation: Connecting with the Sacred in Everyday Life, which is exclusive to Audible, will be released on 25th March.
The platform says: "Revelation will take listeners through a deep, earnest, yet witty dive into the meaning of life, death, and the sacred space in between, written and narrated by the award-winning comedian, actor, author, public thought leader and passionate activist for mental health and drug rehabilitation."
Via his YouTube channel, over the last few years Brand has been releasing videos in which he talks about topics including relationships, addiction and spirituality.
Speaking about his new audiobook, he says: "The only way we will save ourselves and save the world is by attuning to the deep and ever present beauty in ourselves, nature and each other. Whether in relationships, personal development or politics we will find peace only through awakening to the sacred.
"In this Audible Original, I explore the necessary presence of God in ordinary life and everyday death. In lockdown, in addiction, in loneliness, in political despair and ecological nihilism we can only survive personally and socially if we awaken to the deep and neglected reality of the scared in all things."
---
For updates, click the button below.
Russell Brand takes a deep, earnest, yet witty dive into the meaning of life, death, and the sacred space in between in this compelling Audible Original.
An Aussie woman living alone in a forest, at one with nature and technology. A former addict celebrating an anniversary in recovery with friends - all ex-addicts - at a humble community centre in LA. A man, no stranger to personal tragedy, training others to swim in arctic waters. The mortality of a close friend, a beloved pet cat, and - ultimately - ourselves. Russell Brand finds the sacred in all these people, locations, and experiences and advocates for discovering and embracing the sacred that is in all that surrounds us. Not an easy task in a world filled with the distractingly profane and our culture's high value of emptier qualities, like celebrity and wealth, often at the expense of kindness and connection.
Unsparing of himself, and with insights that are sure to resonate with any listener, Revelation sets a context for our need for the sacred - especially now, given current societal fragmentation and the dearth of mitigating social and political ideas. This Audible Original will truly change your perspective and, in the process, your life.
First published: Thursday 25th March 2021
Buy and sell old and new items
Search for this product on eBay
It looks like you're in the US? Fear not! Almost everything can still be ordered.
Amazon UK
deliver internationally,
Amazon.com
carries many items separately, or you can look out for US/Canadian flags on our product listings for direct links.
If ordering from a UK store, please note that you are in Region 1 (DVD)/Region A (Blu-ray), whilst the UK is in Region 2/B, respectively. This means that many - but by no means all - may fail to play. Look for products marked "Region free", "All regions", "Region 0" or "Multi-region". Blu-rays may also be marked "Region A/B/C", "Region free", or variations thereof. You may also check whether your DVD/Blu-ray player supports multi-region playback (also referred to as "region free"), or whether it can be set to do so. There should, of course, be no problems with books, CDs, or other physical items.
More advice & help on importing
Share this page