Michael Palin's fourth diaries
Michael Palin to publish fourth diary collection
Michael Palin is working on a fourth volume of his best-selling diaries
It will be published on 2nd September and is available to pre-order
He is also writing a book about his great-uncle Harry's life and death during the First World War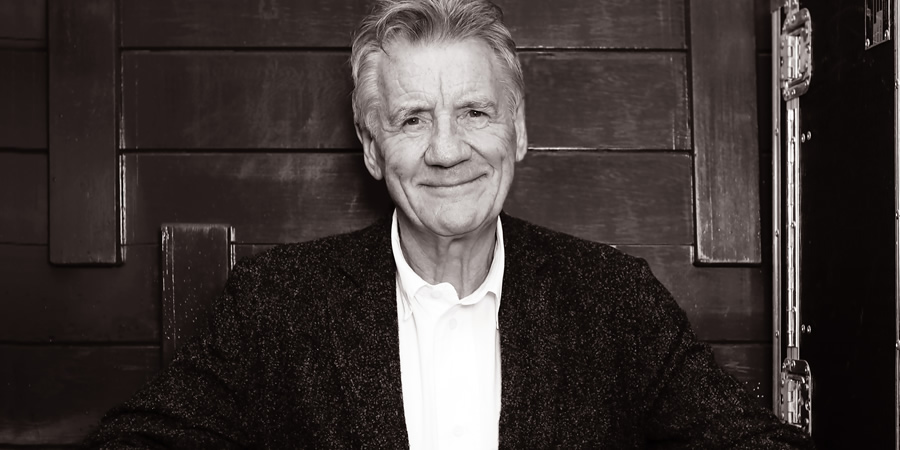 Michael Palin is to publish his fourth volume of diaries in the autumn and is writing a new book about his great-uncle, who died fighting at the Battle of the Somme.
Set for publication on 2nd September, the Python's latest - currently untitled - reminisces, covering the period 1999-2010, will reflect upon his ongoing career as a travel broadcaster, from trekking around the Saharan desert to travelling around some of the highest mountains in the Himalayas.
As with his previous diaries, which he still writes longhand, the fourth volume will be published by Weidenfeld & Nicolson.
Meanwhile, the comedian has been researching the life of Henry William Bourne Palin. Known to his family as Harry, he was a farmhand who enlisted in the 1st battalion of the Canterbury Regiment of the New Zealand Expeditionary Force at the outbreak of war in 1914, rose to the rank of lance corporal, fought at Gallipoli and died at the Somme.
"I've been re-reading Robert Graves's Goodbye To All That because my next project is a book about my great-uncle Harry, who died at the Somme and what led up to that, his involvement in the war," Palin told Hong Kong's Foreign Correspondents' Club in an interview this month. "And I remember, I've always been fascinated by the First World War and how people wrote about it."
Palin previously explored the life of his great uncle as part of his 2008 BBC Two documentary The Last Day Of World War One.
He also played General Mitford in Ian Hislop and Nick Newman's 2013 BBC Two comedy-drama The Wipers' Times. Starring Ben Chaplin and Julian Rhind-Tutt, the film dramatised British soldiers' printing of a satirical trench magazine while fighting at Ypres in Belgium.
Writing in the Daily Telegraph ahead of The Last Day Of World War One's broadcast, of discovering Henry Palin's name in the Caterpillar Valley cemetery, close to the village of Longueval, the comedian said:
"In the hierarchy of war cemeteries, those whose bodies have been identified are buried with a tablet recording their name, rank, place and time of death, and sometimes even a message approved by the family. Those whose remains were recovered but without mark of identification are buried with the words 'Known Only To God' on their gravestone. Those of whom no trace was found are listed on a wall of remembrance.
"This meant, in effect, that my great-uncle had been obliterated. Nothing of him, or his, was ever recovered. The eight letters carved into Portland stone are all that we have to remember him by.
"So perhaps it shouldn't have been a surprise that, when I first saw the name "Palin H.W.B", with 1,200 others on that wall, I was deeply moved. That there was so little about him affected me all the more. It was as if his memory had been saved by the skin of its teeth. From that time on, I knew I had a duty to find out more, to drag great-uncle Harry back from the brink of obscurity."
To date, Palin's books have sold more than three million copies worldwide. He appeared on Monday's opening episode of the second series of BBC One's Zoom comedy Staged and recently had a guest role in The Simpsons, playing a museum curator.
---
For updates, click the button below.
A hotly-anticipated fourth volume of diaries from writer, comedian, actor, broadcaster and national treasure, Michael Palin.
First published: Thursday 2nd September 2021
Buy and sell old and new items
Search for this product on eBay
It looks like you're in the US? Fear not! Almost everything can still be ordered.
Amazon UK
deliver internationally,
Amazon.com
carries many items separately, or you can look out for US/Canadian flags on our product listings for direct links.
If ordering from a UK store, please note that you are in Region 1 (DVD)/Region A (Blu-ray), whilst the UK is in Region 2/B, respectively. This means that many - but by no means all - may fail to play. Look for products marked "Region free", "All regions", "Region 0" or "Multi-region". Blu-rays may also be marked "Region A/B/C", "Region free", or variations thereof. You may also check whether your DVD/Blu-ray player supports multi-region playback (also referred to as "region free"), or whether it can be set to do so. There should, of course, be no problems with books, CDs, or other physical items.
More advice & help on importing
Share this page