Sukh Ojla novel
Sukh Ojla writes her first novel
Stand-up comedian Sukh Ojla has written a loosely autobiographical novel, Sunny, to be published in 2021
Sunny's mother insists on helping her choose who to date
Ojla says: "As a working class, British Punjabi child of immigrant parents, my experience is not often reflected in books"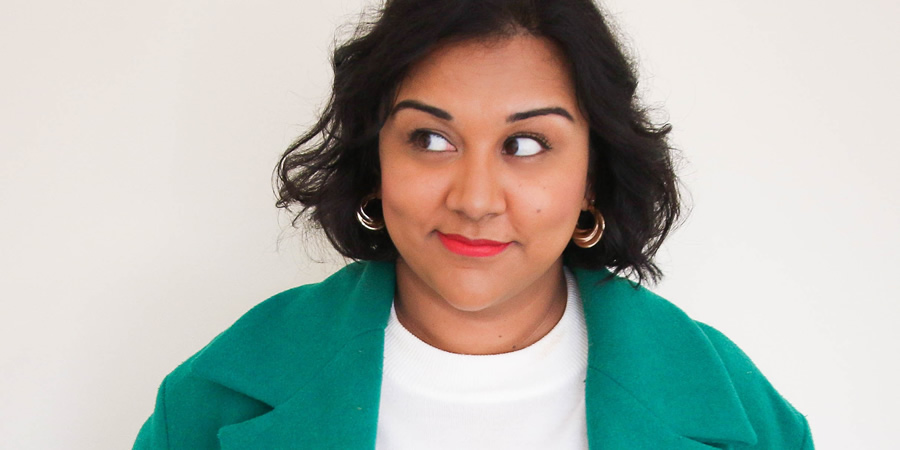 Sukh Ojla has written her debut novel.
Sunny, which echoes the comedian's stand-up about living with her parents in her thirties, will be published by Hodder Studio in August 2021.
The titular character is a 30-year-old woman who has just moved back in to the family home and continues to live her serial-dating life in secret, while all her friends are moving out and moving on with their lives.
But Sunny's mother discovers her secret and offers a compromise: she can continue dating, as long as her mother gets to choose who she sees. Now, after each date, rather than sneaking upstairs in the dark, trying not to wake her parents, Sunny comes home to find her mother sitting at the kitchen table with two cups of tea, waiting for the debrief. Through these dates, Sunny might just discover more about herself, and her mum, than she'd ever thought possible.
Ojla announced the news by tweeting: "brb just alternating between crying and laughing hysterically".
In a statement, she added: "There is nothing that brings me more joy than picking up a book where I recognise myself in the characters, but as a working class, British Punjabi child of immigrant parents, my experience is not often reflected in books. I am writing this novel for those of us who have ever been made to feel like an outsider for not following the well-trodden path, and I hope Sunny will speak to other 30-something women and serve as a reminder that you are not alone."
Sara Adams, Hodder Studio's editorial director for fiction, said: "Sukh Ojla's Sunny is exactly the novel I've needed to read and have been desperate to publish for so long - it is timely, hilarious and raw. Within the first few pages, I felt like I'd known Sunny for years - her story is the story of every woman who has led a double life, trying to fit in and be accepted into two different worlds, while also trying to accept herself for who she is. Sukh is a complete talent, and she's going to set the fiction world alight - we're so delighted to be publishing her stunning debut novel."
Ojla, who played the recurring role of Nurse Barrett in Tom Binns' BBC One sitcom Hospital People, is making her first appearance on Mock The Week later this month. She took her debut solo stand-up show For Sukh's Sake to the Edinburgh Fringe last year and will be touring her latest show, Life Sukhs, in 2021. Her first play Pyar Actually toured nationwide in 2017 and 2018.
Here's a clip of Ojla performing stand-up about moving back home for the BBC's Asian Network:
---
For updates, click the button below.
Sunny is the queen of living a double life. On the one hand, she's thirty, flirty and thriving. But on the other, she's just moved back in with her parents while all her friends are getting married, buying houses and having babies. To complicate matters further, she's a secret serial dater, sneaking out of the house every night, leaving her parents with a trail of little white lies.
But one day, her two lives collide in her parents' hallway as she's trying to slip out the front door under the cover of darkness.
Only the truth will get her out of this one . . . But to Sunny's horror, her mum isn't as appalled as expected, and instead offers a strange deal. Sunny can keep going on dates, as long as Sunny's mum gets to choose who she dates. What could be worse?!
After numerous cringeworthy, awkward and sometimes soul-destroying dates, Sunny has the chance to stop lying to her mum and start being honest . . . about everything.
First published: Thursday 5th August 2021
It looks like you're in the US? Fear not! Almost everything can still be ordered.
Amazon UK
deliver internationally,
Amazon.com
carries many items separately, or you can look out for US/Canadian flags on our product listings for direct links.
If ordering from a UK store, please note that you are in Region 1 (DVD)/Region A (Blu-ray), whilst the UK is in Region 2/B, respectively. This means that many - but by no means all - may fail to play. Look for products marked "Region free", "All regions", "Region 0" or "Multi-region". Blu-rays may also be marked "Region A/B/C", "Region free", or variations thereof. You may also check whether your DVD/Blu-ray player supports multi-region playback (also referred to as "region free"), or whether it can be set to do so. There should, of course, be no problems with books, CDs, or other physical items.
More advice & help on importing
Share this page