Adam Buxton book
Adam Buxton to publish Ramble Book
Adam Buxton is to publish a memoir in May 2020 called Ramble Book
The book is described as "very funny and at times incredibly poignant"
He'll also embark on a linked nationwide tour, visiting venues around the UK in May and June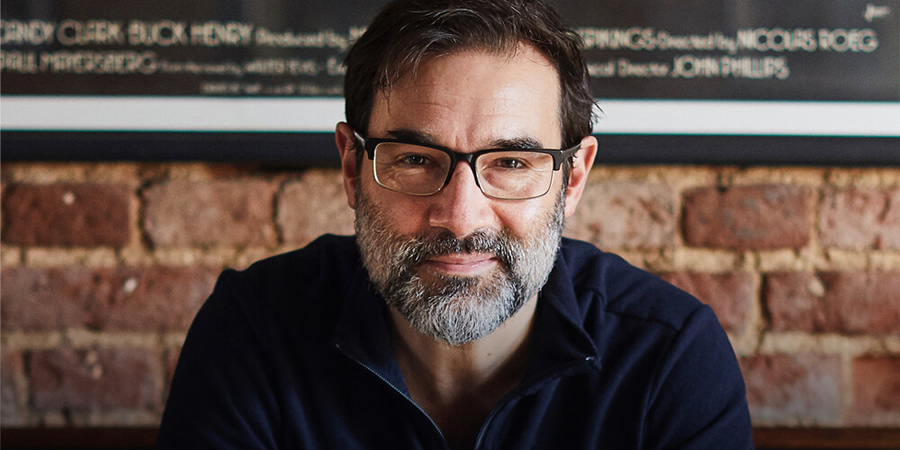 Adam Buxton is to publish Ramble Book, a memoir described as "very funny and at times incredibly poignant".
The book is due to be published on the 14th May 2020 by publishers Mudlark.
They say: "Written with Adam's characteristic sensitivity and charm, his long-awaited book is a rambling, very funny and at times poignant memoir; taking in his burgeoning love of pop culture as a teenager, his feelings about childhood and parenthood, coming to terms with the death of his father and lots more besides."
Buxton himself comments: "I don't know why people think writing a book is hard. I have found it very easy, enjoyable and in no way traumatic. That's a literary device known as irony, which I use sparingly in the book. The truth is it's been weird rummaging around in the bins of my adolescence, my odd, marginal career and my middle age but, as well as lacerating myself on a few sharp objects that should have been more carefully disposed of, I've found many enjoyable nuggets that I hope people will find tasty. Just to be clear, I was using another literary device there (metaphor that time, I think), the book is not about finding and eating fast food that has been thrown in the bin. That's my next book."
Jack Fogg from Mudlark says: 'Working with Adam on his book has been a real career highlight. He is, as one might expect, incredibly gracious, full of ideas and fantastically good company. And his book shares many of the qualities that make him such a well-loved broadcaster and comedian: warmth, humour, intelligence, self-deprecation (sometimes too much!) and spotless timing, it is the work of someone who doesn't shy away from an unflattering truth, or a great gag. I can't wait for Adam to see the response from readers, which I know will be incredibly positive."
Buxton will also be heading on a linked live tour from May. The 24 date Adam Buxton Rambles tour will see him read from the book. The promoters say: "The evening will include both funny and serious moments and some questions will be answered, maybe even some VERY big ones. To be honest that's unlikely, but it should be fun anyway."
Ramble Book, which previously had the working title 1st Class Bastard, is available to pre-order now (see details below).
---
For updates, click the button below.
The long-awaited, rambling, tender, and very funny memoir from Adam Buxton.
Ramble
/ˈramb(ə)l/
Verb
1. walk for pleasure in the countryside.
'Dr Buckles and Rosie the dog love rambling in the countryside.'
2. talk or write at length in a confused or inconsequential way.
'Adam rambles on about lots of consequential, compelling and personal matters in his tender, insightful, hilarious and totally unconfused memoir, Ramble Book.'
Ramble Book is about parenthood, boarding school trauma, arguing with your partner, bad parties, confrontations on trains, friendship, wanting to fit in, growing up in the 80s, dead dads, teenage sexual anxiety, failed artistic endeavours, being a David Bowie fan; and how everything you read, watch and listen to as a child forms a part of the adult you become.
It's also a book about the joys of going off topic and letting your mind wander.
And it's about a short, hairy, frequently confused man called Adam Buxton.
First published: Thursday 30th April 2020
Released: Thursday 3rd September 2020
Publisher: Harper Collins
Pages: 320
Catalogue: 9780008293345
Buy and sell old and new items
Search for this product on eBay
Buy and sell old and new items
Search for this product on eBay
It looks like you're in the US? Fear not! Almost everything can still be ordered.
Amazon UK
deliver internationally,
Amazon.com
carries many items separately, or you can look out for US/Canadian flags on our product listings for direct links.
If ordering from a UK store, please note that you are in Region 1 (DVD)/Region A (Blu-ray), whilst the UK is in Region 2/B, respectively. This means that many - but by no means all - may fail to play. Look for products marked "Region free", "All regions", "Region 0" or "Multi-region". Blu-rays may also be marked "Region A/B/C", "Region free", or variations thereof. You may also check whether your DVD/Blu-ray player supports multi-region playback (also referred to as "region free"), or whether it can be set to do so. There should, of course, be no problems with books, CDs, or other physical items.
More advice & help on importing
Share this page