Monty Python special features
Python special features revealed
Special features have been announced for restored Monty Python's Flying Circus releases
The new DVD and Blu-ray versions have been completely restored, frame-by-frame
Cut-down and deleted sketches are amongst the wealth of features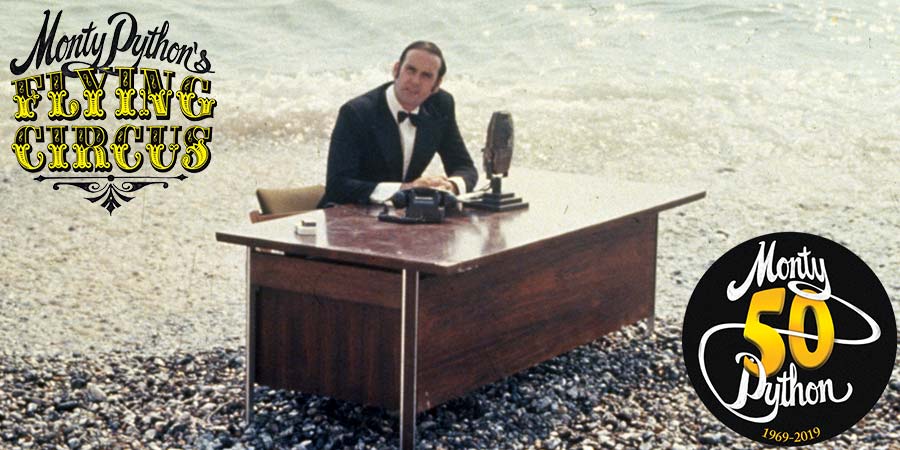 An extensive list of special features has been announced for upcoming Monty Python's Flying Circus Blu-ray and DVD releases.
The international smash-hit sketch show has been fully remastered and restored from the original film and video tapes for the very first time, mastered at HD resolution for the highest possible quality presentation of the comedy series, which celebrates its 50th anniversary this month.
Network Distributing has been working on a frame-by-frame restoration of the BBC comedy, the initial release of which has been postponed from the end of September to early November, following the last-minute discovery of yet more original material.
A complete Blu-ray box set, dubbed the 'Norwegian Blu-ray Edition' - in reference to the infamous Parrot Sketch - will be issued on 4th November, with DVD, Blu-ray, and limited edition DigiPack-boxed Blu-ray editions of Series 1 also released on the same date.
Series 2, 3 and 4 will be separately released at the end of January, March and May, respectively.
Each series will be accompanied by a new book detailing their production history, by historian Andrew Pixley. The 45 episodes will span seven discs in total, with out-takes, studio footage and original, full-length versions of cut-down sketches all reinstated.
By series and episode, the full list of additional material is as follows.
Series 1
1, Sex And Violence: Reinstated content, studio out-takes
8, Full Frontal Nudity: Studio out-takes
9, The Ant, An Introduction: Studio out-takes
10, Untitled: Extended Ron Obvious filmed material and clean end titles footage
Series 2
4, The Buzz Aldrin Show: Extended & unused filmed material
5, Live From The Grill-O-Mat: Extended Ken Clean-Air System filmed material
6, It's A Living: Reinstated content & alternative, censored sketch audio, extended Election Night Special and School Prizes filmed material
9, How To Recognise Different Parts Of The Body: Reinstated content & alternative, censored sketch audio
10, Scott Of The Antarctic: Extended filmed material
11, How Not To Be Seen: Restored animation, unused film material, extended Conquistador Coffee sketch
And Now For Something Completely Different: Vic Jamison's 1970 student film shot on location with the Python team
Interview with Ian MacNaughton: Recorded in November 1971 at Imperial College London
Series 3
1, Whicker's World: Extended Mrs Premise & Mrs Conclusion Travel to Paris filmed material
4, Blood, Devastation, Death, War And Horror: Extended The Pantomime Horse is a Secret Agent filmed material and Bus Conductor extended scene
5, The All-England Summarise Proust Competition: Reinstated content
7, Salad Days: Reinstated content
9, The Nude Organist: Reinstated content with extended Trees animation, studio out-takes, alternative Terry Gilliam-approved sound mix
10, E. Henry Thripshaw's Disease: Extended Gay Boys in Bondage animation and Sir Philip Sidney filmed material
11, Dennis Moore: Extended Redistribution of Wealth filmed material
12, A Book At Bedtime: Reinstated content, original opening, extended Heath Tango animation
13, Grandstand: extended Grandstand filmed material, studio out-takes, extended Charwoman animation, unused Betty Blood Donor animation
Series 3 monologue rushes (mostly mute)
Series 4
1, The Golden Age Of Ballooning: Extended Barry Zeppelin filmed material
2, Michael Ellis: Deleted Icelandic Honey Week filmed material, extended Toupee Department and Football Pundits filmed material
3, The Light Entertainment War: Repeats extended voiceover & unused M2 filmed material, When Does a Dream Begin (clean closing titles)
4, Hamlet: Extended Queen Victoria Handicap filmed material
5, Mr Neutron: Reinstated content, extended Mr Neutron Takes Tea filmed material
6, Party Political Broadcast: Extended Fanshawe-Chumleigh Dinner Party filmed material, deleted Ursula Hitler filmed material
Restoring Flying Circus with Terry Gilliam
In Vision archive interview from December 1974
Birds Eye Peas, Harmony Hairspray and Close-Up Toothpaste product relaunches
---
A trailer for the releases has been published:

Additionally, a teaser video has been released that sees Terry Gilliam shown the restoration of his animations and surrounding sketches for the first time.

---
For updates, click the button below.
Share this page