Taskmaster board game
Taskmaster becomes a board game
Taskmaster The Board Game has been released, featuring exclusive tasks from Alex Horne
The pack includes a fold-out Taskmaster house board and a Taskmaster trophy
The board game is available to order via Amazon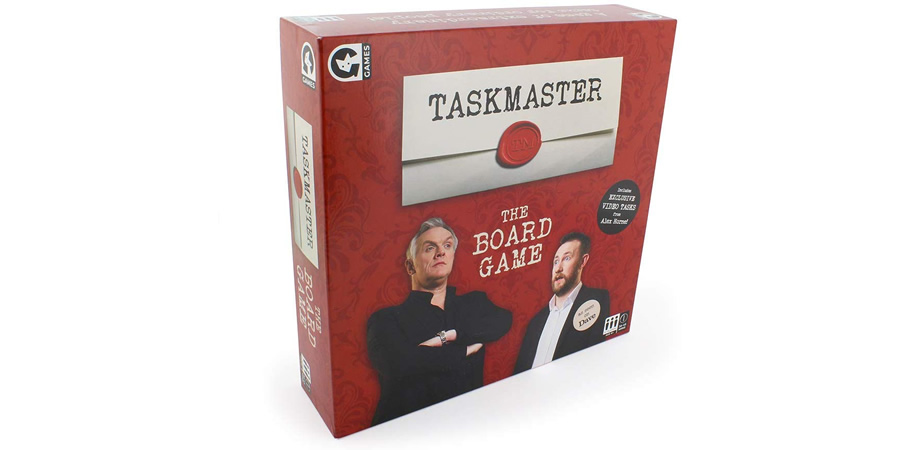 Taskmaster The Board Game has been created.
Based on the hit Dave TV show hosted by Greg Davies and Alex Horne, the officially licenced game is designed for 3 or more people to play at home.
Distributors Ginger Fox explain: "Replicating some of the challenging and frankly bonkers tasks from the show but also introducing tasks written exclusively for the game by Alex Horne, Taskmaster The Board Game includes its own fold-out Taskmaster house board complete with Garden, Kitchen, Lab and Living Room task zones. Taking it in turns to assume the role of Taskmaster, 3+ players aged 8+ have to complete a series of ludicrous tasks earning as many points as possible to become the ultimate Taskmaster champion!
"The 200 task cards feature wild and wacky timed challenges including: Make Something Beautiful Out Of A Teabag; Guess What The Taskmaster's Favourite Thing Is To Do In The Garden; Take It In Turns To Throw Something Spherical Through The Taskmaster's Human Basketball Hoop or Draw Yourself A Tattoo. Most Artistic Tattoo Wins.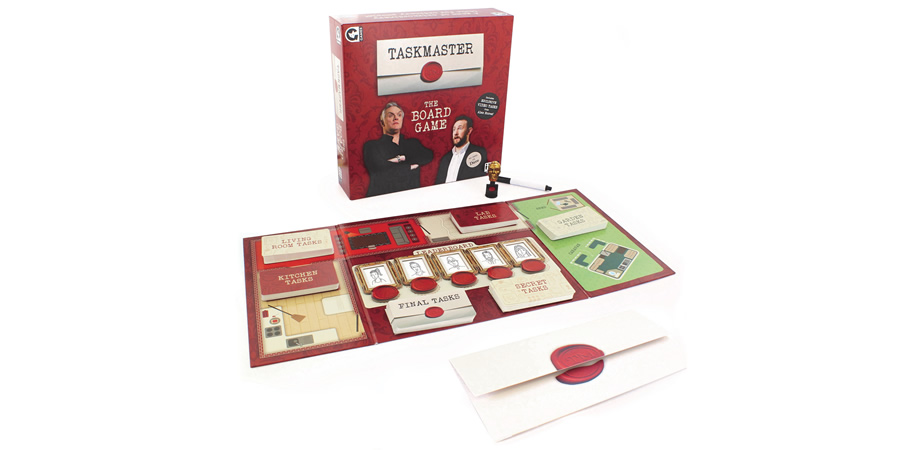 "Complete with task cards, game board, rules sheet, scoreboard playing pieces, perforated paper slips, Taskmaster trophy and wipe-clean pen, the game includes secret tasks challenging players to go undetected and exclusive video tasks from Alex Horne!"
The board game will arrive in shops later this month, but is already available to buy on Amazon (see listing below), retailing at £20. However, it should be noted that at the time of writing, only one unit is in stock.
Alex Horne says: "Yes, I've helped craft and design the official Taskmaster boardgame that means you can play the game and take part in the show in an organised but ridiculous way. You'll get a tiny Taskmaster trophy, a beautiful plan of the house and loads of bespoke tasks, as well as video links to special group tasks from me, the Taskmaster's Assistant (Alex Horne)."
The board game follows on from an updated version of the Taskmaster book, first published in 2018, which was released earlier this month. Recently over 1000 fans turned up to small park in Buckinghamshire, having followed the instructions detailed in the book to meet at the coordinates on a set date. Horne said of the gathering: "I was overjoyed and overwhelmed by the number of people who turned up. I had no idea people were that into picnics or coordinates."
Taskmaster Series 9 is currently airing on Dave on Wednesdays.
---
For updates, click the button below.
A board game based on Dave's number one entertainment show, hosted by the mountainous Greg Davies and his assistant Little Alex Horne.
Compete with your friends and family in a series of ludicrous tasks to be crowned Taskmaster Champion. Can you draw what the Taskmaster is thinking? Find out! Includes video tasks from Alex Horne himself. Suitable for 3 or more players.
First released: Tuesday 24th September 2019
It looks like you're in the US? Fear not! Almost everything can still be ordered.
Amazon UK
deliver internationally,
Amazon.com
carries many items separately, or you can look out for US/Canadian flags on our product listings for direct links.
If ordering from a UK store, please note that you are in Region 1 (DVD)/Region A (Blu-ray), whilst the UK is in Region 2/B, respectively. This means that many - but by no means all - may fail to play. Look for products marked "Region free", "All regions", "Region 0" or "Multi-region". Blu-rays may also be marked "Region A/B/C", "Region free", or variations thereof. You may also check whether your DVD/Blu-ray player supports multi-region playback (also referred to as "region free"), or whether it can be set to do so. There should, of course, be no problems with books, CDs, or other physical items.
More advice & help on importing
Share this page