Chabuddy G's book
Chabuddy G announces How To Be A Man book
Chabuddy G is to publish his first book this Autumn, entitled How To Be A Man
He says: "I'll show you how to be a proper god amongst men. This book caters for a girthy gap in the market but it's not just for the lads!"
It will be published on 1st November in hardback, eBook and audiobook formats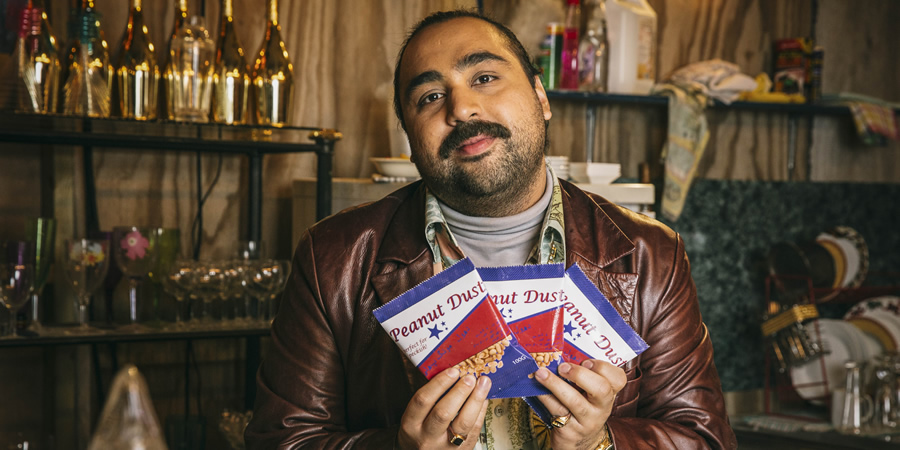 Harper Collins has announced it is to publish the debut book by Chabuddy G in November.
The deal comes after the publisher's Non Fiction division acquired the Hounslow native's new publishing business, 'LadyM8 Press', according to a press release issued today.
G explains that LadyM8 Press "caters for a girthy gap in the market - books for the alpha reader, by the ultimate alpha author". It will launch with its first title this autumn, How To Be A Man.
Chabuddy G - aka The Mayor of Hounslow, aka Alan Brown Sugar, aka The Brown Casanova - is best known as manager of the hapless pirate radio MCs of Kurupt FM, on the critically-acclaimed mockumentary series People Just Do Nothing. Chabuddy is hailed as "a man of extraordinary talent and stamina: the ultimate auntie-pleaser, negotiateaser and wiser than a Great Horny Owl" (source: Chabuddy G).
The book is described as follows: "In these fraught and confusing times, it can be difficult to know how to go about life as a modern man. Chabuddy reflects on what it means to be a man. 'Are men supposed to be fighters? Lovers? Hunter-gatherers? Fashionistas? Business gurus? Culinary experts? You're wrong if you think one man can't be a jack and a master of all trades. In How To Be A Man, I'll show you how to be a veritable god amongst men. So, sit back, relax, light a candle if you want - I don't judge - and let your glorious masculine juices flow.'"
How To Be A Man will be published in hardback, audiobook and eBook formats on 1st November 2018. Pre-orders are now being taken
Zoe Berville, Editor at HarperNonFiction, says: "Chabuddy's approached me several times with various different publishing 'opportunities'. He's very persistent. However he's agreed to buy back half a million copies of How To Be A Man so really it was a no brainer."
Chabuddy says: "So these two geezers - Harper and Collin - have bought my publishing business, LadyM8 Press. I have run many businesses in my time as an ultrapaneer and almost every single one of them has been an epic failure. Did this stop us? No mate. How To Be A Man is going to be the bestselling book of the year - hands-down. Just when you thought my bow couldn't handle any more strings, I only go and become bloody a published author."
The publishers tease: "The ultimate guide to the modern man, this is an important and timely piece of publishing. With chapters including: How to Be a... Hunter-Gatherer, Fashionista, Casanova, Ultrapaneer, Business Guru, Fighter and Millennial Man, there's something here for everyone, and Chabuddy is uniquely placed to advise on each of these important aspects of life.
"Whether you're hoping to learn more about getting the body you've always dreamed of, earning the big bucks, achieving the Hounslow Look, a lesson in Brexit, or the importance of self-love, this book will quickly become a life-long companion to be passed down through generations."
Chabuddy - aka comedian and actor Asim Chaudhry - has published a short video introducing the book on Instagram.
---
For updates, click the button below.
Are men supposed to be fighters? Lovers? Hunter-gatherers? Fashionistas? Business gurus? Culinary experts? You're wrong if you think one man can't be a jack AND a master of all trades.
In How To Be A Man, I'll show you how to be a proper god amongst men. This book caters for a girthy gap in the market but it's not just for the lads! Ladies, take heed - these are the qualities you should look for in a heterosexual mate.
You'll learn how to boss a job interview (the eyes are the windows to the soul - that's why you should avoid eye-contact at all costs. You don't want them looking into your disgustingly dirty soul); some chirpising tekkers (I have invented a new style call 7 down, 1 up. You viciously insult the lady seven times and then give her one compliment) and I've even shared some of my go-to recipes (Medium Rare Hearty Chicken with Crunchy Peanut Dust Roast Potato and Beef Monster Munch). But I'm not giving you any more details than that - you'll have to buy the book. Remember, the first hit's for free but you'll be back! ;)
So, sit back, relax, light a candle. Get naked if you want to. Get the baby oil out - I don't judge - and let your manly juices flow.
PS. I dedicate this book to my ex-wife, Aldona. I loved you and you ended up running away with another man, stealing my beautiful Merc and my most prized possession - the golden foot spa. But I'm totally over it and look at me now - I'm only a bloody published author. So yeah, I'm totally FINE. I'm thriving, in fact. I don't need you anymore! I AM SO OVER YOU! HOPE YOU ENJOY THIS BOOK!
First published: Thursday 1st November 2018
Buy and sell old and new items
Search for this product on eBay
It looks like you're in the US? Fear not! Almost everything can still be ordered.
Amazon UK
deliver internationally,
Amazon.com
carries many items separately, or you can look out for US/Canadian flags on our product listings for direct links.
If ordering from a UK store, please note that you are in Region 1 (DVD)/Region A (Blu-ray), whilst the UK is in Region 2/B, respectively. This means that many - but by no means all - may fail to play. Look for products marked "Region free", "All regions", "Region 0" or "Multi-region". Blu-rays may also be marked "Region A/B/C", or variations thereof. You may also check whether your DVD/Blu-ray player supports multi-region playback (also referred to as "region free"), or whether it can be set to do so. There should, of course, be no problems with books, CDs, or other physical items.
More advice & help on importing
Share this page