Miranda Hart to publish 'Is It Just Me?' book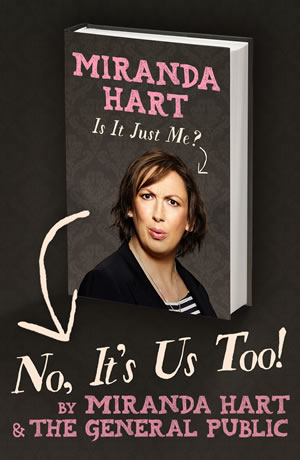 Miranda Hart has announced her first book. Titled Is It Just Me?, the sitcom star is dubbing it a 'much needed manual to life'... or 'Miran-ual'.
The book, which will be released by publishers Hodder & Stoughton on 11th October 2012, is expected to be a strong seller. The book is available to Pre-Order Now
The star of Miranda has the following to say about her first book: "Well hello to you dear browser. Now I have your attention it would be rude if I didn't tell you a little about my literary feast. So, here is the thing: is it just me or does anyone else find that adulthood offers no refuge from the unexpected horrors, peculiar lack of physical coordination and sometimes unexplained nudity, that accompanied childhood and adolescence?"
"Does everybody struggle with the hazards that accompany, say, sitting elegantly on a bar stool; using chopsticks; pretending to understand the bank crisis; pedicures - surely it's plain wrong for a stranger to fondle your feet? Or is it just me?"
"I am proud to say I have a wealth of awkward experiences - from school days to life as an office temp - and here I offer my 18-year-old self (and I hope you too dear reader) some much needed caution and guidance on how to navigate life's rocky path."
"Because frankly where is the manual? The much needed manual to life. Well, fret not, for this is my attempt at one and let's call it, because it's fun, a Miran-ual. I thank you."
In order to allay her fears that we all come-a-cropper in life, Hart is asking the Great British public to get in touch and share, because "a problem shared is a ... well something we can all laugh at."
The publishers are launched an initiative entitled 'No It's Us Too' which offers readers the chance to appear in an e-book, sharing their own cringe worthy tales. The 'No It's Us Too' mission will see Miranda choosing her favourite Twitter stories, the best of which will be illustrated and featured on a No It's Us Too tumblr blog and then anthologised in e-book compilation in September.
All you need to do to get involved is tweet your embarrassing stories to @NoItsUsToo using hashtag #IsItJustMe and the best ones will be published by Hodder in the No Its Us Too! eBook compilation.
Here's a video from the comedy star, which might explain things better:
You can pre-order Is It Just Me? from Amazon.co.uk