Videos: The Best of Michael McIntyre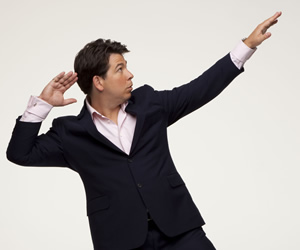 Three years in the making, Britain's most popular comedian is currently performing his brand new live show to arena audiences around the country.
Michael McIntyre's Showtime! is one of the biggest stand-up shows of all time.
Showtime! is coming to DVD (and Blu-ray with UV) on 12th November 2012, and is now available to pre-order.
To mark MM's return to the live stage, below we take a look back at some of the floppy-haired funny man's previous hit routines:
Michael on Women & Dresses
Happily-married, McIntyre has a knack for pointing out the occasionally irrational outbursts from women. In this clip, he describes the common problem of varying clothes sizes in different stores and the amusing reaction that his wife had on a shopping trip.
Michael on Peeing In The Sea
Not one to shy away from toilet humour, McIntyre gets some of his best jokes from the conduct of people in awkward situations. This clip centres on what he feels is the logical thing to do when you're in the sea and nature calls, while featuring some truly disturbing facial expressions to look out for next time you head to the beach.
Michael on Hotel Stays
A master of pointing out farcical social norms, McIntyre laughs in the face of civilised society. In this clip he explains the song and dance that surrounds getting into bed in a hotel room and absurdity of the 'turning down' service that requires one to hook in and follow choccie. . .
Michael on Posh People Getting Drunk
Raised in Hampstead, Michael is not opposed to making fun of the affluent. This incredibly popular clip focuses on the unlimited amount of words that posh people can use to replace the word 'drunk' and is guaranteed to make you try some of your own!
For some 2012 laughs, do get the new Showtime! DVD. It's out on the 12th November and you can pre-order it now