Limmy to publish comedy book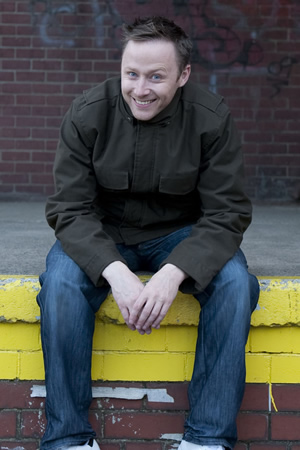 Scottish comedian Limmy is working on a comedy book.
The writer and actor, real name Brian Limond, first came to prominence via his online blogs and videos. He has since gone on to create three series of the award-winning BBC Scotland sketch format Limmy's Show! and recently contributed filmed inserts for Charlie Brooker's Weekly Wipe.
Limond is now working on Daft Wee Stories, which is being described by publishers as a "inventive and funny" book.
Daft Wee Stories will feature a mix of "stories, thoughts, musings and anecdotes" from the comedian. The publication will present readers with a mix of short and long stories, with "stupid ones next to thoughtful ones, some written in the first person, some in the third person, some with illustrations, and some the size of a tweet sitting in the centre of the page".
Jack Fogg from publishers Century says: "Limmy has one of the most original, thoughtful and brilliant comic minds I've encountered. He can flip from side-splittingly funny to genuinely profound in the space of a paragraph. I'm sure that with Daft Wee Stories we're seeing the start of what will become a very exciting and unique writing career."
Daft Wee Stories will be published in hardback in July 2015, and as a paperback in 2016.
Last month Brian Limond spoke to GQ Magazine about fighting depression
The below behind-the-scenes video from Limmy's Show! sees the star talking about Falconhoof, one of his popular characters:
At the time of writing, Daft Wee Stories is not yet available to pre-order.