Beaconsfield Studios Collection
Beaconsfield Studios Collection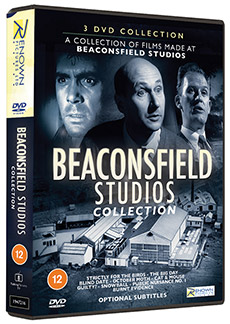 Beaconsfield Studios opened in 1922, producing films and TV shows until the 1960s. Run by producer George Clark, with actor/director Guy Newall, the site was chosen to escape the London smog yet remain within easy reach of the city, with country locations for outdoor filming. During World War II, the studios were home to the Crown Film Unit, with 51 productions between 1940 and 1952, many of which were made at Beaconsfield.
The films in this collection are a cross section of the work produced at the studios, with performances from actors as diverse as Donald Pleasence, Susan Shaw, Harry H. Corbett, Hardy Krüger, Stanley Baker, Victor Maddern, Gordon Jackson, Zena Walker, Jane Hylton and Dennis Waterman.
Strictly For The Birds (1964)
A British comedy set in the East End of London. Directed by Vernon Sewell it stars Tony Tanner, Joan Sims and Graham Stark, and follows Terry Blessing's 'lucky' day of gambling, meeting friends, losing his job and finding an unknown son.
The Big Day (1960)
Directed by Peter Graham Scott this drama stars Donald Pleasence, Andrée Melly, Colin Gordon, Harry H. Corbett and Susan Shaw. A business boss must choose between three prospective candidates.
Blind Date (1959)
This murder mystery was directed by Joseph Losey and stars Hardy Krüger, Stanley Baker and Micheline Presle. Set in 1950s London, where a young painter has an affair with a wealthy woman.
October Moth (1960)
A psychological drama directed by John Kruse and starring Lee Patterson, Robert Cawdron, Peter Dyneley and Lana Morris. In an isolated Yorkshire farmhouse, a deranged young man imagines a woman he has rescued from a car crash is his deceased mother.
Cat & Mouse (1958)
This British crime drama directed by Paul Rotha stars Lee Patterson, Ann Sears and Victor Maddern. An unscrupulous villain falls while trying to trick a young woman into revealing the location of stolen diamonds, but did he die?
Guilty? (1956)
Directed by Edmond T. Gréville, this wartime crime drama follows a solicitor (John Justin), who is convinced that a former French Resistance heroine is innocent of the murder charge of a lover whose betrayal resulted in her incarceration in a concentration camp.
Snowball (1960)
Directed by Pat Jackson, this crime drama stars Gordon Jackson, Kenneth Griffith, Zena Walker and Dennis Waterman. After forgetting his ticket, a young boy causes trouble for a bus conductor.
Public Nuisance No. 1 (1936)
This British musical comedy directed by Marcel Varnel stars Frances Day, Arthur Riscoe and Muriel Aked. After a few drunken escapades in London, a young man is sent to work as a waiter at his uncle's hotel.
Burnt Evidence (1954)
This emotional drama stars Jane Hylton, Duncan Lamont and Donald Gray. A jealous husband suspects his wife of having an affair with his wartime comrade.
First released: Monday 9th August 2021
Buy and sell old and new items
Search for this product on eBay
It looks like you're in the US? Fear not! Almost everything can still be ordered.
Amazon UK
deliver internationally,
Amazon.com
carries many items separately, or you can look out for US/Canadian flags on our product listings for direct links.
If ordering from a UK store, please note that you are in Region 1 (DVD)/Region A (Blu-ray), whilst the UK is in Region 2/B, respectively. This means that many - but by no means all - may fail to play. Look for products marked "Region free", "All regions", "Region 0" or "Multi-region". Blu-rays may also be marked "Region A/B/C", "Region free", or variations thereof. You may also check whether your DVD/Blu-ray player supports multi-region playback (also referred to as "region free"), or whether it can be set to do so. There should, of course, be no problems with books, CDs, or other physical items.
More advice & help on importing