The Incomplete Framley Examiner
The Incomplete Framley Examiner
In 2001, fans of the internet were introduced to scanned pages from spoof local newspaper The Framley Examiner. Packed with humdrum and preposterous news stories, classified ads, local business features and headlines that seemed to have been typed while asleep, it skewered the banal madness of small-town existence, perfectly encapsulating the British national character.
Framley's strange yet familiar community - stuffed with its own cast, insane geography and rich local history - struck a chord with those who recognised their own home towns in its reflection. The website was loved and shared by an eager public as well as famous fans from Little Britain, The Simpsons and the Cambridge Centre for Theoretical Cosmology (Professor Stephen Hawking was a Framley enthusiast).
Marking the twentieth anniversary of the website's first appearance, The Incomplete Framley Examiner combines the pages of the original book, published in 2002, with all the pages published online in the years since and brand new material for a bigger, more luxurious, toilet-proof compendium for the annals of history.
First published: Thursday 14th October 2021
Publisher: Unbound
Pages: 224
Catalogue: 9781800180826
Buy and sell old and new items
Search for this product on eBay
It looks like you're in the US? Fear not! Almost everything can still be ordered.
Amazon UK
deliver internationally,
Amazon.com
carries many items separately, or you can look out for US/Canadian flags on our product listings for direct links.
If ordering from a UK store, please note that you are in Region 1 (DVD)/Region A (Blu-ray), whilst the UK is in Region 2/B, respectively. This means that many - but by no means all - may fail to play. Look for products marked "Region free", "All regions", "Region 0" or "Multi-region". Blu-rays may also be marked "Region A/B/C", "Region free", or variations thereof. You may also check whether your DVD/Blu-ray player supports multi-region playback (also referred to as "region free"), or whether it can be set to do so. There should, of course, be no problems with books, CDs, or other physical items.
More advice & help on importing
See also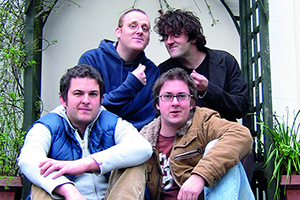 Thursday 14th October 2021
As a new gag-packed Framley Examiner book is published, Joel Morris explains how the project started out, and why a new book is in much-demand.