The Renown Comedy Collection - Volume Three
The Renown Comedy Collection - Volume Three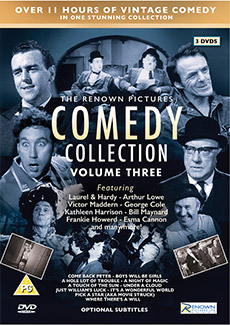 A collection of eleven comedy films, packed into 3 DVDs.
Come Back Peter (1952)
A charming comedy, directed by Charles Saunders and starring Patrick Holt, Charles Lamb, Peter Hammond, Humphrey Lestocq, Kathleen Boutall, Pamela Bygrave, Aud Johansen, Dorothy Primrose, Doris Groves and Joan Hickson. Chaos reigns when relatives come to stay in a country house.
Boys Will Be Girls (1937)
The story of a man who has to give up drinking, smoking and wild women in order to inherit a legacy. Directed by Gilbert Pratt, it stars Leslie Fuller with Nellie Wallace, Greta Gynt, Georgie Harris, Judy Kelly, D.J. Williams, Toni Edgar-Bruce, Constance Godridge, Syd Crossley and Syd Courtenay.
A Hole Lot Of Trouble (1969)
A group of workmen try to dig in this delightful comedy short, directed by Francis A Searle. Stars: Arthur Lowe, Victor Maddern, Bill Maynard and Tim Barrett. Also features: Ken Parry, Leslie Dwyer, Benny Lee, Brian Weske, Neal Arden, Jack Chissick, Hazel Coppen, Michael Sharvell-Martin, Georgina Simpson and Hani Borelle.
A Night Of Magic (1944)
Once-lost British musical comedy directed by Herbert Wynne. Stars: Robert Griffith, Gerald Pring, Billy 'Uke' Scott, Marian Olive and Elsa Tee. A man discovers an ancient Egyptian princess alive inside a sarcophagus.
A Touch Of The Sun (1956)
At a swanky London hotel, if you need anything, just ask for 'Mr. Fix-it', aka Mr Darling, the hotel porter. British comedy, directed by Gordon Parry and starring Frankie Howerd, Ruby Murray, Alfie Bass, Dennis Price, Gordon Harker, Richard Wattis, Miriam Karlin and Esma Cannon.
Under A Cloud (1937)
Comedy directed by George King. A man returns from Australia after 20 years to his estranged family. Stars: Edward Rigby, Betty Ann Davies, Hilda Bayley, Bernard Clifton, Moira Reed and Peter Gawthorne.
Just William's Luck (1948)
This once lost British comedy is now fully restored to its former glory. Directed by Val Guest it stars William Graham, Garry Marsh and Jane Welsh, and was based on the popular books by Richmal Crompton, who was so impressed by it that she wrote a novel based on the film. William investigates a haunted house, aided and abetted by his gang, "The Outlaws". Also starring: Hugh Cross, Kathleen Stuart, Leslie Bradley, Hy Hazell, Patricia Cutts, Joan Hickson, Anne Marie, Michael Medwin, John Martell and Ivan Craig.
It's A Wonderful World (1956)
A musical comedy written and directed by Val Guest. Stars: Terence Morgan, George Cole, Kathleen Harrison, Mylène Demongeot. Includes rare footage of Ted Heath and his Orchestra. Also features: Dennis Lotis, James Hayter, Harold Lang, Maurice Kaufmann, Richard Wattis, Sam Kydd, Shirley Anne Field and Jon Pertwee.
Pick A Star AKA Movie Struck (1937)
American musical comedy film in which a young country girl comes to Hollywood and achieves movie stardom. Starring Rosina Lawrence, Jack Haley, Patsy Kelly and Mischa Auer. Includes scenes with Laurel & Hardy and also features Lyda Roberti, Charles Halton, Tom Dugan, Russell Hicks, Cully Richards and Spencer Charters.
Where There's A Will (1955)
Directed by Vernon Sewell, starring George Cole, Kathleen Harrison and Leslie Dwyer. A Cockney family inherit a ramshackle farm and decide to make a go of it. Also features: Ann Hanslip, Michael Shepley, Dandy Nichols, Thelma Ruby, Norman MacOwan, Philip Ray, Hugh Morton, Edward Lexy, Edward Woodward and Sam Kydd.
First released: Friday 14th August 2020
Distributor: Renown Pictures
Region: All regions
Discs: 3
Minutes: 678
Subtitles: English
Catalogue: 1947201
Buy and sell old and new items
Search for this product on eBay
It looks like you're in the US? Fear not! Almost everything can still be ordered.
Amazon UK
deliver internationally,
Amazon.com
carries many items separately, or you can look out for US/Canadian flags on our product listings for direct links.
If ordering from a UK store, please note that you are in Region 1 (DVD)/Region A (Blu-ray), whilst the UK is in Region 2/B, respectively. This means that many - but by no means all - may fail to play. Look for products marked "Region free", "All regions", "Region 0" or "Multi-region". Blu-rays may also be marked "Region A/B/C", "Region free", or variations thereof. You may also check whether your DVD/Blu-ray player supports multi-region playback (also referred to as "region free"), or whether it can be set to do so. There should, of course, be no problems with books, CDs, or other physical items.
More advice & help on importing