Julia Davis & Vicki Pepperdine - Joan & Jericha: Why He Turns Away - Do's And Don'ts From Dating To Death
Julia Davis & Vicki Pepperdine - Joan & Jericha: Why He Turns Away - Do's And Don'ts From Dating To Death
From the world renowned agony aunts of award-winning podcast Dear Joan and Jericha comes an unputdownable bible of sex and relationship advice on how to find, satisfy and maintain a husband, from dating right up until you or hubby pass away.
The character say:
We dedicate this tome to Mahmoud, surgeon, prophet, model and friend, whose long hands guided us, whose cinnamon whispers soothed us, whose hot nose nudged us until this book was finally birthed, proud and powerful. Much like the man himself.
This golden man is not simply an outstanding surgeon, capable of performing up to 30 hysterectomies a day (often blindfolded), but is, in his own right, a visionary, a soothsayer, a chosen one. It was Mahmoud's dream (recounted to us one night in his Harley street rooms as we gulped at his purple port with a big stinky cheese) of the pair of us, bare-breasted atop stallions tossing to the world this handwritten guide to life, sex, and all the bits in between, that brought us here, to you, to have and to hold.
As much revered celebrities, living glamorous and wealthy lifestyles, we do of course come under fire. There has recently been vicious slander circulating, regarding a small handful of folk who have written to us with a problem, and having listened to our response, gone on to take their own lives. As if the two were somehow connected.
These naysayers are generally bitter and jealous spinsters, taking perverse and sadistic pleasure in being vindictive and nasty, while no doubt masturbating at the same time. To these lonely ladies we would say, 'Go look in your own heart, knock ye there and ask yourself some difficult questions. Because you will find the real guilt writhing within ye, like maggots mating in yesterday's apple'.
What we offer here is a lifeline, a service, much like the NHS, or perhaps more accurately, the AA. Joan and Jericha: AA for the heart. Affording you the opportunity to have a breakdown, call for a pick-up truck, stop off for a Full English whilst a hairy guy in a grubby onesie fumbles under your bonnet and tweaks at your wiring, before sending you on your way, lubricated, primed, pumped and pretty.
With kind regards
Joan Damry and Jericha Domain OBE MBE (etc)
First published: Thursday 29th October 2020
Publisher: Trapeze
Pages: 224
Catalogue: 9781398700598
Buy and sell old and new items
Search for this product on eBay
It looks like you're in the US? Fear not! Almost everything can still be ordered.
Amazon UK
deliver internationally,
Amazon.com
carries many items separately, or you can look out for US/Canadian flags on our product listings for direct links.
If ordering from a UK store, please note that you are in Region 1 (DVD)/Region A (Blu-ray), whilst the UK is in Region 2/B, respectively. This means that many - but by no means all - may fail to play. Look for products marked "Region free", "All regions", "Region 0" or "Multi-region". Blu-rays may also be marked "Region A/B/C", "Region free", or variations thereof. You may also check whether your DVD/Blu-ray player supports multi-region playback (also referred to as "region free"), or whether it can be set to do so. There should, of course, be no problems with books, CDs, or other physical items.
More advice & help on importing
See also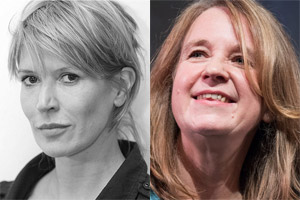 Wednesday 10th June 2020
Julia Davis and Vicki Pepperdine have written their first book in the guise of spoof agony aunt characters Joan and Jericha. It will be published in October.