The Book Of The Year 2019
The Book Of The Year 2019
In a year when South Korea announced that its new robotics museum will be built by robots, and French cheese terrorists put a camembert through every French MP's letterbox, The Book of the Year returns with another dose of barely believable yet bona fide facts and stories from the past twelve months.
Each week for the past five years, Dan, James, Anna and Andy - the creators of the award-winning, chart-topping comedy podcast No Such Thing as a Fish - have wowed each other and millions of listeners with the most astonishing trivia they have learned over the previous seven days. Now, once again, they have scoured the newspapers for hidden gems, and transformed another year's worth of weird and wonderful happenings into one uplifting book that you won't be able to put down.
Discover how TV channel Hallmark has so many new Christmas movies that it will now start airing them from July.
Be amused to learn that a thousand people were hired to attend a rally in Kiev to protest against the practice of hiring people to attend rallies.
Share the excitement of the scientists who discovered that more attractive monkeys have smaller testicles.
Revel in the news that Carlsberg launched a new advertising campaign admitting it is 'probably not the best beer in the world'.
Feel a little sympathy for Ariana Grande, who got a Japanese tattoo she intended to say 'Seven Rings' but that actually ended up reading 'small charcoal grill'.
From ecologically minded Birmingham drug dealers to dodgy Belgian petanque players, The Book of the Year 2019 is an eye-opening tour of yet another incredible year you didn't know you'd lived through. And the authors have promised not to mention Brexit. Much.
First published: Thursday 24th October 2019
Buy and sell old and new items
Search for this product on eBay
It looks like you're in the US? Fear not! Almost everything can still be ordered.
Amazon UK
deliver internationally,
Amazon.com
carries many items separately, or you can look out for US/Canadian flags on our product listings for direct links.
If ordering from a UK store, please note that you are in Region 1 (DVD)/Region A (Blu-ray), whilst the UK is in Region 2/B, respectively. This means that many - but by no means all - may fail to play. Look for products marked "Region free", "All regions", "Region 0" or "Multi-region". Blu-rays may also be marked "Region A/B/C", "Region free", or variations thereof. You may also check whether your DVD/Blu-ray player supports multi-region playback (also referred to as "region free"), or whether it can be set to do so. There should, of course, be no problems with books, CDs, or other physical items.
More advice & help on importing
See also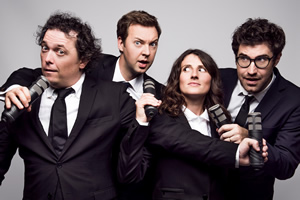 Wednesday 4th December 2019
No Such Thing As A Fish stars Anna Ptaszynski and James Harkin talk about the success of their podcast, and their new fact-filled book. Along the way, topics including old cats, cattle insemination and polar vortexes pop up.