I, Partridge autobiography sequel to be published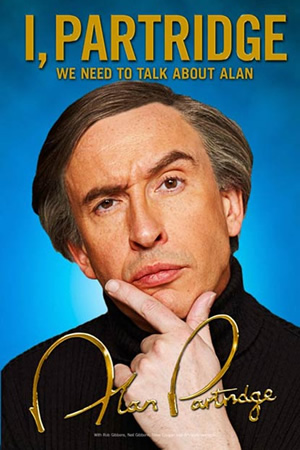 A sequel to the hit Alan Partridge autobiography is to be published next year.
Written "with help" from Steve Coogan, Rob Gibbons and Neil Gibbons, the book is described as "a collection of essays, diary entries, open letters, think pieces, programme and business ideas".
Publishers Orion say: "The book will shed light on the private thoughts of the veteran broadcaster as he tackles issues as diverse as climate change, being good at driving, his 15-year legal wrangle with the owner of Allan Partridge Plastics Ltd., and the events that led to the collapse of his friendship with former rock-climbing partner Eamonn Holmes."
As yet untitled, the publication will follow on from the success of HarperCollins's I, Partridge: We Need To Talk About Alan
Both a critical and commercial success, the book sold more than 230,000 copies in its first two years, having been published in Autumn 2011. Orion will be hoping to emulate its success, publishing in hardback, e-book and audiobook formats in October 2016.
Alan Partridge said today: "What does it take to be a professional book writer? Firstly, a good idea. Easy, got loads of them. Secondly, a writing style that's visceral yet populist. I'd put myself somewhere between Gore Vidal and a children's author. Thirdly, a good vocabulary. I used the word visceral just now. And fourthly, time. You have to be able to sit down and write the damn thing! Fortuitously, a liquidated business venture means I now have an eight-week block of spare time at the back end of 2015. I plan to devote around five of those to writing this book.
"On my first meeting with Orion Publishing (there have been nine), I was blown away by their well-appointed offices, firm handshakes and a selection of biscuits that was high-end without being showy. Straight away, I knew these were people I could work with.
"I'm confident that this book can be a publishing phenomenon. It's no Fifty Shades of Grey, but I can assure it ain't a million miles away. After all, it will 'quicken the pulse', get you 'hot under the collar' and make you want to 'hit someone'."
The book is expected to be available to pre-order later in the year.