Are You Being Served? sequel coming to DVD
Grace & Favour, the fondly remembered early 1990s sequel to international smash-hit sitcom Are You Being Served?, is to be released on DVD in the UK for the first time.
DVD distributor Eureka Entertainment will release the series - by writing legends David Croft and Jeremy Lloyd - on Monday 23rd May 2016.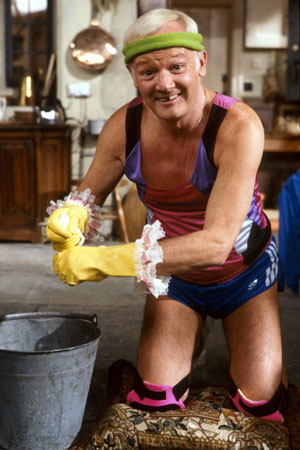 The sitcom stars Mollie Sugden, John Inman, Wendy Richard, Frank Thornton, Nicholas Smith, Fleur Bennett, Joanne Heywood and Billy Burden.
Broadcast internationally as Are You Being Served? Again!, the two series of Grace & Favour reunite the dysfunctional Grace Bros. mens and womens' apparel sales teams for more misadventures and innuendo-laden squabbling.
After the death of Young Mr. Grace in an unfortunate scuba-diving incident, his staff discover that their pension fund has been unwisely invested in a country manor house, currently operating as a hotel. With no other options, Mr. Humphries, Mrs. Slocombe, Captain Peacock, Miss Brahms and Mr. Rumbold reluctantly team up and attempt to turn the hotel into a profitable business venture.
Reuniting the original cast members from Are You Being Served? and once again written and produced by Croft and Lloyd, Grace & Favour ran for two series from 1992, spanning twelve episodes of riotous antics at Gloucestershire's Millstone Manor.
Presented in a new four-disc set, this long overdue home entertainment première is packed full of more laughs and double-entendres than you can shake a stick at. English subtitles for the deaf and hard of hearing are included.