Rob Kemp Elvis Dead VHS
Exploring the hyperspaces between comedy, cult films and other cool stuff
It's August 2017, and in the basement of Edinburgh's marvellous venue Monkey Barrel, Rob Kemp is getting us all shook up. His show The Elvis Dead may sound niche - reanimating the 1987 cult movie Evil Dead 2 with added Elvis - but was the talk of that year's Fringe. Then it enjoyed a lengthy afterlife, like a happy zombie, or whatever they call them in The Evil Dead (we'll get to that).
Now The Elvis Dead is reanimating lost loft-based equipment too. The good folks at Go Faster Stripe are releasing Kemp's show not only as a download, and an increasingly rare DVD, but also a lovingly-crafted VHS tape. It comes with a lyric book, postcard, a download code, and a hidden extra. A rip-roaring ride that recording is too.
But how do you even go about conjuring a VHS these days? Let's ask the grisly Presley. It's now or never.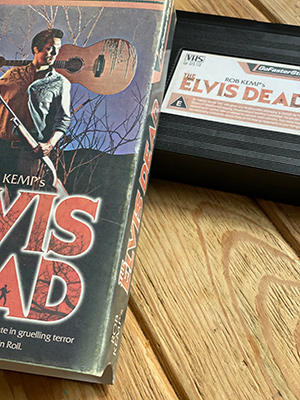 This VHS release is tremendous - how did the idea come about?
It is thanks in no small part to Twitter. We did the record during the fourth Go Faster Stripe festival, and I was keen for it to have some kind of physical release (because I am a man stuck in the past. Who doesn't want their own DVD; and action figure for that matter?).
Chris Evans [from GFS] was up for it, despite the slow death of physical media, as long as there was demand. So he put a poll on Twitter to see if anyone actually wanted to own a thing beyond the file. In response Phil Tate [@mangyhare] suggested a well-worn video-nasty VHS edition, and the idea was so good that Chris immediately began looking into the feasibility of such a thing in 2020.
It feels very appropriate for The Elvis Dead.
It really is the perfect format, given that the show is a love letter to those films. Shortly thereafter, a 'commemorative DVD' release seemed like a good idea too, and we set to thinking of all the ways we could make each format an item worth owning.
Could you give us a quick Elvis Dead backstory, for the uninitiated?
Sure. The show began as a green room chat about my resemblance to [Evil Dead star] Bruce Campbell, after I watched his film Bubba Ho-Tep, in which he plays Elvis. I have a deep love for horror movies and Elvis thanks to my dad, and the crossover seemed obvious to me - ahem. The show was made in my kitchen with my mate Ben. It is a mash-up of Elvis songs and B-movie comedy horror.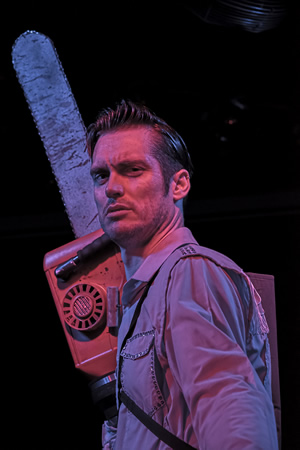 How tricky is it to physically make a VHS, nowadays? A fun process?
I can't claim any involvement in the actual process. I imagine the toughest part was scouring charity shops for blank tapes. Or building a time machine.
What do you reckon are your three most-watched VHS tapes, ever?
1. A long-play tape with all three original Star Wars films as broadcast on TV, paused during the ads, which I am surprised I didn't wear out.
2. A Christmas present of the animated Transformers animated movie.
3. The pre-special edition (regular edition?) of Aliens.
How has your 2020 been - better or worse than a zombie apocalypse?
Well, if we're going to be pedantic, The Evil Dead doesn't involve zombies, 'coz Deadites are demon-possessed humans, so my specialism isn't zombies at all. That said, I reckon I have stayed home more than I would've in a zombie apocalypse, and worried less about my family being out in the world than I would in a zombie apocalypse.
So, I reckon I'd take my chances with the zombies.