Kevin Day interview
Tackling the world of sport, with the champions of comedy.
He's done lots of enviable jobs, has Kevin Day. Starting as a stand-up in that thrilling late-eighties scene, onto Radio 1 and Saturday Zoo, writing for Dave Allen, Have I Got News For You, and umpteen other stars and shows. But probably the most exciting role, as far as Balls Etc is concerned, was roving matchday reporter for Match Of The Day 2. Travelling with fans, meeting managers backstage; he even interviewed Sylvester Stallone, at Everton.
That's one of many true tales in Day's first book, and he's typically frank about how that new career happened, below. Who Are Ya is more substantial than your classic pre-Christmas comedy effort, as the Crystal Palace obsessive ponders the point of every Football League club. Mates from work pop up: Jo Brand, Gary Lineker, Freddie Flintoff. But really it's about him, his mates, dad, wife, and son (who are both in showbiz too), and British history, class, and irrational rivalries.
Sadly we couldn't convene in a boozer near Palace's Selhurst Park, so had a cuppa over Skype instead.
Hi Kevin, whereabouts in the house is your video-call room there?
We've got the Zoom set up in our back room. Ali [Ali Day; stage-management wiz and Kevin's wife] insisted on placing it so that my BAFTA nomination was in sight, which made me laugh a lot; I insist on moving my head so nobody can see it. But we turned our garage into a writing room, just before the world went mad and we ran completely out of money - which is where I am now.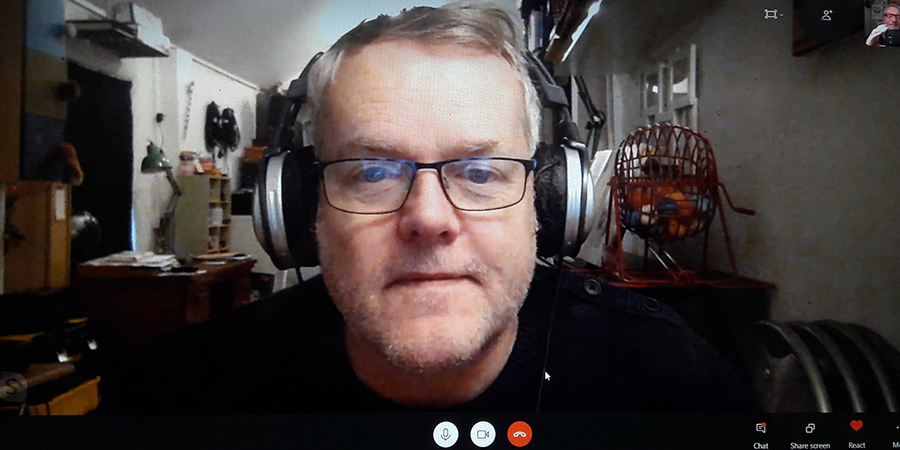 I got your book last week and was thinking it'd be a toilet-friendly Christmas read, but it's a proper substantial thing.
I'm pleased it's substantial, it was meant to be. From about the age of 21 I said 'one day, I'll write a book,' but had this terrible imposter syndrome, 'who'd want a book for me?' I'm actually really, really proud of it.
I wrote it deliberately like a stand-up routine, because I didn't want to spend six months researching it. I wanted to choose a club to write about, have a couple of websites open, and then write it in the moment.
So I really enjoyed the writing process. I love what I do, I love working with Have I Got News For You and A League Of Their Own, but you don't have any control over which bits of your writing end up in the show. This was more like stand-up.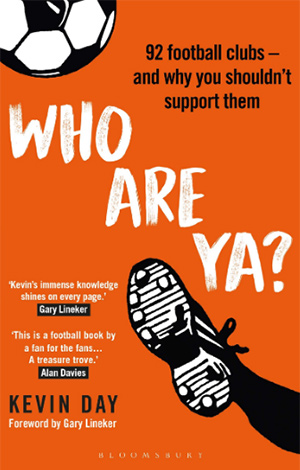 You were writing it to coincide with the European Championships, before they were postponed?
Yeah, I tried to do it in nine months, so I had that urgency, every chapter is like the day of a new material night; it gave it an extra frisson of excitement. Also, it's not a textbook. My research didn't take me deep into the bowels of football history, it's more an illustration of how important football is. But I also wanted to reflect the fact that no one in football knows the truth about anything.
I mean, football is a working-class game for the most part, people didn't write stuff down. Teams that are now top of the Premier League started off as youth clubs or cricket teams who wanted to do something new. They never thought they'd end up as successful international clubs, so they didn't bother write down the history of what was going on.
And no two football fans will agree on anything about their club. It's why the West Brom chapter is about the eight reasons fans give for being called 'The Baggies', and they're all bollocks. I wanted to reflect that level of illogical football love.
Taking on 92 clubs is quite a challenge...
I've had one or two people really take umbrage at what I've said about their clubs. But for the most part, people really get it. I've been really proud. Having said that, I'm not like Jon Richardson and Matt Forde, I don't go searching for my name on the rest of the internet to see what people are really saying. But the response I've had to my face has been brilliant.
And you're in it. Your mates, wife, son [comedian Ed Night] and dad all turn up. I was wondering how you pitched it - 'like Fever Pitch, but about all the teams'?
I had the idea in my head for a long time. And it's based on the story I tell in the Blackburn chapter: I did come home one night when Ed was young, he'd waited up with his mum in his pyjamas and he did say, 'Dad, I want to support another team.' And I said of course you can, when you grow up and get your own house. But in the meantime, get under your Palace duvet, say goodnight to Selhurst the cat...
He didn't want to be a Palace fan because I was never happy, coming home from games. So we had the conversation about how football wasn't meant to make you happy, necessarily. They'd gone through the league tables and tried to find a club that I didn't hate. Ali had said to him, 'try Blackburn, because it's after a Blackburn game that daddy first told mummy that he loved her.'
Clever thinking.
The idea stuck in my head and just sort of fermented; to write about the illogical hatreds all football fans have for other clubs; not just your rivals or the club down the road. But I didn't do anything about it until January 2017. I was going through one of those freelance periods where there just wasn't a lot coming in. You can either sit and sulk, or I can work on a book. So I knocked up a couple of sample chapters.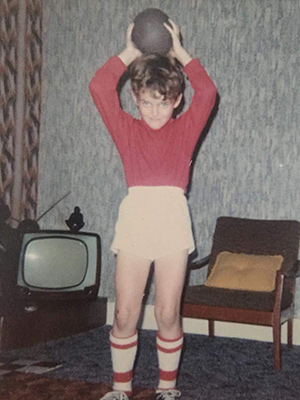 Bloomsbury is a nice place to get it published. Harry Potter did well.
I had this romantic notion of what publishing would be like, and what being an author would be like. The first time I went to Bloomsbury, this wonderful Georgian townhouse. And he [Kevin's editor] shows you the room where JK Rowling signed the contracts; although I know now, of course, from younger comedian friends, that I'm no longer allowed to say her name.
He was really interesting, he said 'you could come to me with the best idea for a book ever. But if you only had 15 followers, I wouldn't commission it.' I had a reasonable number of Twitter followers. But also he knew that I'd worked with everybody, basically, he knew I would get access to big names like Freddie Flintoff and Gary Lineker. So he was honest enough to say that's essentially what swung the commission, basically.
I actually had the comedy dudgeon, because Gary's name is on the cover more than mine, if you look! He's mentioned on there twice. My editor was away the week that happened...
I've always wondered if cover quotes make a difference, but then that's for the Christmas shoppers, rather than us comedy/football nerds who want the geeky anecdotes?
That's how it happened - I didn't want it to be an autobiography, or a nostalgia fest, but he said 'you should definitely be in it.' And that was important, because when I talk about my mates - the one who's always late; the one that starts fights by mistake - I wanted people to go 'Yeah, I've got mates like that.' When I talk about going to Cardiff I want people to go 'I remember that station; I probably remember that copper.'
The nice thing is - as a Palace fan and through work - you've been to lots of those places...
When I started writing it, I'd say 'lads do you mind, I want to put this or that story in,' and they went 'Yeah, course - but that's not how it happened.' What? None of us could agree on the details of the story. They all thought everyone else's version of it was bollocks.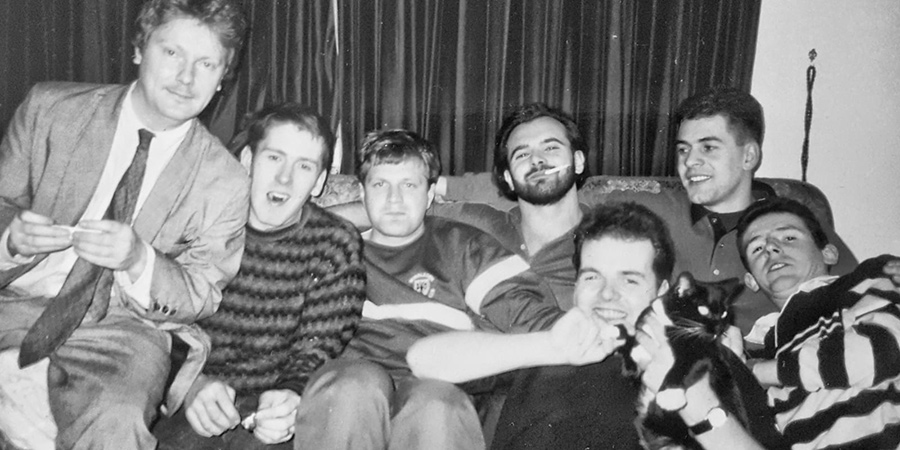 It's the same as I say about stand-up. I never make anything up, but the version I tell you on stage is, of course, embellished and partly fabricated. I tell you a different version of what actually happened. And it turned out, that's what we'd all done.
You'd embellished stories, just among yourselves?
There's one story in there, and I know for 100% fact that its true. We got so drunk after a Millwall game that the guy who was supposed to drive us home couldn't - the only thing we could think of was to phone Ali. And as we came out, she 'accidentally' ran Roy over - driving very slowly - because Roy had criticised her driving two weeks earlier. But when Ali read it she said 'None of that is true.' And I phoned Roy and he said 'some of it is true.' So I wanted to reflect that.
Something else that happened quite early in the writing: I was working on 8 Out Of 10 Cats and a researcher on that, a guy called John Smith who's a big unit, teetotaller, West Ham fan; I got chatting to him one day, 'What chapter are you doing at the moment?' I was doing Oldham. He went 'Oh don't fucking talk to me about Oldham,' and launched into how Oldham cheated them out of the title by scoring in the 97th minute and beat them 6-0 on a plastic pitch. So if a West Ham fan really hates Oldham, I've tapped into something here.
But at the same time, I also wanted it to be a celebration, of the fact that football fans all have their own versions of the truth; to celebrate the joy and the misery that football brings into our lives.
It's good that you enjoyed the process; some people have nightmares writing books...
I'm probably like you as a writer. I read the things in The Observer, The Sunday Times, there's always these articles, My Writing Day: 'I wake up at seven in the morning, have a cup of coffee that's passed through a squirrel's intestines, climb into my treehouse, do a bit of yoga, write the first chapter...'
With me, I was coming home from gigs or from games. My dad was living with us at the time, because he was poorly. So I was coming home, cooking his meal, laundry - Ali was away on tour - then try to write a chapter. So that just made me laugh, the difference between what I expected the life of an author to be.
I came back from Watford, terrible game, and there'd been trouble afterwards - Watford fans really don't like us...
Oh blimey!
And I wrote the Watford chapter when I got home. That was the only chapter where they said, 'we could probably do that one again; it's very funny, but way too angry. The lawyers won't like it, and we do have to sell it to fans of other clubs.' And my original idea for the Brighton chapter, it was just going to be a photograph of a seagull stealing a chip from a toddler. And again, 'very funny, but you need to do a proper chapter on Brighton.'
It turns out, of course, that Brighton has got more independent bookshops per head than any other town in the country. So these are things that don't occur to me.
That's another thing. In an ideal world I would have said to people, 'please don't buy the book from Amazon, if you can get it from an independent bookshop, please do that.' This year, I don't care where they buy it from. The amount of jokes I've written about Amazon and their tax dodging, for Have I Got News For You in the past five years. Suddenly, they're out the window. Once the book's sold I'll go back to them.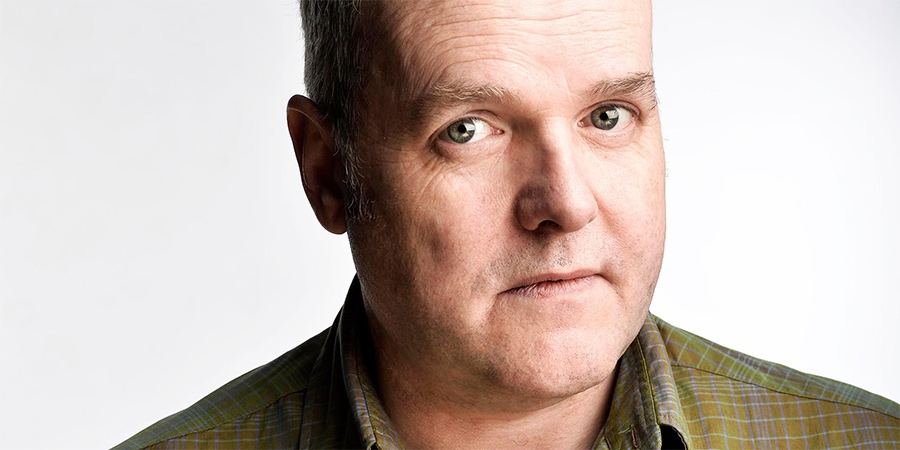 Amazon is a can of worms; the algorithms, the reviews.
I thought my days of anxiously waiting for reviews to come out were behind me; I'm too confident in what I do to worry about reviews and suddenly that's out the window again. It's a brilliant thing that I've written the book, but it also feels like I'm back at the start of something, that I'm a complete novice.
It's a strange age, for a middle-aged man to be back at the start of another project. And it's great, because let's face it, there will come a time. The BBC will end up getting tired of Have I Got News For You and Sky will move on from League Of Their Own. And there comes a time when younger producers will want to surround themselves with younger writers. So the book is an important second string to my bow.
It's a positive way of looking at it.
Also I've started to collaborate on an idea for Edinburgh next year, with Simon Evans, who did Staged with David Tennant and Michael Sheen. I met him after his show in Edinburgh three years ago, The Vanishing Man, which was fucking brilliant. I always like to be that person who waits for people after the show to say 'you don't know who I am, but that was brilliant, thank you so much.'
We struck up a relationship, and I came up with this idea he and I are collaborating on, which hopefully will happen next year. It's a comedy ghost story, Theatre Of Blood style; I've always wanted to combine comedy with real shocks. It's set at a comedy club on the night of the benefit for a comedian who died in that club five years ago. Working on that has been fantastic. Because I want to expand myself now, and be in theatres.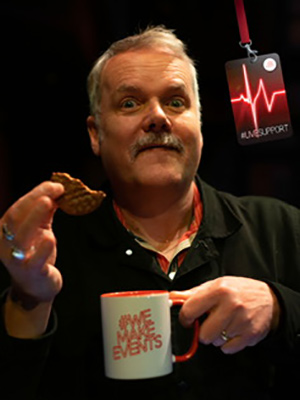 I suppose we've all taken theatres for granted, until this year?
I did a thing two weeks ago, a fundraising thing at the Theatre Royal in Haymarket, I was doing a socially distanced two-hander with Griff Rhys Jones. And I nearly cried with joy, I was on a stage, and there were 30 people floating about. Making people laugh; it was so brilliant.
So the book and that are things that have put a proper spring in my step at a time of near disaster for the rest of the family [during lockdown]. I'm just really enjoying having new ways of thinking about comedy. As I say, there'll come a time... 8 Out Of 10 Cats, they use me as a mentor to younger performers, and it's already slightly sinister, really. They know who I am, but mainly, to a whole generation of comics, I'm Ed Night's dad.
Night eclipses Day - crikey.
So I realise that avenues are closing off, but it's the circle of life, and you just have to find other things. We replaced older people when we came through, and that's happening to us. But because of Ed, I'm probably more in touch with the live circuit than I had been for 10 years.
And I'm really invigorated by that, I can't wait to start doing stand-up again. I've never been more reminded of how the circuit was when I started, that kind of excitement. There's a generation of comics who are doing it for the love of doing it.
So you've come out of lockdown quite inspired?
I always thought that I was quite antisocial; turns out I really miss people. I just want to make people laugh, and I just want to talk to people who make people laugh, and that's the stuff I miss.
It's the same as football. I miss the actual football but I miss even more what my wife describes as 'going to the same pub, sitting at the same table, in the same corner talking the same bollocks to the same people.' I'm happiest when I'm talking to people who do what I do, who share that same passion and belief. That's what I've missed.