How To Live To 100 extract
The book How To Live To 100: What Will REALLY Help You Lead A Longer, Healthier Life? has just been published.
It has been written by comedian Ariane Sherine (pictured) and public health expert David Conrad, and is packed full of interesting facts and useful thoughts.
The book also features contributions from lots of familiar comedy-related people. Highlights include thoughts from Lou Sanders, Charlie Brooker, Robin Ince and Clive Anderson.
One section of the book - titled 'Sense of humour' - certainly caught our attention. Does laughing help you live longer? The publishers have kindly granted us permission to share this extract in which Ariane and David attempt to determine whether humour might help you reach old age:
---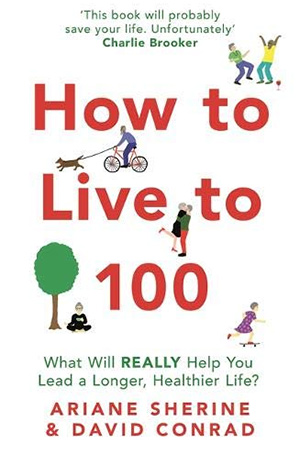 As a comedy writer, I'm ready for you to tell me I'm going to live forever. Laughing and joking has got to be good for you, right?
Generally, we tend to think of humour as being good for our health and well-being, although studies looking at sense of humour and longevity have found mixed results. Though quite a lot of evidence has suggested that there may be a link between health and humour, when you look across the results of all the research conducted on this topic there isn't a consistent pattern. Some results have even suggested that a good sense of humour might be linked with worse health in some regards.
Worse health? But having a sense of humour might help you live longer, right?
Some evidence suggests that it might increase your chances of reaching old age. In a study published in 2014, researchers in Norway followed over 50,000 people for fifteen years to investigate links between sense of humour and mortality. Their results showed that sense of humour was associated with reduced risk of death from cardiovascular diseases among women and reduced risk of death from infections among men.
So, could you laugh your way to a hundred?
Overall, the results of the Norwegian study showed that sense of humour was linked with a reduced risk of death up until the age of eighty-five. An earlier study undertaken by some of the same researchers found that sense of humour appeared to increase the probability of survival into retirement, but it ceased to be linked with longer life beyond age sixty-five.
What about laughing in the face of death? Does that help an ill patient's prognosis?
People may use humour as a coping mechanism when they have a long-term or life-limiting illness and there's some evidence that this may be linked with longer survival in these situations. Clowns have even been used in nursing homes to improve residents' well-being.
As long as it's not Pennywise. So, the $64,000 question is: do comedians live longer? I'm crossing my fingers, toes and eyes that they do...
Quite the opposite. Studies of comedians have shown that the funnier they are, the more likely they are to die prematurely. Also, a study of over 500 amateur improvisational comedy performers found that they suffered from infectious diseases more frequently than the general population. The results couldn't be explained by differences in age, sex, weight issues or the number of antibiotics they used.
There's also the old cliché, of course, that comedians are all tortured souls, crying on the inside and drinking themselves to death. Certainly, one can find plenty of examples to support that notion, but that doesn't necessarily mean that a career in comedy is bad for your mental well-being. One theory is that people prone to mental health problems might be more likely to go into comedy in the first place.
And then they die prematurely if they're any good. Christ on a bike! I actually feel depressed now. Maybe I should cheer myself up by going to a comedy night...
Reality check
Building a strong evidence base on the relationship between humour and health isn't straightforward because there's no standard definition of what a sense of humour entails. Is enjoying comedy the same as having an ability to perform it?
Is it necessary to routinely find humour in everyday situations or just to occasionally laugh at other people's jokes? What about different types of humour? Is laughing at others' misfortune comparable to a penchant for innuendo? There are many variants of the concept of humour, so it's possible that some bring health benefits which others don't. Some types may also have negative effects on health and well-being.
So basically, we're saying...
A good sense of humour might help you reach old age, but a career in comedy is probably best avoided.