David Jason to write his autobiography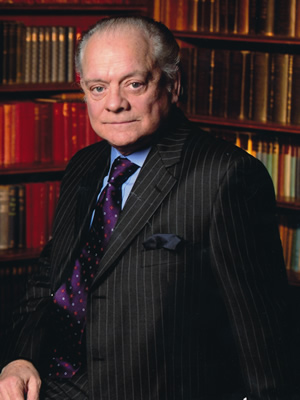 Sir David Jason, one of Britain's best loved sitcom stars, has announced that he is to write an autobiography.
After nearly 50 years in television, and with a CV that includes classic comedies including Only Fools And Horses and Open All Hours, Jason's book is set to be a must-read for British comedy fans.
The comic actor has signed a deal with the Random House publishing group to write the book, which will tell the inside story of how the youngest son of a Billingsgate market porter went on to become one of the most beloved actors of modern times.
Born in 1940, Jason started his television career in 1964 after a short stint as a trainee electrician. His first notable role was as Bert Bradshaw in ITV soap opera Crossroads.
In 1967 he performed alongside Eric Idle, Terry Jones and Michael Palin in the television sketch comedy series Do Not Adjust Your Set, and appeared in a number of variety shows of the period, supporting stars such as Dick Emery. His performances caught the eye of Ronnie Barker, and in 1973 Jason was cast alongside Barker in the shop-based comedy Open All Hours. He also appeared with Barker in a number of episodes of classic prison-based sitcom Porridge.
In 1974 Jason got his first starring role, as the titular The Top Secret Life Of Edgar Briggs; the 13-part ITV sitcom saw him feature as a hapless MI6 agent who somehow always came up trumps.
It was not until 1981, however, that Jason took on the comedy role for which he is most famous. He played Derek 'Del Boy' Trotter in 64 episodes of Only Fools And Horses, up until the show's final installment, broadcast in 2003. The show has gone on to be voted Britain's Best Sitcom in a BBC poll, and at the height of its popularity episodes were watched by over 20 million viewers - one third of the population. During the 1980s he also took the title voice role in hit childrens' cartoon series Danger Mouse.
Jason is not just famous for comedy though. From 1992 to 2010 he played Detective Inspector Jack Frost in the smash-hit ITV detective drama A Touch Of Frost, and has since featured in dramas including Albert's Memorial.
He was awarded an OBE in 1993 and a knighthood in 2005, both for services to drama.
Ben Dunn, from Random House, says: "Like so many millions of Brits, I grew up watching and listening, laughing and crying to David's on-screen genius; from Del Boy to Danger Mouse, to Detective Inspector Jack Frost, his cannon of work is unsurpassed and I am truly honoured to be publishing a memoir that I have no doubt will be as golden as everything else he's touched."
David Jason himself says: "I'm delighted to have found a publisher who shares my ambition for my autobiography. Random House have shown true enthusiasm for this project from day one and I can't wait to work with Ben and his team. Over the past 50 years I have had the fortunate experience of working with some of the finest actors and writers in the world. This book will be an opportunity for me to share the journey through my life and career with the people who have been most generous with their support and kindness - the great British public."
The bad news for fans of David Jason is there will be a bit of a wait until it's possible to read the book. The hardback edition is currently scheduled for publication in the autumn of 2014, with the paperback edition following during the next year.