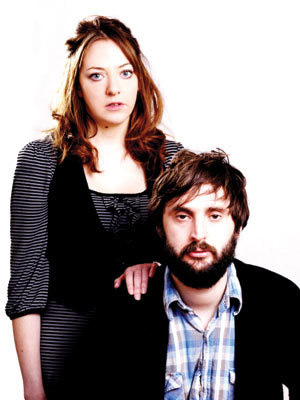 Two Episodes Of MASH are one of those acts that give off the impression of half-heartedness, their shows are delivered in such a manner that people could be forgiven for leaving thinking they had witnessed an under-rehearsed effort from one of those types of acts that audiences either get or don't get.
Yet their mastery is in exactly that. The lackadaisical delivery is what underpins their material, drawing audiences into a world of short, absurdist sketches that often require a few seconds of processing before the gag sinks in, or is in fact unearthed.
Diane Morgan and Joe Wilkinson, the two comics that form Two Episodes Of MASH, are established stand-ups in their own right having met during the Hackney Empire New Act of the Year 2006 final ("Joe won, I finished second," Diane rues).
Diane has since appeared in Peter Kay's Phoenix Nights whilst Joe is set to appear in BBC Three sitcom Him & Her - directed by two-time Edinburgh Comedy Award winner Stefan Golaszewski, who has previously overseen Tom Basden's Won't Say Anything and Jonny Sweet's Mostly About Arthur shows.
Having set up as a double-act back in 2008, Diane and Joe are finally brought to a bigger audience thanks to BBC Radio 2, which airs a 30-minute Two Episodes of MASH pilot. We caught up with the pair to find out how this happened...
Hi Diane and Joe. Why the name Two Episodes Of MASH?
Joe: Because my real name is Ron Episode and Diane's is Diane Mash. Together, we are Two Episodes Of MASH.
So how did the Radio 2 pilot come about?
Diane: We recorded something just for our own amusement, and then someone said, "Do you mind if I play this to someone?". Next thing we know, we're sitting in a recording studio. It was all pretty much out of our control.
What can listeners expect?
Diane: They can expect Joe to lower himself gingerly into a bath.
Joe: That's guaranteed...
Diane: Diane gets distracted and Bobby Ball doesn't turn up. Intrigued? Of course you are, you're only human. You'll just have to listen on Saturday evening then won't you?
Do you have a way of describing your style?
Diane: One of the words we wouldn't use is 'style'. But we can provide low-key, mundane glamour if that's what people are after. Just don't expect any punch lines.
You're both established stand-ups in your own right. Which do you prefer; stand-up or sketch?
Joe: I like sketch and stand-up for different reasons. Sketch is great because you get to bounce off someone and it's less lonely. I also think with sketch there's more scope with what you can do - different characters or styles. Whereas stand-up is more about you establishing yourself as a certain persona and sticking to ideas that fit just that, sketch feels more flexible.
Is radio something you'd like to do more of?
Joe: Absolutely. We'd love our own series as we had a ball recording this one. It was a great way to spend a Tuesday.
What about Two Episodes of MASH on TV?
Diane: We'd love to do TV and we're planning on filming some stuff quite soon. We have quite definite ideas on how we would like it to look. We often find we have sketches that would be more suitable for screen than stage, and we've stockpiled those - so hopefully we'll get the chance to dust them off and use them at some point.
Cheers for your time, and best of luck with the pilot!