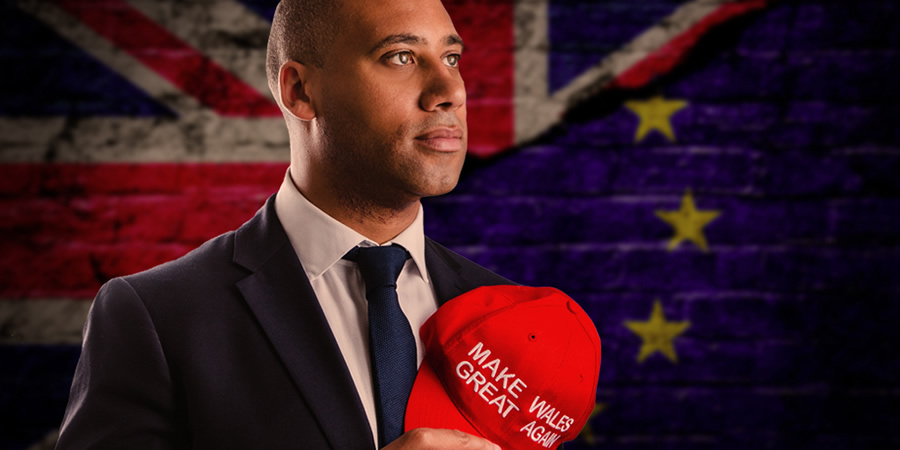 Genre

Sitcom

Broadcast

Channel

Episodes

1

Starring

Leroy Brito, Sara Lloyd-Gregory, John Rutledge, Daniel Glyn, Ignacio Lopez, Nigel Crowle and Llinos Mai

Writer

Producer
Improvised political comedy starring stand-up comedian Leroy Brito, broadcast on the anniversary of Brexit.
The Great Welsh Brexit Road Trip follows Martin George, a successful businessman and prominent Brexiteer as he travels up and down the country gauging the nation's mood one year on from the EU referendum. Joined by BBC journalist Bronwen Matthias, George is 'brexcited' to show off his Leave camp pals and also convert the dreaded 'Bremoaners'.
Speaking about the show, Brito explains: "We wanted to tackle the Brexit subject as it's a topic that has and will impact all our lives in the UK, everybody has an opinion on it plus it gives me a chance to prove that I'm not wasting my degree in politics."
Talking about making the show, he adds: "We really wanted to push the satire side of things but it's been really difficult to satire the craziness what's been going on. When we initially came up for the concept of the show, Brexit had just happened and things were still up in the air and nobody had a clue what was going on... Fast forward a year, we've just had another election and everything is up on the air and nobody has a clue what's going on."
Producer Rhys Waters says: "The format of the show feels like your standard BBC Political magazine feature, but the bizarre characters and the weird reactions they have to Brexit takes it to strange places. We hope some listeners tuning in mid-show will be baffled as to whether it's real or not."
He adds: "It was great to be given the chance to work with Leory and some of the best up and coming comedy talent in Wales. We love mixing improv with scripted comedy, it's an approach that's allowed us to create a radio mockumentary in the same vein as Radio 4's Down The Line."
Production company

Laugh track

None
Broadcast details
First broadcast

Friday 23rd June 2017 on BBC Radio Wales at 6:30pm

Episode length

30 minutes

Last repeat

Saturday 24th June 2017 at 1:00pm