The Goon Show is one of the most important radio comedy series created. It lead the way for a new kind of comedy, using a mixture of surrealism and innovative new radio production techniques. The show, starring Spike Milligan, Peter Sellers, Harry Secombe, and in its early years Michael Bentine too, help to forge paths for new styles of comedy for the later half of the 20th century.
Background and Characters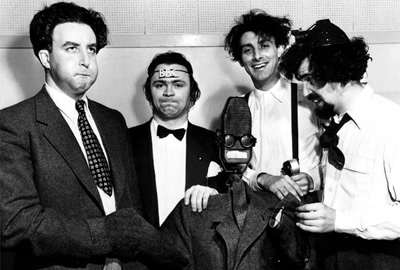 Milligan and Secombe met each other while they were serving in the army during the Second World War. After the war, they met Sellers and Bentine. The four struck a friendship, which involved Grafton's pub performing and experimenting with tape recorders. Eventually, they managed to get a series on the BBC Home Service. The first series was called Crazy People, but it was then re-titled The Goon Show (the word 'Goon' came from a Popeye cartoon).
In the first two series the action revolved around the exploits of Professor Osric Pureheart (Bentine), an absent-minded professor whose plans never lead to success. For example, he once tried to build the Suez Canal, but for his plan was ruined when someone suggested filling it with water. The episodes included music interludes by The Stargazers. However, after two series Bentine and The Stargazers left, as did the show's announcer Andrew Timothy.
Timothy was replaced as announcer by Wallace Greenslade, who was often written into the scripts. He even had a whole episode, 'The Greenslade Story' (or, 'Winds Light to Variable') dedicated to him. New musicians were also included. One was jazz harmonica player Max Geldray, and the others were the Ray Ellington Quartet. Geldray and Ellington were also written into the scripts. However, most of the humour revolving around them would be considered today to be offensive, due to Geldray being a Dutch Jew (as well as having a big nose) and Ellington being black.
Following Bentine's departure, Secombe was given the role of the lead actor as he took on the part of new character of Neddie Seagoon. Neddie is an affable but gullible idiot, and often very poor. Most of the episodes involved him trying to earn money or attempting to achieve some sort of greatness, but more often than not he failed.
Alongside Neddie, other characters were created. Neddie was normally assisted by Eccles (Milligan), a tall, lanky, amiable, well-meaning, but incredibly stupid teenager who was once described by Neddie as the nearest thing I had seen to a human being without actually being one. There was also Bluebottle (Sellers), a young boy who always ended up being blown up - or 'Deaded' as the Goon's referred to it.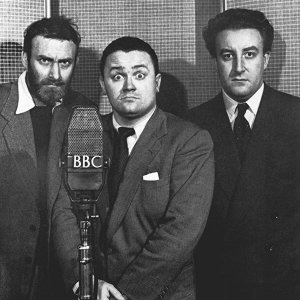 Trying to prevent Neddie from achieving his goals was Hercules Grytpype-Thynne (Sellers), an impoverished man, who nevertheless always talked about money and spoke in a smooth, sophisticated voice. Ruined French nobleman Count Jim Moriarty (Milligan) was his bullied sidekick.
The two 'baddies' were so poor that Grytpype once pawned Moriarty's teeth. When Moriarty challenged him to a duel, Grytpype used Moriarty's own teeth as a weapon, resulting in the Count losing the fight because he had nothing to fight back with. Grytpype and Moriarty spend most of their time conning Neddie out of money.
Money, as well as women, was a staple interest of Major Dennis Bloodnok (Sellers). Bloodnok was introduced by his own fanfare and a series of explosions, most of which came from his own body. Bloodnok was a total coward and a womaniser. He was thrown out of the army for dressing up as a woman, but he claimed it was just carnival night. His main enemy was The Red Bladder (Ellington), an Arab whom he had stolen some women from.
Also on Neddie's side was Henry Crun (Sellers), an old man who was not too bright. He said he often couldn't solve Neddie's problems because, you can't get the wood you know. Crun's love interest was the equally old Minnie Bannister (Milligan), nicknamed 'Modern Min' because of her love of modern music.
There were some other minor characters that appeared in various episodes. They included William 'Mate' Cobblers (Sellers), Throat (Milligan in a deep voice), Lew/Ernie Cash (Jewish characters played by Sellers), Hugh Jampton (Milligan, and a play on the Cockney rhyming slang 'Huge Hampton' - Hampton Wick: Prick) and Little Jim (Milligan, who had the catchphrase He's fallen in the wa-ater).
Making The Show
Most of the scripts were written by Milligan. However as this involved writing a new script about once a week, it was a real strain on the writer. Eventually, the pressure took its toll, Milligan suffered a mental breakdown and spent time in hospital. Not only that, but his marriage failed and he even reportedly tried to murder Sellers with a potato peeler. Other script writers who worked on the show in Milligan's absence included Eric Sykes and Larry Stephens.
The show was notable for the use of sound effects. When The Goon Show started, most sound effects had to played live on gramophone records, or even created live behind the actors. Milligan's scripts would often create challenges for the technical crew - for example, how to make the sound of several people rolling up their trousers (this sound was eventually represented by a set of blinds being rolled up quickly). There was also this legendary requirement: the sound of Neddie and Eccles driving a wall at speed.
However, arguably the most famous sound effect involved Neddie visiting the Tea House Of The August Goon which, as he arrived at the door, involved giving the secret knock. This involved knocking on a door 6,000 times, the door then opens, only for it to turn out to be the wrong door.
Popularity
The Goon Show was one of the most popular radio comedy series created during its day, as well as one of the most popular of the time. Prince Charles is one of the most high-profile fans of the series.
During its run, the show attracted a number of guest stars, such as leading BBC radio announcer John Snagge as 'Voice Of The Boat Race', radio's 'Man in Black' Valentine Dyall, Dick Emery and star of ITMA, Jack Train.
This radio comedy also influenced a generation of comedians. Monty Python's Flying Circus is amongst the shows that it is said were influenced by The Goon Show. Peter Cook and The Beatles were also fans.
So, that's The Goon Show. Don't worry if you don't understand it... it's all in the mind, you know!