As Simon Evans returns to Radio 4 with a new series of his comedy economics show Simon Evans Goes To Market - and prepares for a live tour from February to June - we sat down with the comedian for a quick but enlightening chat.
For those who've not heard the show before, how would you explain Simon Evans Goes To Market, and why should they tune in?
It's a show that attempts to fuse comedy and economics, and consequently leave everyone in the dark, as fusing things does. It aims to dig out the numbers that underpin a lot of otherwise quite messy topics. The numbers never lie.*
*(They do. But not as much as humans.)
This is the fourth series, so you've already covered a fair few topics. Are there any you just haven't been able to address, either because you can't figure out how, or the BBC won't let you?
Series 2 was on addictive substances - sugar, tobacco, alcohol, coffee. We wondered long and hard about doing controlled substances and illegal drugs, but felt it might be inviting a degree of gee-whizzery. On reflection, I wish we'd done it anyway. Hopefully we can at some point do illegal markets. Guns, people trafficking etc would be interesting, but the risk (and BBC anxiety) is making light of slavery etc.
What's been the most interesting thing you've discovered whilst making the show to date?
I was essentially live on air (well, in front of the Radio Theatre audience at any rate) when I learned for the first time from a studio guest that no native European population is currently reproducing at replacement level. None, not even the traditionally fecund Mediterranean cultures, Greece, Italy, Spain. Not one. I am not sure how aware people are of this generally. I may have been the last to know. But I found it pretty seismic. I mean, I seem to remember when bee colonies started collapsing, everyone thought that was apocalyptic. It's odd we don't seem to be so worried about Italians.
The programme's comedy-factual style reminds us rather of The Mark Steel Lectures; it feels like a bit of a passion project for you?
Mark's work was an influence and I've always thought of him as a model, a highly laudable radio comedian. He puts a lot of work into creating a high quality content, he has charm but never relies on it. For me it's easier, because I don't have charm. But creating a show about economics specifically was not so much a long term passion for me as creating one which enables you to laugh while thinking and probing and encouraging original insights. Because economics and comedy have so rarely met, it does help in pursuit of originality!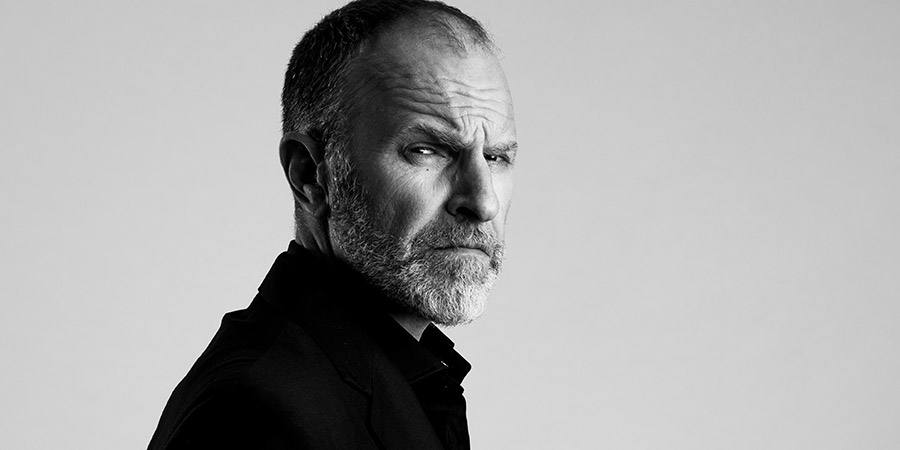 Tell us a little about your upcoming tour, Genius?
This is a tour of the show I played in Edinburgh last year, about my own thwarted ambitions to be seen as a man of genius, which I blame not on my own intellectual shortcomings but on society's failure to even appreciate and reward high intelligence nowadays. To actively punish it in fact. This is obviously tongue in cheek but there is grain of truth to it I think. So it's swinging back and forth between Steptoe And Son's tragedy of self-delusion, and properly embittered rants about the collapse of standards of rigorous thought in public debate. As always, my children are largely to blame, it turns out.
On a recent episode of The News Quiz Peter Oborne commented about how left-wing the show is, and Miles Jupp implied you'd normally be the one on the show to represent the Right. Do you see yourself as right-wing as such? Centrist? Right-leaning? Non-partisan? Libertarian?
As I have had occasion to say before, if you have the good sense to lash yourself to the mast in a storm, you will be astonished at what others perceive your position to be as they are yawed from side to side...
There seem to be - slowly - more and more comics now coming out as right-wing/pro-Leave/Conservative-voters, etc., like Fin Taylor, Andrew Lawrence and Leo Kearse. Do you have any thoughts on this mini-phenomenon? It must be good for the wider comedy ecosystem to have some varied voices now?
As I say, I don't know about right-wing, exactly, but seeing comics who are at least sceptical of some of the progressive, left-wing orthodoxy surely has to be good. Having said that I haven't see Fin or Leo I'm afraid, I can't speak to their perspectives. Hopefully enough of us will emerge eventually that we can be perceived as distinct!
Last year you wrote an article, during a heated debate about Brexit and comedy, about how you felt it was best to avoid discussing the topic on stage, in the risk that audiences would be alienated is that still your view?
It wasn't that, I don't think - more not to assume consensus. You can talk about anything and if you think you've got something funny to say, some insight that will amuse and perhaps occasion a moment's reflection, then go for it. Just don't fling insults at Brexiteers, for instance, suggesting they are uniformly uneducated and bigoted old men, in the hopes of rabble rousing and earning cheap popularity and in-group preference. If you do, you may come unstuck. When I avoided Brexit it was mainly because I didn't have much to say and felt the subject had been exhausted - people had come out to get away from it!
Any other observations ahead of your shows?
Touring is hard because of loneliness. Come and say hello.
---
Simon Evans Goes To Market runs during January and February on Radio 4, at 6:30pm on Tuesdays. Simon's 2018 tour, Genius, runs from early February until June. See dates & book tickets.
His first live DVD, 2014's Simon Evans: Live At The Theatre Royal, is out now.
Star of BBC One's Live At The Apollo, Channel 4's Stand Up For The Week and his own BBC Radio 4 series Simon Evans Goes To Market, this is comedian Simon Evans's first ever stand-up DVD.
Simon Evans: Live At The Theatre Royal is a master class in aloof, patrician observational stand up. To the delight of a packed audience, Simon brings a little polish to the Theatre Royal Brighton, as he looks back at his life and times, from his early days in London to his family life by the seaside. Along the way, his reflections are as ever as dry and delicious as a good Sancerre, or perhaps a really good radish.
Special feature:
Lot 13 (short film)
First released: Monday 1st December 2014
Buy and sell old and new items
Search for this product on eBay
It looks like you're in the US? Fear not! Almost everything can still be ordered.
Amazon UK
deliver internationally,
Amazon.com
carries many items separately, or you can look out for US/Canadian flags on our product listings for direct links.
If ordering from a UK store, please note that you are in Region 1 (DVD)/Region A (Blu-ray), whilst the UK is in Region 2/B, respectively. This means that many - but by no means all - may fail to play. Look for products marked "Region free", "All regions", "Region 0" or "Multi-region". Blu-rays may also be marked "Region A/B/C", "Region free", or variations thereof. You may also check whether your DVD/Blu-ray player supports multi-region playback (also referred to as "region free"), or whether it can be set to do so. There should, of course, be no problems with books, CDs, or other physical items.
More advice & help on importing