See Also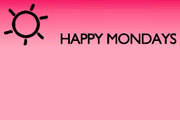 Happy Mondays was a season of late-night comedies broadcast on Radio 4.
Comedy Lab pilot. A part sketch show, part sitcom set in a 'fun club' run by a mysterious and never seen-before benefactor Pappy.
Comic sketch show written and performed by David Armand, Rupert Russell, Sam Spedding and Nick Tanner, with Katy Brand.
Futuristic sketch comedy set on a gadget show in the year 2020, starring Andrew Spiers, Elliott Tiney, Benjamin Wilson and James Wrighton.
Studio-based 1950s style comedy gameshow pilot hosted by sketch group Pappy's.
Christmas special from comedy trio Pappy's.