Radio 1 to broadcast comedy specials
Radio 1 to broadcast comedy specials
Comedians Nick Helm and Doc Brown are to host one-off comedy specials for Radio 1. The shows, which will be recorded in front of live audiences, are due to be broadcast as part of the music station's winter schedule.
---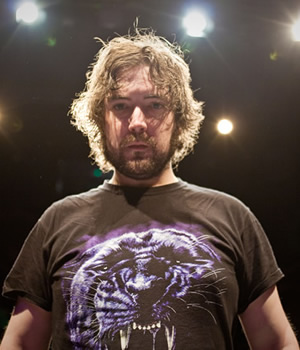 Nick Helm (pictured) will host The Nick Helm Christmas Spectacular, which is being billed by the station as "a variety show spectacular".
The programme is described as: "A festive helter skelter of jokes, singalongs, party games, new music, poems, and some of the finest young comedians on the circuit, with Nick all the while trying his best to stop it turning into a shambles. Certainly a seasonal show to remember, albeit not always for the right reasons."
Helm, who was a nominee for the Edinburgh Comedy Award in 2011, is known for mixing stand-up and music. BBC Three viewers will be familiar with his act as he closed each episode of the channels' comedy showcase format, Live At The Electric, which is due to return for a second series next year.
Nick Helm is currently increasing his appearances on TV and radio. In addition to the above, on Friday 14th December Channel 4 will broadcast Uncle, a new sitcom pilot starring the comedian as an out-of work musician forced to look after his 11 year old nephew, as part of its 4Funnies pilot strand.
Here is a video of Helm performing on Live At The Electric:

---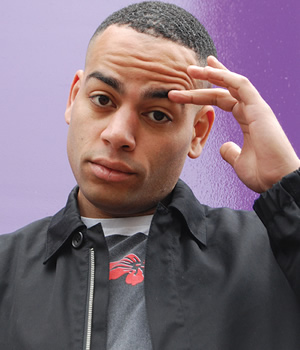 Radio 1 will also be recording Dong Comedy shortly. Hosted by comic rapper Doc Brown (pictured), the programme is dubbed as the show in which "hip hop and comedy collide".
Recorded in front of a live audience at East London's Rich Mix venue, Doc Brown will introduce the "freshest new stand-ups from the UK circuit" as part of the show. Marlon Davis (FHM Stand-Up Hero 2009), Michelle de Swarte (The Dirty Digest) and Fergus Craig (Colin And Fergus' Digi Radio) are amongst the comedy acts who will be performing.
The show is also promising music from beatboxing Battle Jam Champion Hobbit and Sony Award winning DJ Big Ted.
Doc Brown is a former battle rapper who has since turned to performing comedy, both as a TV actor and live performer. His comedy CV to date includes appearances on shows including Chris Moyles' Comedy Empire and Rev. He has also created musical CBBC sitcom 4 O'Clock Club and is to support Ricky Gervais on his upcoming tour.
Below is a video of Doc Brown appearing on Comedy Rocks With Jason Manford:
---
Dong Comedy will be recorded at Rich Mix on the 30th November, and The Nick Helm Christmas Spectacular is due to be recorded on Monday 8th December at the BBC Radio Theatre. For tickets visit the BBC Website
The shows form part of Radio 1's plan to return to broadcasting more comedy. The station used to be known for commissioning shows from the likes of Lee & Herring, but dedicated comedy broadcasting has been notably absent from the station for over a decade.
Share this page