Radio 4 orders a second series of Sketchorama
Radio 4 orders a second series of Sketchorama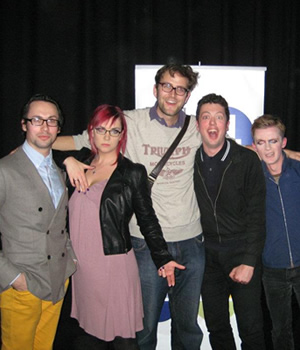 Radio 4 has ordered a second series of Sketchorama, the comedy format that showcases various sketch groups.
The programme is described as offering "the same popular showcase dynamic as stand-up shows, but purely for comedy sketch groups. Sketchorama aims to bring hidden gems and established live acts to the airwaves offering a truly distinctive and ambitious show for Radio 4."
Hosted by Humphrey Ker, the first four-part series of Sketchorama was broadcast in June and July and featured performances from acts including Lady Garden, Idiots Of Ants, The Noise Next Door, The Three Englishmen, Max & Ivan and Pappy's.
The series also made use of Twitter, with listeners invited to interact with the show by giving their suggestions for their #besteversketch and #fantastysketchgroup via the Radio 4 Twitter account.
Following a positive reception, the station has now ordered another four half-hour episodes. The production team says: "Series 2 will again bring hidden gems and established comedy acts to the airwaves offering a real distinctive blend of sketch styles. For Series 2, as a special treat for Radio 4 sketch lovers, there's a plan to re-form for one night only a much loved British sketch group just for Sketchorama."
Gus Beattie, from production company The Comedy Unit, says: "I'm thrilled to be once again bringing more upcoming sketch groups to Radio 4's coveted 6:30pm comedy slot. It offers a fantastic opportunity for the acts to showcase what they can do on a high profile broadcast platform."
Radio 4 commissioner Caroline Raphael adds: "Live sketch comedy is thriving and Sketchorama is a clever but simple way to bring the best of new and established groups to the Radio 4 listener. We are delighted to welcome it back."
As with the last series, the new run of Sketchorama will be recorded in front of live audiences in London and Glasgow. The 12 acts which will take part in Series 2 will be confirmed in early 2013, with the series scheduled to be broadcast on the station in the second quarter of the year.
The Comedy Unit have already identified some of the acts they'd like to involve in Series 2 but they are also keen to hear from professional sketch acts and agents who would like to be in the show. Groups interested in appearing, contact details for the company can be found on their website: www.comedyunit.co.uk
As previously reported, BBC Three has commissioned another two series of Live At The Electric, the recent Avalon-produced series to showcases sketch groups on television. The two formats are slightly different however, as Sketchorama aims to showcase as many different acts as possible, whereas Live At The Electric focuses on a small group of acts who appear each week.
Share this page