The Now Show to broadcast live Olympics specials
The Now Show to broadcast live Olympics specials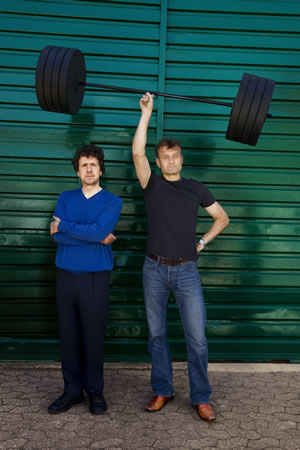 Radio 4 has ordered six episodes of The Now Show to coincide with the Olympic Games and, most notably, the episodes will be broadcast live.
The popular topical comedy show is normally recorded on Thursday evenings for broadcast on Fridays at 6:30pm, but during the Olympic Games it will broadcast three specials a week live on Radio 4.
Radio 4 says of the show: "Steve Punt and Hugh Dennis will save you the trouble of keeping up with the London 2012 Olympic Games by providing a special mix of stand-up, sketches and songs that tell you everything you need to know."
Joining Punt & Dennis for the episodes will be show regulars Mitch Benn and Jon Holmes, plus guests including John Finnemore, Henning Wehn, Margaret Cabourn-Smith, Alex Horne (with The Horne Section) and Paul Sinha.
The six programmes will be broadcast from the RADA Studios in London over the Olympic fortnight. There will be episodes on Mondays, Wednesdays and Fridays at 11pm from the 30th July to 10th August.
This will not be the first time the long-running show has undertaken a big task. In April and May 2010 it broadcast three specials a week - a total of twelve episodes - in the run-up to the General Election under the name The Vote Now Show. However, these episodes were not broadcast live, but rather recorded earlier in the evening. The Olympic shows will go out live with no editing.
Radio 4 has, however, broadcast other live comedy in the recent past. In 2011 it produced a series called Mark Watson's Live Address To The Nation in which Watson, Tim Key and Tom Basden used audience reaction from social media and text messages to determine how to end each show.
Tickets to watch the The Now Show: Live being recorded are free. However, as tickets to be in the audience of this show are always snapped up quickly, the BBC is operating a random draw. Fans can register an interest for tickets on the BBC website up until 10pm on the 15th July.
Below is an old video clip in which Punt & Dennis introduce the show:
Share this page