Mark Steel and Nicholas Parsons win at Sony Radio Awards 2012
Mark Steel and Nicholas Parsons win at Sony Radio Awards 2012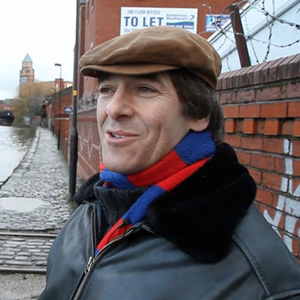 Radio 4 show Mark Steel's In Town has been named the best audio comedy show of the year at the prestigious Sony Radio Academy Awards 2012.
The stand-up show, which has now run for three series, sees Mark Steel visiting a different UK town each episode. The locations picked are described as "the sort of places in Britain which are generally less visited as tourist attractions." After touring the area Steel creates a bespoke stand-up show, which he then performs in front of a local audience.
The Radio Academy said: "The judges were particularly influenced by how much the live audience loved this show. Continuous laughs which made us all feel differently and more affectionately about the UK. Completely original."
The programme beat fellow nominees Adam & Joe, Another Case Of Milton Jones, Down The Line and The National Theatre of Brent's Iconic Icons to claim the Gold award. Mark Steel's In Town, Down The Line and Adam & Joe were all also shortlisted in 2010, when it was the 6 Music duo Adam & Joe who took home the top prize.
This year, Another Case Of Milton Jones took the Silver award, with the notes from the judges mentioning the joke-packed sitcom was "a show which appeals to all ages" and featured "laugh out loud & high density gags contained in a brave format." This win will come as a bit of an embarrassment to Radio 4, as the sitcom - which has been on air since 2005 - was axed earlier this year.
Down The Line, the spoof phone in show, took this year's Bronze award for comedy, with the judges commenting that Charlie Higson and Paul Whitehouse's comedy delivered a "pitch perfect parody adding up to a brilliantly funny but chilling portrait of modern Britain."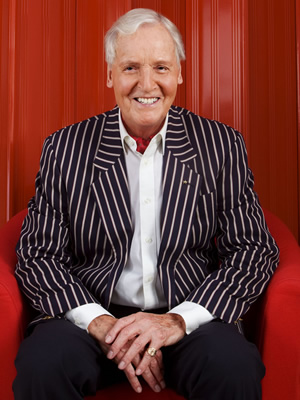 The winners were announced at a gala at Grosvenor House tonight, where elsewhere in the ceremony one of the two special awards of the evening - The Sony Gold Award - was given to Nicholas Parsons (pictured). The Academy presented the accolade "to recognise a lifetime of professionalism in radio and in particular his outstanding and total commitment to Just A Minute, a programme that Nicholas has brilliantly presented for an amazing 45 years."
Following another brief excursion to TV recently, Just A Minute is now back on radio. The 63rd series is currently being broadcast on Radio 4 on Monday evenings.
Elsewhere in the awards, Adam & Joe and Frank Skinner were beaten to the Gold award for Best Entertainment Programme by cult hit presenters Beryl and Betty. The Radio Humberside duo, who have a combined age of 176, were described by judges as "a joyous, entertaining double act".
Adam & Joe took the runner-up Silver award in this entertainment category. The Academy commented: "Adam and Joe never fail to offer a unique approach to radio. This entry delivered all the flair, creativity and good solid production values we've come to expect from these continually rising stars."
Meanwhile Frank Skinner, who has just re-signed to Absolute Radio for another year, and has had an additional hour added to his Saturday morning show in the process, took Bronze. Judges noted: "A continually high level of pace and energy, interspersed with lightning quick wit and intelligent banter. This show is consistently entertaining and clearly constructed with Frank's audience in mind at all times."
In the Internet category, Do The Right Thing - a podcast series hosted by British Comedy Guide - was awarded a Bronze prize. The panel show, which stars Danielle Ward, Michael Legge and Margaret Cabourn-Smith and is produced by Ben Walker, received a glowing write-up from the judges. They said: "This was one of the finest comedy panel show entrants. There were many laugh-out-loud moments and this was a true joy to listen to. The format and themes were intelligent too - making for a really engaging listen." It was the highest placed comedy podcast, with the Silver prize going to a podcast about Manchester's history, and the Gold spot claimed by a Science Weekly podcast about space shuttles.
Below is a clip which follows Mark Steel as he prepares to record Mark Steel's In Town in Wigan, plus includes some footage from the radio recording itself...
Share this page