Katherine Parkinson to star in new Radio 2 sci-fi sitcom pilot
Katherine Parkinson to star in new Radio 2 sci-fi sitcom pilot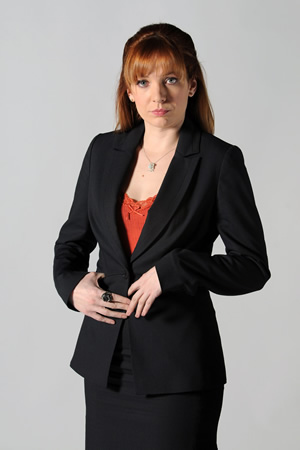 Katherine Parkinson (pictured), star of The IT Crowd, Whites and The Old Guys, is to star in a new sci-fi sitcom pilot for Radio 2.
The Resistance follows the story of Katrina Lyons (Parkinson), who pops back to her parents' house in the small English village of Cresdon Green for the weekend, but soon finds herself in the middle of an alien invasion.
Cresdon Green is soon controlled by an alien race called The Geonin. They are described as "not your typical alien invaders" as, instead of the usual all-at-once approach to global domination, they've decided to start small and have just encircled the small English village with an impenetrable heat wave, preventing anything coming in or out.
Having merely wished to see her family and borrow some money for a deposit on a flat, the pilot follows her attempts to establish a resistance movement against the invasion, and leave the village as soon as possible.
The pilot will be recorded in front of a live studio audience at the BBC Radio Theatre on Wednesday 13th June 2012. Gavin & Stacey star Alison Steadman and Dr Who star Peter Davison will join Parkinson on stage, playing her character's parents.
The Resistance has been written by Eddie Robson, whose previous credits includes sketches for That Mitchell & Webb Sound, The Headset Set and Look Away Now.
Radio 2 has been significantly cutting back its comedy output due to budget cuts, with its Saturday night block of comedy scheduling dropped in favour of more music programming. Henning Knows Best was the last comedy on the station, with the final episodes moved to Thursday nights. Meanwhile Two Episodes Of Mash, a sketch show that started life on Radio 2, is moving to Radio 4 for its next series.
This pilot commission would suggest that sci-fi comedy is very much back 'in vogue': Radio 4 has just finished broadcasting My First Planet, a space-set sitcom starring Nicholas Lyndhurst; whilst Johnny Vegas has recently been filming A Saucer Full Of Secrets, a BBC Three sitcom pilot about a man who encounters a UFO; and perhaps most notably Red Dwarf is due to return to screens later this year for a new series.
Share this page