Radio 4 orders new David Schneider sitcom
Radio 4 orders new David Schneider sitcom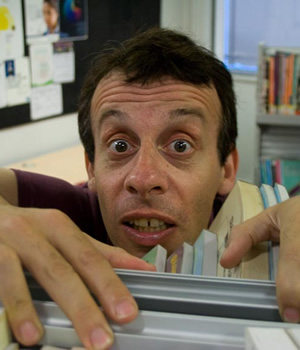 David Schneider, best known for appearances in shows such as The Day Today and I'm Alan Partridge, is due to star in his own new Radio 4 sitcom, it has been announced.
Schneider will take on the lead role of Malcolm Fox in Births, Deaths And Marriages, the chief registrar in a Local Authority Register Office, where the staff must deal with those three greatest events in a person's life.
Fox is described as "a stickler for rules" who would "interrupt any wedding service if the width of the bride infringes health and safety". Alongside him is his rival, divorcee Lorna, who has been parachuted in from car parks to drag the office (and Malcolm) into the 21st century.
There's also the ever spiky Mary; geeky Luke who's worried he'll end up like Malcolm one day; and the ditzy Anita. She may get her words and names mixed up occasionally but as the only parent in the office, she acts as mother figure to everyone.
The series will be recorded at The RADA Studios - formerly The Drill Hall - in Central London on the 21st and 30th March, and 4th April 2012.
Share this page