God Squad on Radio 4
God Squad sitcom coming to Radio 4
Created by Barney Fishwick and Jack Chisnall, the comedy reflects their different journeys with faith
Fishwick says: "Portrayals of Christians often land solely on the 'godfreak' variety." The reality is "likely more interesting and more funny"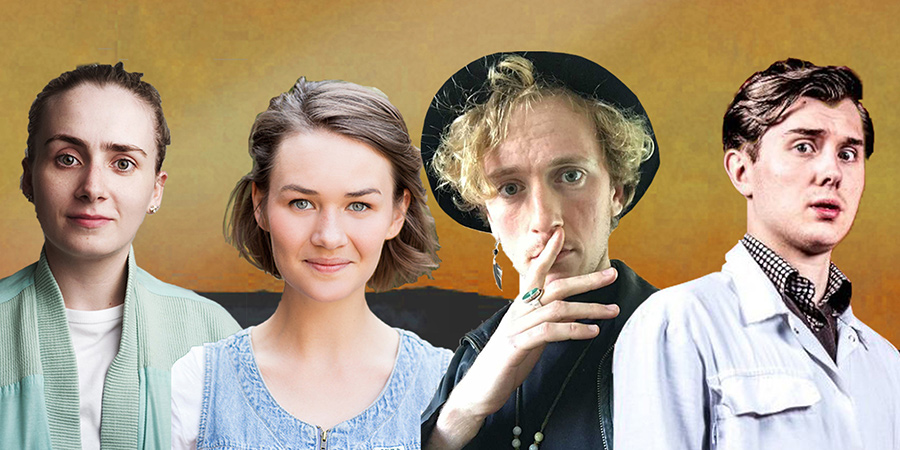 Sketch comics Barney Fishwick and Jack Chisnall are piloting a Radio 4 sitcom about a university's Christian Union struggling against the tide of secularism.
Fishwick, part of double act Giants with Will Hislop, and Chisnall, half of Moon with Joshua Dolphin, have written God Squad, in which they also star alongside Helena Antoniou (Trial By Laughter) and Lili Miller (Doctor Who).
Raised "as a church-going, pray-at-night Christian", Fishwick, who played GasGhost in Pls Like, later converted to "dogmatic atheism".
He told British Comedy Guide that he still carries "quite a lot of resentment towards the Church for some of the crueller aspects of a Christian upbringing that it inculcates: the excessive guilt, the self-condemnation etc". However, his atheism has since "softened into something else: I definitely have a Faith of a sort and it is shaped by the teachings of Christianity; as well as other types of spirituality."
As a student, Chisnall, whose writing credits include The Now Show, "was a smuglier-than-thou atheist of the Hitchens/Dawkins mould. They had settled the questions for all time, and the only Christian Union stuff I attended was the big welcome event - entirely because I wanted a free meal."
Yet he "felt my icy atheist's heart begin to thaw in Christmas 2016 - this was about four months after graduating, and I was living with some mates in a grotty converted office in Highgate. I just thought: 'I liked all those religious poets I studied - and churches are quite pretty. Is there something to be said for the cast of mind that produced those things?'
"And it started that way - very much hoping that I could LARP as a Christian, like Douglas Murray, without believing all of the nonsensical stuff. Sadly, I now believe all the nonsensical stuff too.
"The show is very much our response to the questions we've asked each other about the reasonableness of belief in the 21st century. My main hope is that the show pleases people who have faith - or none at all - and they see it as a fair 'stating of the case' as regards the Christian religion; its vices and virtues."
Fishwick plays Dan, while Chisnall is Phil, with Antoniou as Katrina and Miller as Sophie. The quartet find themselves "fishing in crowded waters, with activist groups, sports clubs, and all of the delights of student life competing with them for the soul of the campus".
Despite a "Text a Toastie" initiative, they're losing the battle. With "falling church attendance among young people, and even within the four of them, views ranging from mild to mildly explosive - they realise they have to adapt, or face extinction. If they don't - they haven't got a prayer."
God Squad began life as a television script. But when no production companies were interested, Fishwick and Chisnall re-wrote it as the play Against The Christians, which they staged at last year's Vault Festival with the same cast.
It was born from discussing "the role religion could, should or should not play in the modern world" Fishwick explains. "We were also talking about what it means to be young and at university; to arrive there as this half-formed idea of yourself and watch that unravel. Then add Faith into that mix.
"Those discussions birthed this image of a struggling Christian Union at a large university attempting to sell their wares at fresher's fair, whilst essentially disagreeing on what those wares are ... We liked the thought of these misfits who doggedly love this often baffling, ancient creed and are trying to find currency for that in today's market. We also felt that portrayals of Christians often land solely on the 'godfreak' variety and that the reality was likely more interesting and more funny."
Chisnall adds: "I have an evangelical grandmother who does a good job of making the questions of Christianity unignorable, both because she makes a good case for the kind of life that Jesus wants us to live in her tireless charity and community work, but also because she doesn't stop banging on about God. That's important. In a way, I have no problem with hardline atheists - I was one - because they at least think the issue is important. I find people who just don't care a bit perplexing.
"There was some wailing and gnashing of teeth about whether Barn and I could write about a Christian society - but we figured we had enough skin in the game between us. In a way, it has made our conception of what a Christian soc looks like a bit more broad - it's really just a vehicle for us to talk about young people having faith in a faithless world, something we are interested in."
The pilot is produced by David Tyler for Pozzitive (Cabin Pressure, Thanks A Lot, Milton Jones!).
"What could be more relevant than a sitcom about a group of passionate young people trying to persuade the uncommitted?" he asked BCG. "It's just that instead of climate change or statues, we've gone for whether somebody turned into bread 2000 years ago.
"We're piloting it this year with the hopes of getting a radio series, then TV series then a big-budget action movie and eventually founding a cult based on the sitcom itself."
God Squad's recording takes place on 3rd October at RADA Studios in London, with tickets available from SRO Audiences.
Meanwhile, Fishwick, who stars as the son of Bill Nighy's character in the forthcoming film Living, written by Nobel Prize-winning novelist Kazuo Ishiguro, and based on Akira Kurosawa's 1952 classic film Ikiru, is part of the voice cast for the animated medieval comedy shorts Black Death from London-based Swedish director Gustaf Lindström.
Also featuring Hislop, Jamie and Natasia Demetriou, Ellie White, Emma Sidi, Rob Carter, Johnny White and Don't Hug Me I'm Scared's Becky Sloan and Joseph Pelling, the shorts were created for US channel FX.
Fishwick also stars alongside Maxine Peake in the upcoming short film Lapushka!, a pastiche of Children's Film Foundation films of the 1970s and 1980s in which they play crime-fighting children.
Co-starring comics Carter, Tim Renkow, Sunil Patel and Bobby Mair, the "very silly" comedy according to producer Kevin Proctor (Funny Cow), was shot in Bedworth in Warwickshire and is currently being edited to screen next year.
StudioPOW co-founder Proctor also gave British Comedy Guide an update on The Glove, the production company's long-awaited Vic & Bob movie about Michael Jackson's training glove, stating that filming is now set for March.
---
For updates, click the buttons below.
Share this page