Ignacio Lopez stand-up special
Ignacio Lopez to record radio stand-up special
Stand-up special Ignacio Lopez: Spain's Greatest Export will be broadcast on BBC Radio Wales
Lopez says the half-hour special will be a collection of his favourite material from over a decade of routines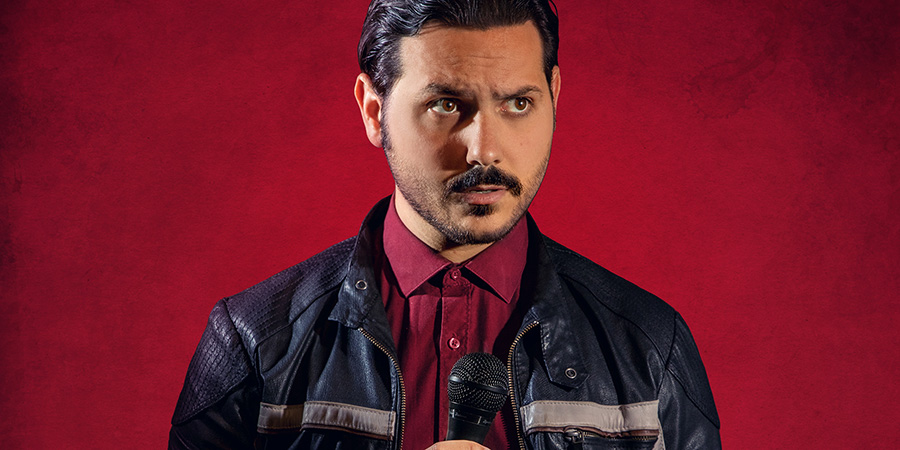 BBC Radio Wales will broadcast Ignacio Lopez: Spain's Greatest Export, a stand-up special from the Cardiff-based comedian.
The half-hour special will be produced by Bright Branch Media. The comedian previously worked with the production company to record Twinned Town, the 2020 sitcom pilot he co-wrote with Leroy Brito.
Speaking to British Comedy Guide, Lopez says he is "beyond excited" to be working on the special.
Talking about the show's content, he says: "It's a collection of my favourite material from 11 years of doing stand-up all over the UK. I've made a career out of taking the piss out of the British in a friendly way, directly to their faces, and now I get to do it on the radio which means I'll probably get in trouble with all my Welsh family that have never seen me perform.
"It has a bit of everything in it; observational stuff about the UK and Brits abroad; I talk about food, holidays, language; and there's a bit of musical comedy too. Topics everyone can relate to and some hilarious mishaps and misunderstandings in moving from Mallorca to Wales."
The episode is due to be recorded in the coming months. The comedian explains: "The BBC were keen to get it out soon, so it's being recorded online with an audience enjoying from home. If you'd asked me to do it this time last year I'd have spat out my sangría, but since then I've done loads of online shows from my flat in Cardiff.
"Wales hasn't had any live entertainment out in the real world since March 2020, so I've been running gigs regularly on Zoom. I set my living room up like a comedy club and can see the audience on my TV so it's as close to a live atmosphere as possible.
"I recorded a comedy special in my flat, without an audience, last April and put it out for free on YouTube. Those immediate laughs from a live crowd are vital. Googly eyes on inanimate objects just didn't cut it."
Talking about his online gigs, he jokingly adds: "The rider is always exactly what I've asked for and the hotel is top quality. The local drug dealer has been furloughed though, so there's no after party."
Speaking further about the logistics of recording the special, Lopez told us: "Jo and Lucy at Bright Branch are making it happen, they're figuring out the logistics of recording an audience in their homes. I'll be performing the show in their studio in Newport but the audience will be from all over. That's one advantage of doing it online. I've got audience members who can tune in from Spain, from Norway, the USA and anywhere in the UK to watch.
"Bright Branch produced the radio sitcom I wrote with Leroy Brito last year and are so great to work with. We turned that around so quickly despite the pandemic so I'm confident it is going to be a slick production and will sound like the dog's bollocks, which I've been told is a good thing."
Ignacio Lopez has previously appeared on BBC Sesh to joke about moving from Spain to Wales. Here's a clip:
---
For updates, click the button below.
Share this page